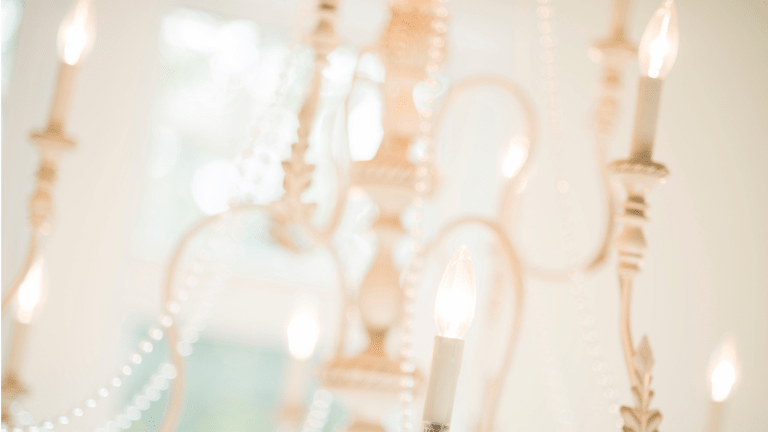 10 Chandeliers for Your Little Princess' Room
10 Chandeliers for girls: It's perfect for pretending you are a real princess and is the perfect finishing touch for her room.
What could be more glamorous and magical than a chandelier lighting up a bedroom? We've found 10 Chandeliers for girls that we love. It's perfect for pretending you are a real princess. I love seeing girl's bedrooms that embrace the "princess" theme without taking the easy route of using licensed characters.
Related: Best desks for kids
10 Chandeliers for girls that we love
I have no problem with licensed characters. (Believe me, we own every princess doll.) But, for decorating, I like using items that will transform the room into a space that will inspire my daughter to use her imagination. Every one of the following chandeliers has just enough sparkle or drama to do just that.
The above Teardrop Chandelier has three layers of dazzling crystals. Little girls will continue to love this chandelier, even when the princess stage is over. (Moms, you could also hang it in your bathroom.)
A black chandelier would be unexpected and fresh in a pastel colored room. I see it in a lilac or pink room. So lovely! Another plus, you can be sure she'll like it as a teenager!
The Nicolette Chandelier from the Ballard Designs site features crystal six scrolled candle arms dripping with teardrop crystals and surrounded by sweeping loops of contrasting square-stock iron. It comes in Champagne or Black.
The Gypsy Small Pink 6 Arm Chandelier with Plug is my favorite. I love the quirky, vintage charm. I see it in a preppy bedroom. It also comes in six other colors.
The WallPops! Chandelier Pearlscent is a bargain and the pink lucite beads are very princess chic!
For a more modern look, the Twelve Timbers White Chandelier would look dramatic in any room.
The Sage and Rose Chandelier was designed to look like it was found in Paris flea market. Love!
I had to sneak in the Flower Pendent Light in because it's just so cool. It would make such a great focal point and pop against a colored wall.
And speaking of flowers, the Flower Garden Chandelier is absolutely charming with green arms, leaves and pink flowers.
The Tadpoles Crown Chandelier is fun and very well priced.
So many chandeliers to choose from! Any little girl would feel very special to have one in her room and feeling special is what being a princess is all about!
More Design Trends for Kids from MOMTRENDS
PIN IT!
Use Pinterest to save your favorite recipes. Be sure to follow our Cool Kids Rooms board for more tips.
Momtrends was not paid for this post.