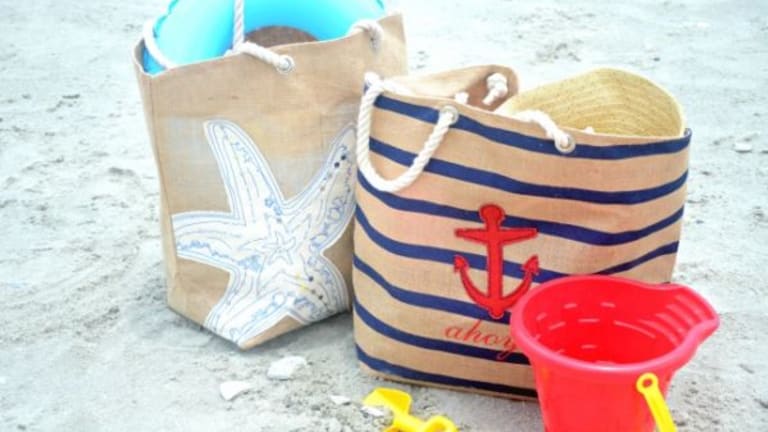 The kids and I are visiting my Mom and sister this summer and we just spent a few days enjoying the sun, surf and sand of Myrtle Beach, South Carolina. Myrtle Beach has been a family favorite holiday spot since my sister and I were kids ourselves. I was excited to continue this family tradition and take my kids this year. I was even more excited that this was Judah's first time at a sandy beach!
Related: Our favorite beach towels for families
Cute Burlap Beach Bags from HomeGoods
To prepare for our beach trip we got these cute burlap beach bags from HomeGoods. At only $7.99 each, they were very budget friendly and we picked up two of them. Since they were so big and roomy, they were plenty big enough for our needs, even as a family of 5 who tends to overpack!
I'm loving the nautical theme that's everywhere this year. Check out my nautical red, white and blue table decor in case you missed it and you're loving the anchors too.
This beach bag is super cute with it's navy horizontal stripes, "ahoy" typography and red anchor stitched on both sides!
The big rope handles are very soft and add to the nautical feel of the whole bag. Definitely a keeper for years to come!
The second bag we got was the one with a giant starfish embellishment. You can see how big the bags are in this photo of me carrying the starfish beach bag.
The starfish fabric is stitched onto the burlap bag with blue thread and shimmery sequins. I love these subtle little details. It has a more elegant feel than the other one. Both beach bags are very lightweight and because of the material, dry quickly if wet.
We carried 5 towels, my large DSLR camera, 2 floaties (a swim ring and small raft), a few hats, some flip flops, arm floaties and several buckets, shovels and various sand toys. We still had room left over!
Each bag even has a little pocket just inside the handles that's perfect for slipping your phone and/or keys into so they don't get lost in the bottom of the bag.
Be sure to check your local HomeGoods to snag yourself some beach bags like these before your next trip to the beach!
MORE SUMMER STYLE FROM MOMTRENDS
PIN IT!
Use Pinterest to save your favorite fashion posts. Be sure to follow our Summer Style board here.