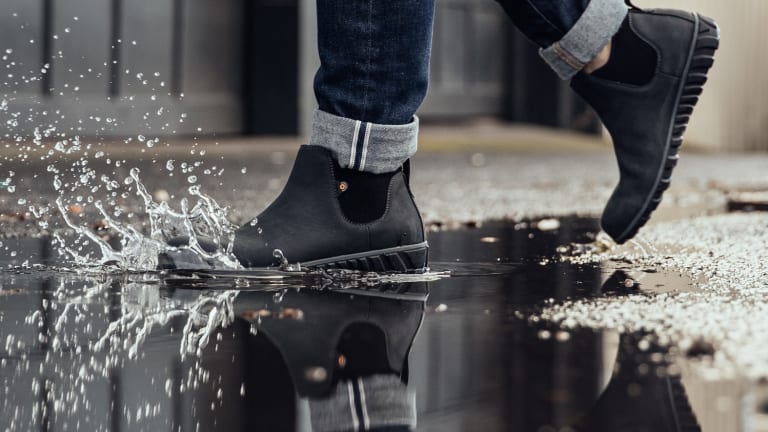 Bogs Rain Boots
Bogs rain boots are built to keep feet dry and comfortable and we love the style too.
Walk 6 miles in my shoes and you'll know I am serious about my road tests. As a NYC editor, I walk A LOT. On an average day, I log 3+ miles on a day packed with meetings and kiddie appointments, I've been known to walk 7 miles. And hear this: Rain doesn't stop me. When BOGS offered to have me put these McKenna boots up against my old pair (rhymes with punter)--I was game to try Bogs Rain Boots.
Related: Where to find loungewear that looks cute
Results are in: BOGS are pretty impressive. The boots are toasty, stylish and supportive. I wore them all over NYC on a Saturday of play. We hit a museum, had dim sum, went to the market and more. Not a blister in sight and speaking of sight, these boots had me looking stylish all day.
BOGS says on their website, "Comfort isn't an option, but a requirement." These shoes have now been with me for a month and I'm quite thrilled. The Mckenna ($170) comes in brown or black--I favor the brown for the equestrian appeal. The shoes are constructed with leather layered over a Neo-Tech upper to protect from the elements. They call the soles non-slip--the deep treads are perfect for slushy weather or rain. And take note moms with cold feet, they are comfort-rated from temperate to sub-zero conditions.
Bogs also makes boots for kiddos and plenty of snow boots too (in case you are a fan or winter fun)
While you may know this brand for outdoor rugged adventures, I'm letting you know it's possible to have warm, dry feet and still look trendy. For more information and shopping visit www.bogsfootwear.com.
MORE FASHION TIPS FOR MOMS
PIN IT!
Use Pinterest to save your favorite fashion posts. Be sure to follow our Spring Fashion Trends board here.
Momtrends was not paid for this post. We did get a pair of boots to road-test.