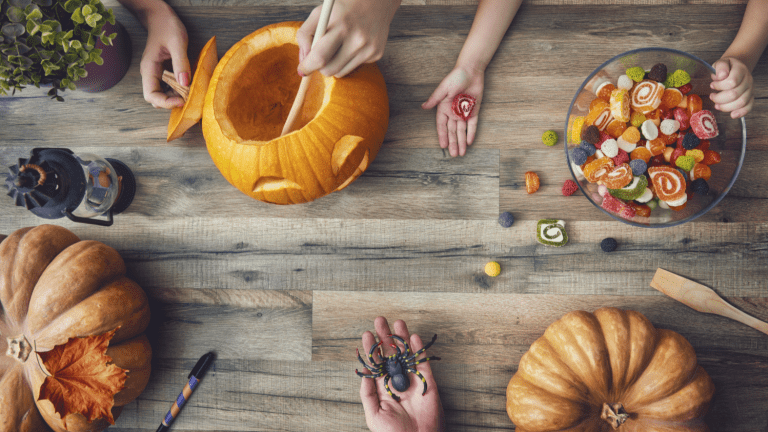 Wine + Candy = Halloween Heaven
Come see how we're pairing our favorite Halloween candy with our favorite wine! This is an adults only kinda Halloween celebration!
I know Halloween is still a few days away but I'm guessing, you've already ripped open a corner of one of those bags and are now worried that you might have to buy another bag of candy to get you through the Monday night trick-or-treaters. Amiright?
Related: Frightfully fun Halloween trivia
Then you might want to skip this Saturday Sip. Because we're about make you want to rip into a few more of those chocolatey delights. Presenting wine + candy pairings. A match made in Halloween heaven. You've been warned!
One of my favorite wine apps Vivino worked with wine experts to create these, err, most distinguished wine and candy pairings. So after the kids have trick-or-treated, trade them quarters for a few of these candies and pop open a few bottles of wine to create a very serious, adults-only taste-test for these suggested pairings.
Wine + Candy = Halloween Heaven
How to use the chart. Check out the matches below and then start sipping (after the kids are in bed). Wonder why these matches work? Check out what the experts have to say and see the entire list of candy + wine pairings here.
Hershey Kisses + Zinfandel:
Whoppers + Cabernet Sauvignon
Jolly Ranchers + Gewürztraminer
You need a dynamic wine with enough acid and depth to stand up to the berry Ranchers and mesh with citrus ones. Grand Cru Alsatian Gewurztraminer has strong lychee tones and low acidity, so the candy the reigns without drowning out the flavor of the wine. Try it: Maurice Schoech Alsace Grand Cru Kaefferkopf Gewürztraminer
Candy Corn + Moscato
Sour Patch Kids + Riesling
If Sour Patch Kids are "first sour, then sweet," off-dry German Riesling is just the opposite! The Riesling's sugar hits first, countering the candy tartness, and finishes with a cleansing kick of acidity. Try it: 2015 Bex Riesling
Twizzlers + Brachetto d'Acqui
The appeal of Twizzlers is the chewy texture and that synthetic raspberry-strawberry-cherry flavor. Piedmont's Brachetto marries brambly, wild fruit, and perfumed red floral aromas with a pleasant sweetness and easy-going bubbles, it's basically nature's liquid Twizzlers. Try it: Giulio Cocchi Asti Brachetto d'Acqui
Don't see your favorite Halloween treat? Click on over to Vivino's website to view the entire list of candy and wine pairings. Happy Halloween!
Want more from Momtrends?
PIN IT!
Be sure to follow Momtrends on Pinterest and for more spooky inspiration follow our Halloween and Thanksgiving Boards here. 
Momtrends was not paid for this post. Yes, the Vivino wine app is really great. And no, no wine or candy was wasted in these pictures.