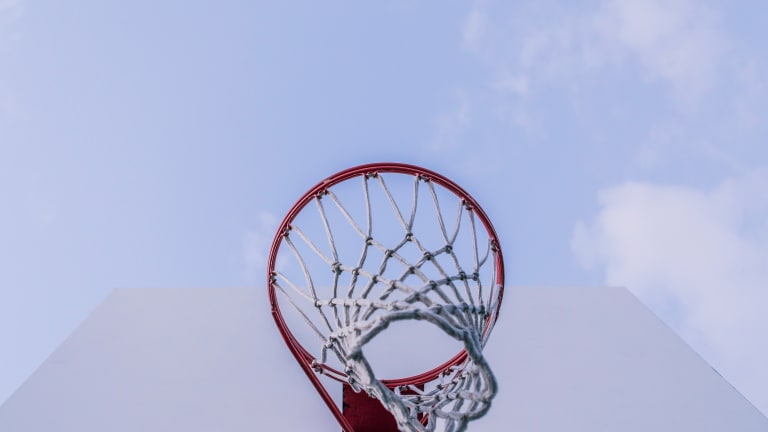 Publish date:
4 March Madness Final Four Cocktails
While your basketball bracket may have busted, your libation game can be strong. Here are 4 team-inspired March Madness cocktails to make.
While your basketball bracket may have busted, your libation game can be strong. Here are 4 team-inspired March Madness cocktails to make.
Has your household been caught up in March Madness? We're down to the Final Four match up being played today: South Carolina vs. Gonzaga and Oregon vs. North Carolina. While your bracket may have already been busted, your basketball-watching libation game can still be strong. We've rounded up four city-inspired cocktails to help you root on your favorite team.
Related: March Madness Party Ready Recipes
While we can't promise drinking one of these will ensure your team's victory, we are pretty sure you'll enjoy a good cocktail.
"Go Ducks" Sloe Gin Fizz
"Well Portland Oregon and sloe gin fizz / If that ain't love then tell me what is." Or so starts the first verse of Loretta Lynn's song "Portland, Oregon." Sloe Gin is a red liquor made from infusing gin with the small red fruit (also called sloe drupes) from a blackthorn bush, a relative of the plum. To make a Sloe Gin Fizz, shake up Sloe Gin, lemon juice, simple syrup and top with club soda. Simple, refreshing and sure to aid your couch coaching. (Trying to find sloe gin? Look for Spirit Works Distillery)
North Carolina Cherry Bounce
Called the "official cocktail of Raleigh," the original Cherry Bounce takes some time to create—we're talking two weeks to infuse the brandy with cherries and spices to create the signature flavor. Instead, we like this updated quick mix Cherry Bounce that uses cherry vodka, cranberry juice and lime, and takes just minutes to make.

Five Tips To For a Girl's First Leg Shave
Do you remember your first time shaving? Mine wasn't pretty. I snuck my dad's razor and shaved my legs dry. It wasn't pretty. Get your daughter ready for this rite of passage with the right tools and a quick education. We've got five tips to help you navigate your daughter's ...read more
Why You Should Add Wild Blueberries to Your Diet
Do your New Year's goals involve healthier eating? Adding more fruits and vegetables to your diet? Or even adding tasty new recipes to your repertoire? We've got five reasons for you to add wild blueberries to your diet. Our friends from the Wild Blueberry Association have ...read more
Why Moms are Loving This Blueberry Couscous Salad
It's blueberry picking time. And while most blueberry recipes revolve around baked goods, we've got something different to share. First, a few sentences singing the praises of this lovely fruit. Blueberries are high in antioxidants, improve memory function and reduce the effects ...read more
Carolina Charleston Mule
Sweet tea and the south go together pretty much as well as this Charleston Mule will go over with your March Madness party guests. Made with Firelfy Spirit's Sweet Tea Vodka, ginger beer and lime, this cocktail will go down smooth—even if those baskets don't.
Gonzaga Green Apple Sparkler
Celebrate Washington's abundant apple harvests and the Gonzaga Bulldogs with this Green Apple Sparkler. Leave this non-alcoholic sparkler as is for kids and non-drinkers or spike it with a smooth vodka or apple liquor for adult revelers.
Cheers!
More Basketball from Momtrends
Pin It!
Save your favorite recipes on Pinterest. Be sure to follow our The Big Game board here on Pinterest. 
Please drink responsibly. Momtrends was not paid for this post.