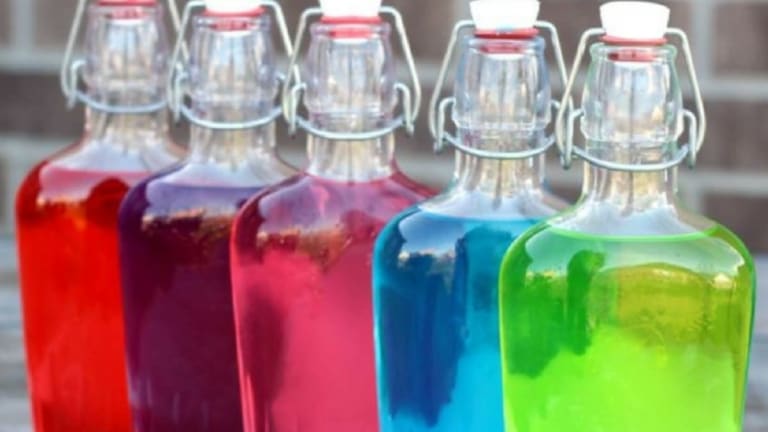 3 Green Cocktails to Celebrate St. Patrick's Day
Dream up a fun Irish-themed menu and then mix up one of these green cocktails to celebrate St. Patrick's Day.
Time to start planning! St. Patrick's Day is coming soon, so today we're helping you get prepared for celebrating that little bit of Irish in you (everyone is a little Irish on St. Paddy's Day, right?) with three green cocktails to serve to your fellow revelers. So dream up a fun Irish-themed menu and then mix up one of these green cocktails to celebrate St. Patrick's Day.
Related: Hearty and Delicious St. Paddy's Day Meals.  
Sure there will be Guinness and green beer, but how many other days can you mix up a festive green-hued cocktail?
So how can you get that green color for your St. Paddy's Day cocktail? Here are three ways.
1. Midori: Honeydew Martini 
Many green cocktails get their color (and flavor) from Midori, a green, honeydew melon-flavored liquor. This Midori martini is easy to mix up, and you certainly need to love melon, but the vivid color is hard to beat.
3 ounces vodka
1/2 ounce Midori
1/2 ounce triple sec
Fill a cocktail shaker halfway with crushed ice. Pour all your ingredients in with it. Shake it up well and strain the mixture into a chilled martini glass. Garnish with a slice of orange.
2. A blue liquor + OJ: Emerald Rain
Another way to make the green is by using a blue-color liquor like Blue Curacao or, in the case of this cocktail, Hpnotiq with a little bit of orange juice. This Emerald Rain cocktail can also be made a little lighter by subbing in some sparkling water for half of the vodka.
Shake all the ingredients together thoroughly in a shaker with ice. Serve this drink in a chilled cocktail glass.
3. D.I.Y Green: Jolly Rancher Vodka
If you don't want to go out and buy a brand new liquor to make a green cocktail, just grab a bag of Jolly Ranchers, separate out the green ones, and drop them into whatever bottle of vodka you have (though for some truly delicious vodka, try LEAF vodka). There is no straining, no shaking and the vodka will be bright green and candy-flavored in just 12 to 24 hours. Then you can mix up a simple vodka tonic or vodka martini recipe.
Cheers!
MORE ST. PATRICK'S DAY FROM MOMTRENDS
PIN IT!
Use Pinterest to save your favorite crafts, menus and parties for St. Patrick's Day here on the Momtrends St. Patrick's Day Board.
Please drink responsibly. Momtrends was not paid for this post.