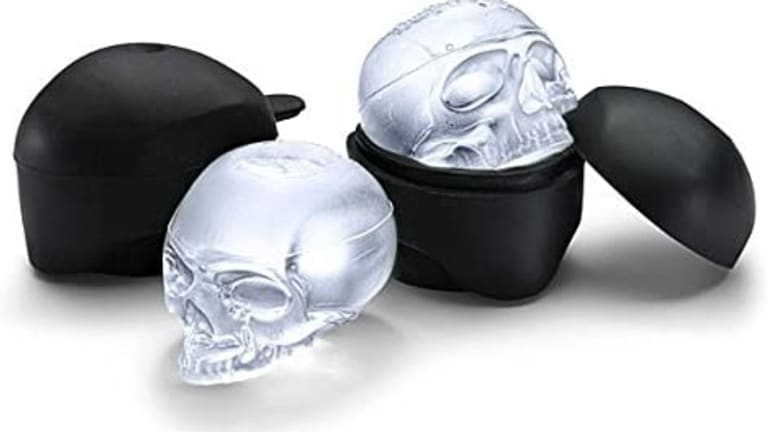 3 Ways to Spookify Any Drink for Halloween
Here are three easy ways to spookify your favorite go-to cocktail for a stay at home Halloween
Kid costumes to coordinate. Pumpkins to carve. Candy to buy or, even better, a non-candy treat to organize. I shared some easy Halloween punches to make for a crowd last week, but I get it - creating a brand new cocktail for Halloween may just be one too many things to put on the to-do list for October 31st. But never fear - here are three easy ways to spookify your favorite go-to cocktail - whatever it may be.
Related: 3 Spooky Sips for Your Halloween Bash
So go ahead and mix up a batch of your favorite margaritas. Keep it simple with a DIY gin + tonic bar. But add one of these spooky Halloween accessories and suddenly your go-to cocktail will go from everyday to eeeeeerily perfect for Halloween.
Stick in a Scary Skull Ice Cube
It doesn't matter what cocktail you are serving, it is guaranteed to be scary-good if you serve it in a glass with a floating ice cube skull. Choose from a massive single skull cube, a three-pack of icy heads, or a smaller silicone trays with a variety of smaller skulls, spiders, or even brains! If your drink is clear, you can even add in some food color to make the skull appear red or purple.
Add a Spooky Filled Syringe
Another way to up the spooky factor? With an inexpensive plastic syringe. This definitely works better with a red-colored cocktail like the creation by The Oak Door Bar. 
Combine 1 ounce of vodka and ¾ ounce grenadine. 
Draw up the mixture into a plastic syringe like one of these.
 Pour 3 ounces 7-Up or soda water into an old fashioned glass with an ice cube (maybe a skull!) and a lemon slice. 
Let guests inject the vodka shot from the syringe into the glass. Muhahaha!
Drop in Dry Ice
I know what you're thinking: yes, you need to use caution when using dry ice (DON'T touch it with bare hands - use gloves or tongs), but yes, it is safe to put in a beverage you're about to drink (just wait until it stops fogging to drink.) There are also these nifty little drink sticks that let you enclose a piece of dry ice inside so the drink will fog, but there is no risk of getting dry ice in your mouth. 
You may need to call around to find a local dry ice retailer. Penguin dry ice can be found at many grocery stores like Albertsons, Fred Meyer, Meijer's, Kroger, Publix, Raleys, Ralphs, Safeway, Smart & Final, Smiths, Wal-Mart, Winn-Dixie, and others.
WANT MORE HALLOWEEN FROM MOMTRENDS?
PIN IT!
Be sure to follow Momtrends on Pinterest and for more spooky inspiration follow our Halloween and Thanksgiving Boards here. 
Momtrends was not paid for this post. This post does include affiliate links. Photo cred: Andrew Kist, Oak Door Bar, Courvoisier