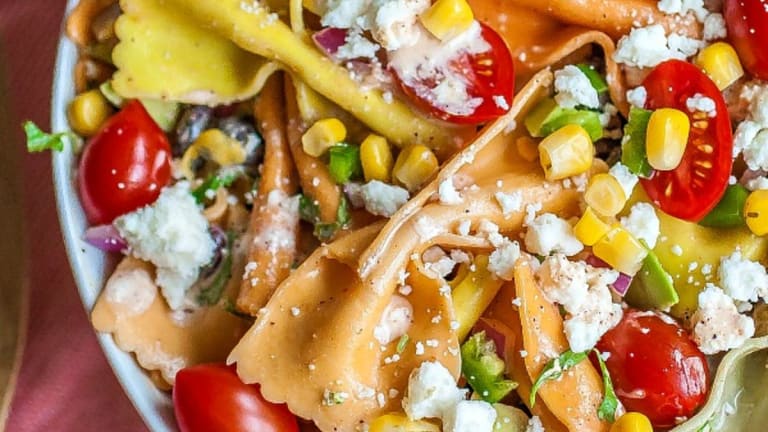 If there's one type of cuisine I can get behind, it's Mexican. If it was up to me, I'd eat it every night of the week. Lucky for me, my husband and I are on the same palatable page. Too bad my kids have yet to discover the joy of Mexican food. But I say, the spicier, the better... paired with a margarita por favor. Cinco de Mayo might just be my favorite spring "holiday." It's a bonafide excuse to indulge in cheesy, crunchy, flavorful fiesta-ready food... and to sip tequila. I mean, what's no to like?!
Related: Super fresh Cinco de Mayo Margarita recipe
Fiesta-Worthy Cinco de Mayo Recipes
To celebrate the ultimate Mexican Friday feast, we've rounded up a few favorite recipes, perfect for a festive gathering on the Cinco, Seis, Siete, or even Ocho of Mayo. Enjoy!
Crock Pot Mexican Casserole via Well Plated
Mexican Cornbread Casserole via Kid Friendly Things to Do
Chicken Fajitas on a Stick via Dinner at The Zoo
Mexican Pasta Salad via Home. Made. Interest.

Save Money at a Ski Swap
Are the slopes in your future? If you want to save money on ski gear, consider a ski swap. A swap is a great way to buy and sell used equipment. Most swaps consist of a variety of gear, from brand new to used skis and snowboards to skis; from poles to boots to bindings and ...read more
The Ten Best Wooden Play Kitchens For Kids
Cooking is a timeless fascination for children. This type of play goes beyond gender and teaches kids loads of life skills along the way. An investment in a play kitchen is money well spent, as it can provide hours of entertainment. We've rounded up the ten best wooden play ...read more
New Victory Announces a New Season of Shows
We know you're busy planning picnics and summer outings, but we wanted to let you know that The New Victory just announced their new season and it looks fantastic. We thought you'd like a sneak peek of what's in store! Each year the New Vic theater brings culture to tourists and ...read more
Loaded Mexican Fries via Chef Savvy
Mexican Pasta Salad via Home. Made. Interest.
Pineapple Salsa via Always Order Dessert
Mexican Street Corn via Baking Beauty
7-Layer Taco Salad via The Life Jolie
MORE CINCO DE MAYO INSPIRATION FROM MOMTRENDS
PIN IT!
Use Pinterest to save your favorite cocktail recipes. Be sure to follow our Everyday Entertaining board here.
This is not a sponsored post. All opinions are our own.