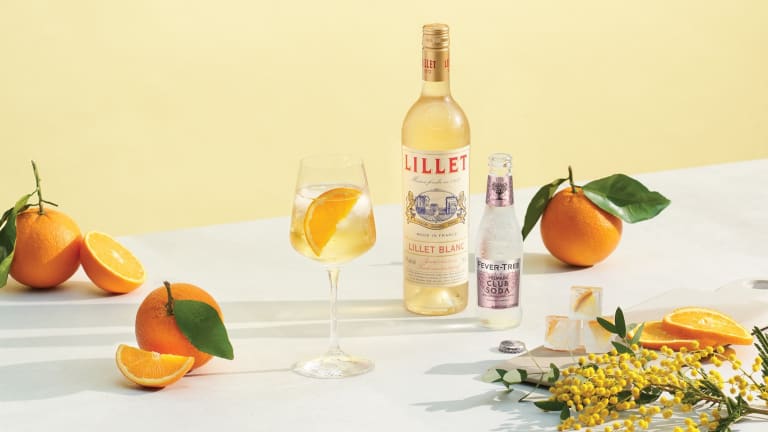 4 Ways to Enjoy Lillet
Lillet is an aperitif which is a drink designed to be enjoyed before a meal and help "open up" your palate.
Have you tried Lillet? I admit I was a Lillet newbie, but was intrigued by Mom Boss author and Momtrends CEO Nicole Feliciano's love of it and had to give it a try. So I've had the rough assignment of getting to know Lillet this last month and am sharing my four favorite ways to enjoy this drink.
Related: Boozy pineapple upside down cake milkshake
What is Lillet?
Lillet is an aperitif which is a drink designed to be enjoyed before a meal and help "open up" your palate. (Impress your friends: The name aperitif comes from the Latin verb aperire which means "to open".) It's also a fortified wine which is made from combining selected wines (85%) with fruit liqueurs (15%). This means it has more alcohol than your traditional bottle of wine, but less than a shot of vodka. Oh, and it's pronounced, "lee-LAY" so you don't embarrass yourself like I did at the liquor store.
Pick the Color of Your Lillet
Lillet currently offers three varietals - Blanc, Rosé and Rougue. Use the handy chart above to find your perfect Lillet match. I tried both the Blanc and the Rosé and prefer the latter. Blanc was a bit too sweet for me on its own.
Ready to give it a try? Or find a new way to love Lillet? Let's start with one of the best ways to enjoy Lillet....
Lillet On ice
The simplest way to enjoy Lillet? On ice. Maybe with a orange peel or a slice of peach in the glass to make you feel fancy. Lillet is designed to be served ice cold, so you'll want to keep it in the fridge to ensure it's nice and cold. Just don't leave it in the freezer - the alcohol content isn't high enough to prevent it from freezing like vodka.
Lillet Cocktails
Last week, I shared the Tabernacle Crush, a delicious combination of Lillet, gin, peaches, basil and club soda. If you can't find peaches any more, I'm guessing this would still be delicious with plums, berries or even melon. 
The Lillet website also has a great collection of Lillet-based cocktails for each of the varietals to choose from too like the Lillet Mojito, the Reverse Martini and the Lillet Le Rouge.
Lillet In your dessert
For my monthly cooking club this month, I opted to make delicious mini peach and berry galettes. My one upgrade? Adding in a few shots of Lillet Rosé to the peaches and berries beforehand to let them soak in the boozy goodness. So. Good.
Lillet For dinner
No, I'm not just suggesting that you have Lillet for dinner (though depending on what kind of day it's been....), but Lillet can help you make a simple, delicious dinner entreé. Fish + Lillet + shallots + butter. Pan sauce perfection!
While this recipe calls the Mediterranean favorite gilthead sea bream, you can also substitute in red snapper or sea bass instead. Some Lillet for the fish, some for me - a winning dinner combination.
MORE FAVORITE SUMMERY DRINKS
PIN IT!
Use Pinterest to save your favorite cocktail recipes. Be sure to follow our Drinks board here.
Momtrends was not paid for this post. We did receive Lillet samples.