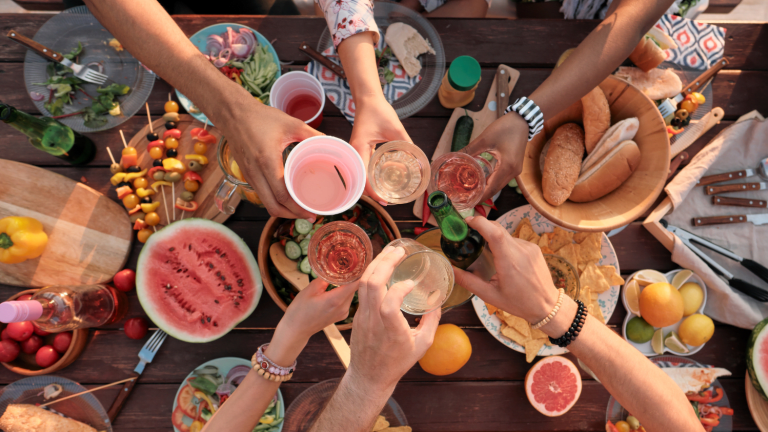 Plan Your Perfect Summer Picnic
The right gear can help you make the most of dining outdoors.
Warm evenings, no school, and farmer's markets overflowing with in-seasons fruits and veggies makes summer the perfect time for a picnic. Throw together a simple salad, some leftover chicken and an ice-cold rosé to go with some of our favorite picnic accessories. I'm sharing our favorite gear to help you execute and plan your perfect summer picnic.
Related: Cheap and fun summer date night idea
The Perfect Cheese Board
I love how this Bamboo Cheese Board Set (note: this is an Amazon Affiliate link) is both practical and pretty and seriously ups your picnic game. But it's also easy to stash in a basket or tote. Genius.
The Perfect Picnic Basket
This Huntsman Basket for 4 w/ Accessories (note: this is an Amazon Affiliate link) has everything you could need for a civilized meal outdoors. Each basket includes four 8" ceramic plates, four wine glasses, stainless steel flatware, napkins, a food cooler, an insulated wine pouch, a hardwood cutting board, spill-proof salt and pepper shakers, a wood-handled cheese knife, and a stainless steel waiter's corkscrew. Not to mention it's packaged in an adorable, easy-to-carry basket.
A Wine Cooler with Benefits
Or keep your picnic simple with the Wine and Cheese Cooler (note: this is an Amazon Affiliate link) which has an insulated interior to keep your Brie and bubbly chilled as well as acrylic glasses, napkins, a corkscrew, bottle stopper, cheese knife, and a hardwood cutting board.
Our Favorite Picnic Blanket
I like to picnic on the ground where I can lay back and savor my wine or even grab a mid-afternoon nap if the mood strikes me which is why this Waterproof Picnic Blanket (note: this is an Amazon Affiliate link) is a perfect fit. With a waterproof underside, this blanket is large enough for the whole family (60" x 80") but folds up, with an adjustable strap, the lightweight feature of this blanket makes it easy to be rolled up in a portable size.
Portable Picnic Table
If you're a little squeamish about your prosciutto being so close to nature, you may prefer this Portable Picnic Table (note: this is an Amazon Affiliate link). Pull the suitcase-looking contraption out of its carry case and - voila! - a tabletop and four seats to keep your summer dress off the grass and the ants out of your antipasto.
Portable Grill
Chicken kebabs. A shrimp appetizer. Goat-cheese stuffed baby bell peppers. (Is your mouth watering yet?) This modern, foldable, Portable Grill (note: this is an Amazon Affiliate link) make all your hot food dreams come true - at the park under the evening sun. The lightweight steel design includes cool to touch handles that make the Cube easy to transport
MORE SUMMER FUN IDEAS FROM MOMTRENDS
PIN IT!
Be sure to use Pinterest to save your favorite ideas for date night. And for more Summer Fun, be sure to follow this board.