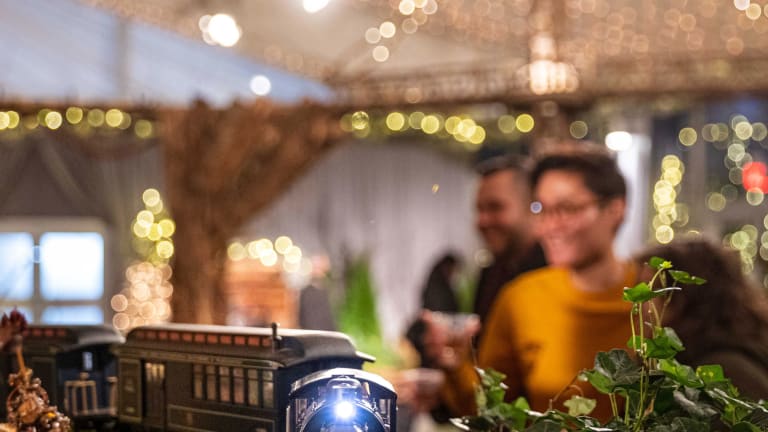 Christmas in New York City
Plan the perfect holiday visit to the Big Apple. Ideas on where to go to celebrate Christmas in New York City. Make your trip magical.
Planning a family trip to the Big Apple this holiday season? Sure it's crowded and expensive--but Christmas in NYC has a special charm. The city is loaded with light and color. Plus the cultural attractions can't be missed. Here were our favorite parts of Christmas in New York City.
Five New York City Holiday Favorites
Santaland. While it's a zoo, one can't miss a visit or two to this mistletoe mecca. Mandy, one of our contributors is a singing elf (code name Marzipan) we dare you to not crack s smile when gazing on Santaland the magical place to see Santa and the temporary North Pole that Macy's creates every year. Now waiting in line...that's a different story. Macy's Herald Square, originally known as the R. H. Macy and Company Store, is located on Herald Square in Manhattan, New York City. 151 W 34th St, New York, NY 10001
Window shopping is a terrific sport here in NYC. We were thrilled to see the new Ralph Lauren women's store open on Madison Avenue. The holiday windows were dazzling--be sure to visit Sak's Fifth Avenue and Rockefeller Center's shops.
Tea Time. We had some very special outings with the girls. Tea at the fancy Carlyle hotel was top of the list or try the Eloise Tea at the Plaza.
Special Shows. Mr. Momtrends took the girls to see the Magic Flute at the MET. Every year they put on a show geared towards families.
Rockefeller Center.  And we double dare you to not get into the spirit of things when you visit Rockefeller Center and see the glorious tree
Holiday Train Show at the NYBG in the Bronx. This annual display of trains in the conservatory space is a highlight of the season for many families. The show displays historic landmarks and model trains speeding along more than a quarter mile of track. All recreations are made entirely from natural materials the towering Brooklyn Bridge in sugar pine cones, a pomegranate torch for Lady Liberty. Tickets are available in 15-minute increments. When you purchase tickets online, you can choose your date and start time in advance. Once you enter the Conservatory you can take as much time as you want to view the show. You'll also have access to the entire garden (250 acres) so dress warm and plan for a walk after the show to see the spectacularly decorated grounds.
Tips for managing the holidays in NYC.
Book your tickets early. Most everything sells out.
Rely on public transportation. The subway is a scene in and of itself. Feel free to tip the street musicians. It's all part of the spirit of the season.
Train your kids on what to do if they get lost. A good bet is to find a cashier inside a store and stay put.
Keep an eye on your valuables. Pick pockets also love the holidays in New York.
Wear sensible shoes. It can get cold in NYC and you're going to do a LOT of walking. This is NOT the time to break in those new fabulous boots. Same goes for the kiddos.
Bring snacks. Even if you eat all your meals out, the kids will still get hungry. There's no need to buy a $15 soda at Radio City Music Hall.
Whether you are a city mouse or country mouse, we wish you all the joys of the season.
MOMTRENDS TIPS TO PLANNING AN NYC VISIT
Check out our NYC page for things to see and do in NYC and don't miss these highlights.
PIN IT!
Use Pinterest to save your favorite NYC outings. Be sure to follow our New York City board here.