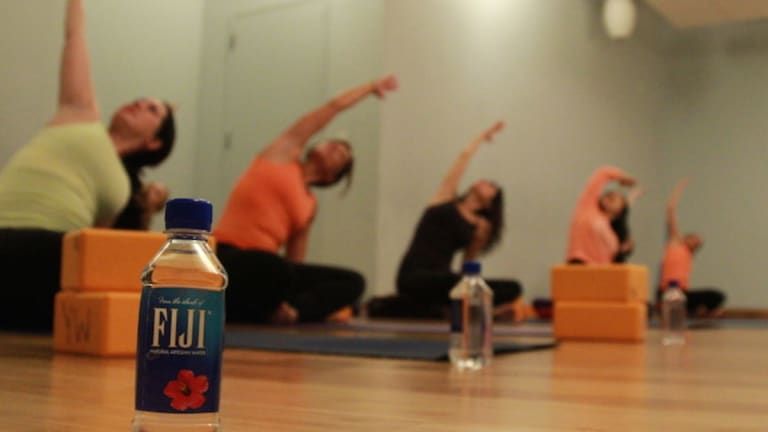 Yoga Break for Moms
I love the idea of a yoga break for moms. I've got a very dedicated team at Momtrends Media. We work weird, wacky hours dreaming up ways to delight and inspire our community of moms. No one ever said trendspotting was easy, but it can be rewarding.
Related: Easy poses from Momtrends yoga series
The word of the year is gratitude. We're trying to show our gratitude for our readers by making the site prettier than ever. I'm asking my team to work really hard this year to make our site indispensable. The ladies doing the magic deserve a treat too. That's where the idea for the Momtrends Yoga Break came from.
The lovely folks at YogaWorks reached out to me to see if they could host a class for us. I thought "swell!" And I arranged for an afternoon of yoga at the swank new Brooklyn Heights location and invited our team plus a few of our Big Apple blogging friends to join the fun. Plus we had a very special celebrity co-host--Andrea Fellman, the Founder of SavvySassyMoms.
To thank Andrea for coming into NYC for this event, I wanted to spoil her with something. I was able to score these chic workout fashions for the event. Andrea and I loved our fashions from Lyssé. We were yoga power twins in our Cropped Fit Pant. After contorting in all sorts of directions, I give these leggings full handstand approval. They offer beautiful support and breathability. I also say, the To Go Wrap is a mom must-have on the days where workout clothes have to go more place than just the gym.
We set the peaceful room up with flattering lighting and gave everyone a refreshing FIJI water. We felt a little special. FIJI just debuted a new bottle and we were one of the first NYC events to get them! This is the first time in 10 years FIJI Water is changing the look of its iconic bottle. Don't worry. They haven't change what's inside--it's still natural artesian water from the Fiji Islands!
As our group dug in deep to the poses, it was great to come together around something so positive. We had MANY new moms in the group and I was thrilled to offer them a way to nurture themselves.
Let this be the year you try yoga. It's such a perfect balance to blogging. It clears the mind and refreshes the body. You don't need to be a jock or super-flexible. Yoga is all about accepting your limits and finding balance. Show me a blogger who can't use more of that.
The hour-long class helped us all step away from the laptops to find some bliss. It's amazing how refreshed one can become after a dozen or so downward dogs. 
Oh, and that wasn't all. Everyone got an amazing goody bag full of health & wellness treats. Since we worked hard, we tucked in a full-sized bottle of ACURE Argan Oil Castile Soaps for freshening up post-workout. The soaps smell divine--peppermint please!
The gratitude didn't stop there. Lysee gave us totes to fill and we took our mission seriously. Our friends will be enjoying SIGG water bottles (aka "The World's Toughest Water Bottle"), Bombas incredibly cushy socks, Goodie Girl Gluten-Free Cookies (say yes to Mint Slims) and our new co-branded hair ties from Glamsquad an on-demand, in-home beauty service in NYC.
A huge thank you to all the bloggers who joined us for #MTYogaBreak and the brands that provided the amazing gifts.
MORE YOGA FROM MOMTRENDS
PIN IT!
Use Pinterest to save your favorite ideas from Momtrends. Be sure to follow our Fitness and health board here.
This is not a sponsored post.