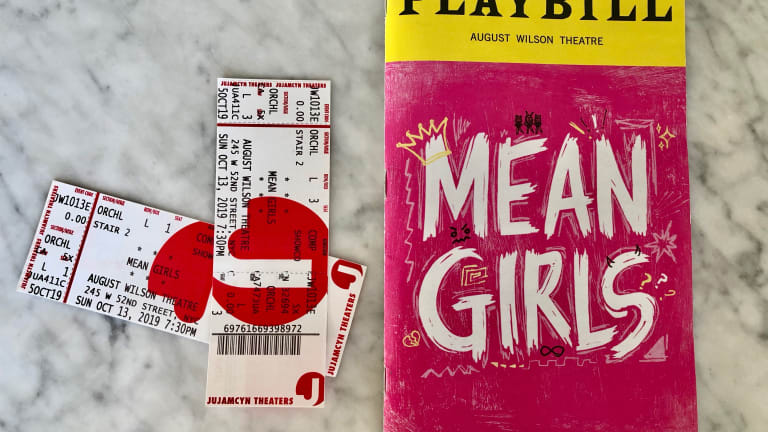 Why you should See Mean Girls Broadway  Musical
With big, well-choreographed numbers, Mean Girls is a Broadway winner.
Mean Girls has been drawing teen and tween girls in droves to Broadway. I had to find out more about this trendy musical. Here's why you should see the Mean Girls Broadway musical.
Momtrends discount code: Use code MGBWAY for tickets starting as low as $59 on performances from September 17 – November 24.
Why you should see Mean Girls Broadway Musical
We went to see the show on Sunday night at the August Wilson Theater and can HIGHLY recommend it to the Momtrends Community. It's a bummer when you leave a Broadway show and can't hum a single tune. That's totally not a problem with this show, the music is awesome (and memorable). 
The show is a musical version of the 2004 movie that starred Lindsay Lohan. The movie was a huge success thanks in part to the writing of Tina Fey. The musical version of Mean Girls premiered in 2017 and is enjoying a nice long Broadway run. Like the movie, the musical orbits around high-school life and girl drama. Fey wrote the book for the Broadway musical and has, once again, struck gold.
Mean Girls Story Resonates
If you aren't up on the story, here's a quick recap: Fresh out of Africa, Cady Heron (played beautifully by Erika Henningsen) arrives in the USA and lands in Chicago. She quickly finds out that suburban high-school life can be as deadly as lion fight. Cady tries to navigate friendships and struggles to stay true to herself. 
Pulling her in the wrong direction are "the Plastics" led by the beautiful and conniving Regina George. The story is about finding your place in the world. We all know how hard it is to resist peer pressure and gossip. 
Sure, there's a life lesson, but mostly there's a whole bunch of fun. This is a musical for mother and daughters, girlfriends and grandparents. With big, well-choreographed numbers, this show is a Broadway winner.
Keep in Mind with Mean Girls Broadway Musical
There are a quite a few sexual references (they fly by with speed and younger kids might miss them) and some pretty scanty outfits. But if you've been to any high schools lately, you won't be shocked.
Favorite songs from Mean Girls Broadway Musical
I came home from the musical and added quite a few songs to my playlist. Get the soundtrack on Amazon here. Jeff Richmond wrote the music with lyrics by Nell Benjamin.
Stupid with Love: this sweet song captures all the feelings of a first crush. It's definitely going on my Spotify Broadway playlist.
Meet the Plastics: A fun and catchy song that explains the cliques. It's wonderfully choreographed.
Fearless: This is the anthem of the show and (fingers crossed) the message that girls will take away. Let's all be a little more brave in standing up to bullies and doing what we love.
Favorite Actors from Mean Girls Broadway Musical
Grey Henson (Damian Hubbard) was my favorite and stole every scene in which he appeared. With mad tap skills, he is a consummate showman. When he takes the stage to deliver the number STOP, I was hooting and hollering with joy.
My 11-year-old daughter picks Reneé Rapp (Regina George). Here's why: 
What else you need to know about Mean Girls on Broadway
Ready to get your tickets? Here's what you need to know.
Show Run Time: 2 hours and 30 minutes, including one intermission.
Get tickets here: https://meangirlsonbroadway.com/#tickets
Momtrends discount code: Use code MGBWAY for tickets starting as low as $59 on performances from September 17 – November 24.
Plan a Night Out Using Sitter City
Looking to coordinate a moms' night out or date night? Use Sitter City. With Sitter City your sitter search made simple. Join Sittercity and easily connect to local sitters. Join today and save 50% on a monthly membership.
To Redeem: Click the Sittercity link provided and follow the steps to create a new account or log in from the homepage. Click "Upgrade" then select the 1-month Premium Membership option that shows the discounted rate of $17.50. Follow the steps to process payment for your new Sittercity membership.
PLAN YOUR NYC VISIT
Check out our NYC page for things to see and do in NYC and don't miss these highlights.
Pin it!
Use Pinterest to save your favorite NYC outings. Be sure to follow our New York City board here.
Momtrends was not paid for this Why you should see Mean Girls Broadway Musical post. This post is made possible by support from Mean Girls on Broadway. All opinions are my own. 
Sitter City discount offer is only valid for the first monthly payment cycle. Subscriptions are non-refundable and automatically renew at the original monthly subscription rate of $35 per month until canceled by changing your account settings or contacting us here. Offer is good for new Premium subscribers only.