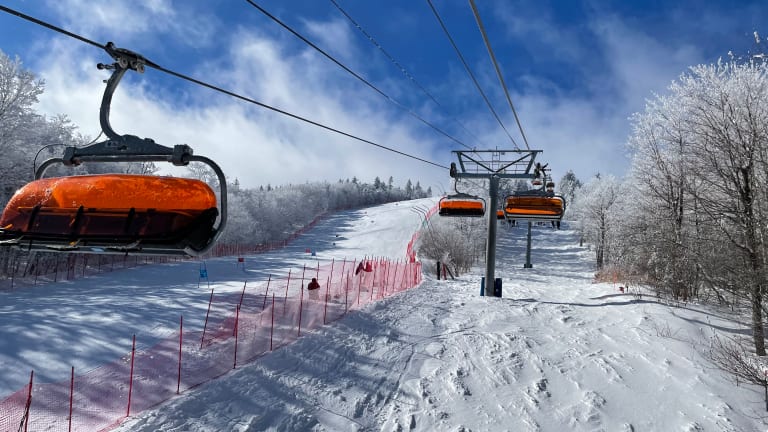 What Your Family Needs to Know Before You Ski Okemo Mountain
Okemo makes families a priority. They invest in snowmaking to make the on-mountain fun awesome and they invest in the off-mountain fun to make even more memories.
We've been taking our kids to Vermont for the past six years. We have few family favorites. "My new favorite state is Vermont," said my 6 year old when she first skied at Okemo Mountain in Ludlow Vermont. The photo was from her first trip here. We've been back six times and the mountain keeps getting better and better. Here's what your family needs to know before you ski Okemo Mountain this winter.
Related: Where to eat near Okemo
What Your Family Needs to Know Before You Ski Okemo Mountain 
Okemo makes families a priority. They invest in snowmaking to make the on-mountain fun awesome and they invest in the off-mountain fun to make even more memories. Now that they are on the Epic Pass, more families than ever are making the trip to Okemo. It's some of the best East Coast skiing you'll find and even this "snow snob" raves about this mountain. 
Why do I say I'm a snow snob? I admit to a bias against East Coast skiing. My first trip was to Camelback (age 12) followed by Hunter Mountain (age 14). I remember crowds, ice, loud music and bad ski equipment. East Coast skiing left a bad taste in my mouth and I quit skiing altogether for 20+ years. Then I fell in love with a devoted skier. His passion for the snow and mountains wore me down, and I tried it again out West. Loved it! Powder, sun, long trails, open spaces. This is skiing!
Why we go to Okemo to Ski with Our Family
Once the little people arrived, we made skiing an even bigger part of our lives. Since we are based in NYC, it makes sense to see what there is available within driving distance. We took off on a snowy day to get to Vermont. Much of the drive is scenic (passing by lovely Williams College was a highlight)--expect about 5 hours from NYC--and on smaller roads.
Our favorite place to stay on mountain is Jackson Gore. It's a ski-in, ski out inn that's fully loaded with everything your family will need for a great ski vacation.
When it comes to food, many families opt to do a combination of dining out and cooking at home. I will say I have NEVER seen a kitchen as well-equipped as the Solitude condos. Our kitchen had everything you could ever need to cook a gourmet meal. The kitchen was modest, but extremely efficient. Perfect for whipping up a hearty breakfast or casual chili-fest at night. For on-mountain dining, try the new Epic sit-down restaurant in Solitude's base area or the Coleman Brook Tavern at the Jackson Gore Inn (families should request a table in the tavern's wine room). 
A true ski-in, ski-out inn we were minutes away from lessons and lifts. No point in wasting time in a car! The two-bedroom apartment comfortably fits a family of four-but we really didn't spend too much time indoors with all the delicious snow.
Okemo Debuts Jackson Gore Snowground Winter Playground
In 2020, Families visiting the Jackson Gore area will get to experience a newly constructed play area made of snow called the Gore Snowground.  There are slides made of snow, construction tubes to crawl through, snow platforms to ascend, flag poles with climbing ropes attached and a giant tractor tire to play on. It's just one more way Okemo caters to families.
The OkemoParks team created Gore Snowground with assistance from Effective Edge, an industry leader in terrain park strategy, signature product development and operations planning.  
What to Expect On Mountain at Okemo
In addition to the powder god provides, Okemo has invested millions of dollars in snow-making equipment over the years--guaranteeing great trail availability even when the snow gods aren't kind.
"A resort is only as strong as the ski school"--said every skiing mom. Over the years, I've been very pleased how the children's programs are run. Even on the busy weekends, they handle the traffic with aplomb. MLK weekend is one of the busiest around for resorts. But no one seemed flustered by the 100+ kids descending (many for the first time) on the school. Why? The energy of the instructors is awesome. From Iggy & Ben the sweet Snow Stars ski instructors to Nancy and Charlie who led our advanced skier out on the expert terrain--the ski school was impressive. My one ski school criticism is that our advanced skier wasn't able to find a group that challenged her enough--but on the busiest weekend in January, you have to be flexible.
What Your Family Needs to Know Skiing on Okemo
The terrain rocked and kept us very challenged. We loved it all the quiet of the South Face and the long, satisfying runs off of the Northstar Express Quad--there's a ton for experienced skiers to do. For novices, this mountain is equally appealing. Long greens are plentiful, giving even beginners the chance to get up the mountain and really embrace the joy of skiing. If I had to pick, my favorite runs were off of the Jackson Gore lift--Vortex to Quantum Leap. Little kids love the Jack-a-lope trail that goes by the roller coaster.
Okemo is lucky enough to have two lifts outfitted with bubbles. The "orange bubble" lifts are adored by moms because they warm everyone up on the cold days and make everything sunny and bright orange. 
What to do besides skiing at Okemo Mountain
We covered 10 ideas on what to do at Okemo here, but I'm sharing our highlight reel again.
Skating in the Ice House--Okemo's regulation-sized hockey rink and recreational ice skating facility
Timber Ripper--For kids ages 3-99, this alpine roller coaster is mounds of fun. A smooth, fast ride with twists and turns to excite the adrenaline junkies in your family. If you are more of a nervous Nellie, no worries, you control the speed!
Snow Tubing--Get an hour-long pass for this tubing track--ride the magic carpet up and then zoom down the groomed trails.
Swim--the Spring House has an indoor pool and the Jackson Gore Inn has an outdoor pool.
Book your holiday and get more information: www.okemo.com
Food Updates at Okemo Mountain
Okemo serves up a terrific variety of food options for families. From cafeterias to fine dining and everything in between, there's something  to suit every palate, lifestyle and budget. For full-service dining on the mountain there's The Sitting Bull, we had lunch here during one ski day. We had friendly table service. We shared a caesar salad and soup and it was all delicious.
The new most swank spot is the 43 degrees restaurant at the Solitude base area. Our family also likes the casual Coleman Brook Tavern.
Summit Lodge got a full makeover over the summer. They now offer a grab-and-go menu options in the upper level of the Summit Lodge. Downstairs, it's a yummy southern experience. I checked out Robin's Roost awesome new Carolina-style barbecue menu. Everything is done with a Vermont twist.  Robin's Roost features a curated beer program that offers a revolving selection of craft and boutique brews. 
Don't forget about the s'mores. Order a s'mores kit inside the Jackson Gore Inn's lobby area or take them outside to the fire pit. It's just one more way Okemo is making sure you bring home sweet memories.
MORE SKI FEATURES FROM MOMTRENDS
PIN IT!
Use Pinterest to save your favorite family travel features. Be sure to follow our Ski Moms Pinterest Board.
This is not a sponsored post. Like most of our travel coverage, we are given complementary lodging and services to facilitate our reviews. Nothing is scripted.