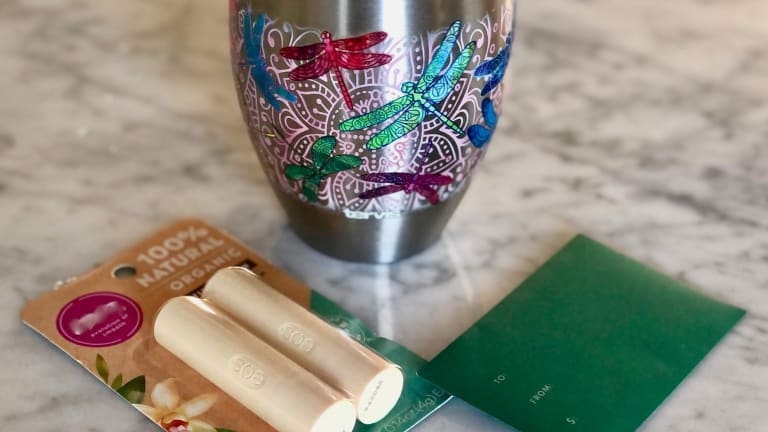 What Teachers Really Want to Get for the Holidays
What teachers really want to get for the holidays are gift cards and practical gifts like a Tervis Tumbler.
This post is brought to you by Tervis. 
News alert: Teachers don't really want candles and cookies at the holidays. Remember these are the folks that look after and guide our most precious gift--our kids. Momtrends says: No re-gifting for teachers, no cheap body lotions. What teachers really want to get for the holidays are gift cards and practical gifts like a Tervis Tumbler. 
Give Teachers a Gift They Will Love
Like most schools, our girl's school is trying to be as green as possible. They've really cut down on waste and are encouraging everyone to use refillable bottles. That's where Tervis comes in. 
Tervis is the place to get colorful and expressive designs -- these tumblers are things that make teachers want to hang on to them year after year. 
To start, my daughter and I picked the Dragonfly Mandala from Tervis. Her math teacher is a nature lover and we were drawn to this pretty design. This double-walled tumbler offers all the benefits of stainless steel -- it's easy to clean and super sturdy.  Tervis makes high quality reusable plastic drinkware that lasts longer.
We added a giftcard to help supply her with her morning tea and some lip balm for her weekend hikes and protection against NYC's blustery weather.  
Top Gift Cards for Teachers
Visa or Amex (can be used anywhere and for travel & meals)
Amazon 
Apple
Grocery Store
Favorite coffee chain
Momtrends Tip: Have your child write the card to the teacher and personalize it with two things that make your child happy to go to school every day. Head to this post to get some inspiration.
Why Tervis Tumblers Make Great Gifts
The tumbler will keep drinks cold for up to 24 hours cold and hot for up to 8 hours hot. Since spills happen, I like that it comes with a leak resistant and easy-close lid. To clean, hand wash with soap (no bleach or chlorine) and water using a scratch-free sponge.
Momtrends Tip: Do not put tumbler in dishwasher, freezer or microwave
Tervis is passionate about our oceans and they care for the creatures that call it home. Since 1946, Tervis has are committed to making it a better place. Not because it's trendy or helps sell tumblers, but because it's the right thing to do. 
More Tervis Inspiration for Your Favorite Teachers
If you know your teacher's favorite movies or books, you can make surprise them with something special.
Harry Potter lovers will adore the Tervis collection. From a "charms' tumbler to a Hogwarts crest water bottle, this collection speaks to the teachers who believe in magic and maybe have a bit of Professor Dumbledore in them.
Perhaps they are more into science fiction and Star Wars.There's a complete Tervis Star Wars collection too. 
Start Creating the Perfect Teacher Gift at Tervis.com
Ready to personalize the perfect gift for your favorite teacher? 
The Tervis promise is that any product deemed defective and returned to them is replaced with a new one to encourage continued sustainable practices. Returned items are upcycled into new, usable materials to prevent any contribution to the waste system.
MORE LOVE FOR TEACHERS FROM MOMTRENDS
PIN IT!
Use Pinterest to save your favorite ideas. Be sure to follow Momtrends here.