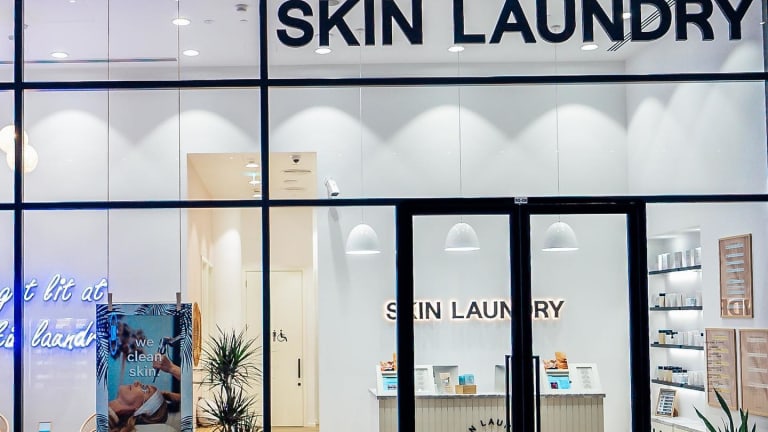 What is Skin Laundry?
Laser and light skin treatments aimed to vaporizes the dirt and impurities deep down in your pours in 15 minutes.
Lasers are the hottest and most effective trend in skin care. That's what Skin Laundry is all about--making high-tech skincare affordable, convenient and even a little fun.
The business is run along the same model as Dry Bar--make beauty treatments easy and relatively affordable and women will flock to them. Here's the business plan--pick a certain segment of the beauty biz and hyper focus so you can bring down costs and wait time. Dry Bar has done it beautifully. Blow-outs are $45 and take less than an hour. The appointments can be booked from an app and are easy to fit into a packed schedule.
Enter Skin Laundry. Imagine a convenient and fast dermatologist appointment with access to the best-performing lasers. Skin Laundry was started in California to help affluent, busy women look their best. When the company made their way to NYC I knew I had to try it. I went to visit the Flatiron, NY location (3 West 16th Street) to experience it for myself.
Let me walk you through the process. Check in at the ipad up front and run through all the usual questions involving skin care. Skin Laundry and lasers are not recommend for certain pigmentations and skin types, and you need to fully disclose the other treatments you're doing. Now is NOT the time to keep secrets ladies!
From there, head over to the vanity and remove your makeup with special cleansing wipe. The good news is you can leave on your eye makeup and lip gloss. Everything else has to go to make sure the laser can get good contact with your skin.
Once your skin is prepped, you will step into the treatment room. It looks like any good NYC derm office, clean, sparse and bright. Mood lighting is NOT a good idea when you are getting a skin treatment.
Once again, your therapist will run through counter indications and your health history. Then it's time to get started. Put on your safety goggles and relax!
First the therapist applies a gel to your face to allow the laser to glide over your skin. Now it's time for the YAG laser. For a couple minutes you'll hear a bit of pulsing and zapping. You'll smell something acrid--I'm told that's the dirt and impurities being burned off. The literature says the laser "instantly deep cleans the skin by vaporizing dirt, make-up, bacteria and impurities." And you'll feel a tingling sensation.
I know what you want to know: Did it hurt?
It didn't hurt AT ALL. Nothing like laser hair removal which can be likened to labor pains when you've got olive skin and dark hair as I do! It's almost relaxing!
Why the YAG? This laser is meant to clear up the blockages that cause acne--the before and after acne treatment photos were amazing. I would guess this treatment would be ideal right after travel to get all the plane gunk off your skin. A side benefit is that the laser plumps up collagen which is the key to looking young and fresh. Skin Laundry is all about delivering these benefits.
After the YAG, it's time for the IPL. The IPL light spectrum provides "photo rejuvenation" this is meant to reduce redness and inflammation. This is quick and completely painless. Next you'll get a bit of cooling toner and then your therapist will finish up by applying a moisturizer with sunscreen. I was reminded REPEATEDLY to be very careful about sun exposure after my treatment and to reapply sunscreen frequently.
While I can't say I saw massive improvements in on visit, I was hooked on the idea. I loved the setting--it's really close to a subway stop on the F train and I felt like I could smell the NYC grime getting zapped off my face. I live in an amazing city. So vibrant, so engaging, but so, so filthy. This could be my secret weapon to fighting my environment!
I will say my complexion looked bright and even after the treatment. There were no splotches and there wasn't any redness. No down-time is huge when it comes to skincare. I don't want to look like my face is a piece of bacon at the end of a treatment. Slow and steady wins the race!
Now I bet you want to know how often you need to know and what it's going to cost. They say "more frequent treatments result in more dramatic improvements" in the areas of acne, redness, unevenness, dullness, hyper-pigmentation, photo aging. Which makes sense. Like any at-home laser treatment, effectiveness depends on the consistency.
Book your treatment www.skinlaundry.com I recommend the "New Client Special" to get you started. This package gives you three laser and light treatments for $150. It's a good way to test if this works for your life and your skin without having to spend a bundle. If you are ready to dive in to a larger skincare program there are additional packages like the "Laundry Club" 1 facial per month for $65 or 4 facials per month for $200. Considering at-home lasers like the Tria sell for hundreds and doctors visits can get even more expensive, this is a powerful alternative to women who want to improve and maintain the look and health of their skin.
MORE BEAUTY FEATURES FROM MOMTRENDS
Best Retinol Products--our favorite ways to keep skin looking vibrant
Best Dark Circles Treatments for Under Your Eyes--mom-tested products to make you look like you got 8 hours.
Best Sunscreens--picks to keep the sun from damaging your skin as you play outdoors.
PIN IT!
Save our must-try beauty tips and follow along for more with our Pinterest beauty board!
This is not a sponsored post. I was given a complementary treatment in order to facilitate a review.