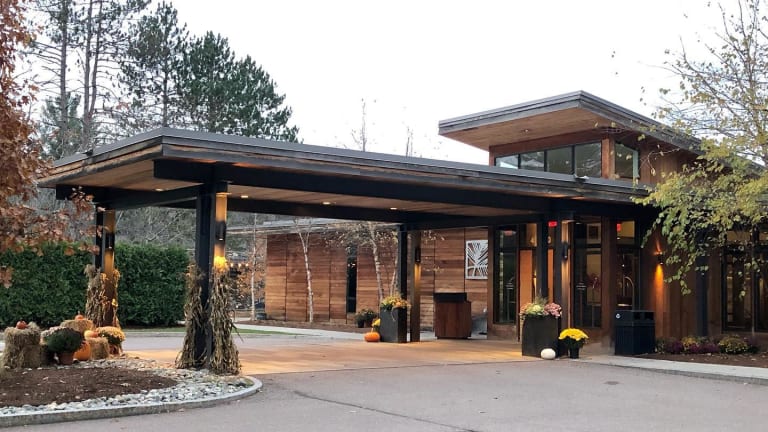 Vermont Getaway Topnotch Resort - Kid-Free Weekend
Plan a grown up trip to Stowe, Vermont with our planning tips.
Travel is a big part of my life, but I must assert, even for this #ceoonthego, this summer has been extraordinary. I feel I need to write a mini supplement to Mom Boss (my book on female leadership for the mom CEO) all about finding time for the things that fuel your soul. For me, travel keeps me simultaneously sharp and soft. That's why when we got a last-minute opportunity to plan a Vermont Getaway to Topnotch Resort in Stowe, we took it.
Book your Topnotch stay on Expedia here
Mr. Momtrends and I got an unexpected three kid-free days this month (long story involving some slightly inept camp communication on my part). Rather than dwell on WHY it happened, we thought, "hmmm, let's go someplace together." The planets aligned and a quick Vermont getaway was planned.
Okay, back to the sharp and soft for a moment. Sharp as in crisp, aware and attune. Nothing like giving your senses a boost with the new sights, smells and sensations of travel. I feel most alive when I am out of my comfort zone (you'll get more on this with all the Topnotch Resort activities in Stowe). Soft because I'm a kinder, gentler more balanced human when I travel. I tend to let go of the little things and live in the moment. If there is a physical form of therapy, travel is it.
Outdoor Fun at Topnotch Resort in Stowe Vermont
Which brings us to why I love Stowe - there's so much to do to celebrate and embrace the outdoors. This was my third visit to Stowe and I've yet to run out of new things to try.
Hiking is a big attraction in Vermont. We've done some lovely kid-friendly hikes on our visits. On this trip, we tried something a little more challenging - the Pinnacle Hike. Head to the C.C. Putman State Forest and get ready to CLIMB. Our trusty guide, Devin from Topnotch Resort, led us up the Stowe Pinnacle Trail Head. A steady and sometimes steep climb, the 1.65 miles trek was worth it. Up to the top of Pinnacle we were afforded spectacular views of the valley below.
There were kids in our group and I will selfishly say I was happy to be watching them, not in charge of them. The climb had some tricky parts (all manageable for the reasonably fit). It was nice to just be taking care of myself and soaking in the views.
Cycle the Stowe Recreational Path
Mr. Momtrends and I rarely get to cycle together. With two active girls, we tend to trade workout times and rely on shorter bursts of activity. On this getaway, we brought our road bikes along.
Stowe Recreation Path starts from the edge of the Topnotch property. It is an internationally recognized greenway that spans just over 5 miles. From Topnotch Resort the path winds through farms and along a stream until it ends on Mountain Road right in Stowe town center. Residents and guests alike enjoy the 5.3 mile paved trail as it criss-crosses the West Branch of Little River. Breath-taking mountain views and access to restaurants, lodges and local businesses make the bike path one of the most popular recreation assets in Stowe.
I loved spotting this colorful sculpture along the way. Emblematic of Stowe, it was a delight to see art along the path. From there, we cycled up Stowe Valley Road a steep climb that afforded a great workout.
Horseback Riding at Topnotch
Since this was a trip to try new things, we made plans for a ride. The Equestrian Center is right at the bottom of the hill from the resort. The gorgeous horses appear to be lovingly cared for and extremely well trained. I saddled up with Magnus and hit the trails with our experienced guide. The trail wound through the trees and along the stream for about an hour. We had a few opportunities to test out our trotting skills, but mostly, Magnus and I had a nice steady walk.
The ride is suitable for beginners, for more advanced riders, don't expect to be cantering or galloping, this is a relaxing scenic ride.
Tennis at Topnotch
Tennis at Topnotch Resort is a big deal. They have four outdoor courts in addition to a huge indoor facility. All year long they run clinics and lessons. Topnotch recruits some pretty amazing pros and no matter where your game is, you can improve on your visit.
Mr. Momtrends took a hitting lesson to help polish his backhand. He gives the pro a great review and really worked up a sweat and got helpful coaching.
Topnotch spa
In my opinion, every mom deserves a weekly massage. But we all know that isn't going to happen. But when I travel, I do try to make time for pampering. Since this was a kid-free adventure, it was even easier to fit in a spa treatment.
Mr. Momtrends and I loved our massages. The treatment rooms are clean, quiet and relaxing. Tip: give yourself time before the treatment to enjoy the private spa lounge with a fireplaces and juice bars. I also made time to use the excellent steam room.
Book your appointments before your stay to make sure there is availability. Mr. Momtrends wants me to note, he wished the deep tissue massage had a bit more pressure to it (he did try to speak to the therapist during his treatment), but overall, it's a very nice spa experience.
Topnotch Resort Grounds
As I shared in our earlier review of Topnotch, the grounds are lovely. For kiddos, there's a ton of space to roam around and play. Great news for those of you on a babymoon or looking to be kid-free for a weekend - all that space means when you want a little peace and quiet you can find it.
Some of my favorite spots to find serenity were with a glass of red wine by the fire pit outside of The Roost. Mr. Momtrends and I nursed our drinks there and discussed plans to retire in 20 years in Vermont (we'll see!).
We also loved breakfast outside of Flannel. We woke up late and got a sun-drenched table to enjoy our newspaper and eggs. Sipping that second cup of green tea without having to have a plan to keep the kids entertained was a luxury.
Relaxing by the adults' only pool was a HUGE novelty. There's a small pool designated for grown-ups with a similarly restricted hot tub, and that was definitely the HOT SPOT of the hotel. Apparently, Topnotch also sells memberships to locals to use the pool and spa. This area tended to be the busiest and the hardest to find seats, so most of our pool time was spent with the families. No worries, everyone was very well-behaved and the pool is quite large.
There's also an indoor swimming area with a hot tub the kiddos can use, but the weather was so sublime, we couldn't bring ourselves to go indoors.
Eating Like a Local in Vermont
We had a really memorable meal at Flannel, the resorts fine-food option. Again, the luxury of having all the time in the world to order, savor and chat was not lost on us. And this spot is a great option to re-connect.
Start off with a Watermelon Rumtini made with Smuggler's Notch Distillery Rum. This is a specialty concocted by Beverage Manager, Patrick.
I loved my starter salad made with local kale and homemade croutons. Mr. Momtrends adored his local greens too. The chef knew just how to lightly dress the salads so they didn't lose any of the lettuces' inherent sweetness.
For my main, I had a delightful bouillabaisse - absolutely loaded with fresh seafood and totally delish. Save room for dessert, it's a great time to sample the local Vermont cheeses and sip some of the Fresh Tracks Farm Maple Wine – it's sweetness enhances the cheese.
The Roost is the perfect spot for casual dinner. Splurge on the charcuterie plate and sample some of the local brews. I heard the expression that Vermont is "the Napa of microbrews" and think they aren't far off. You have a lot of options here.
We tended to go big at breakfast and then opt for heartier dinners. We'd grab a snack in the midday from the poolside menu, like this shrimp cocktail and a freshly brewed iced tea.
If you venture off property, there are many tasty options. Stowe has transformed itself into a foodie scene. On this visit we popped into the Idletyme Brewing Company for dinner. The biergarten is extremely popular come early or grab a seat at the bar (first come first serve).
Since there were far too many choices on the menu, we opted for the Brewski a beer sampler served on, you guessed it, a wooden ski. Normally the brewski has six 4oz samples from the brewhouse, but our server upsized the ski and added two more.
The beer is brewed on site and the bartenders can offer you excellent taste descriptions of what's on tap.
As for the menu, it plays up what's local. I ordered the Idletyme stacked garden vegetable Napoleon (can be ordered vegan and dairy-free) and loved my meal.
If you need a pick-me-up on the way out of town, stop into Black Cap Coffee and Beer. They make excellent coffee (says Mr. Momtrends) and have delightful quick breakfast options. It's a great place to stop in town for granola or banana bread.
In a nutshell: Topnotch resort in Stowe is the place to celebrate all the things I love about Vermont. They focus on fresh local food and try to get their guests active and enjoying the outdoor splendor of this blessed part of the country. Come ready to play!
Book your Topnotch stay on Expedia here
MORE TRAVEL FEATURES FROM MOMTRENDS
PIN IT!
Use Pinterest to save your favorite family travel features. Be sure to follow our Ski Moms Pinterest Board.