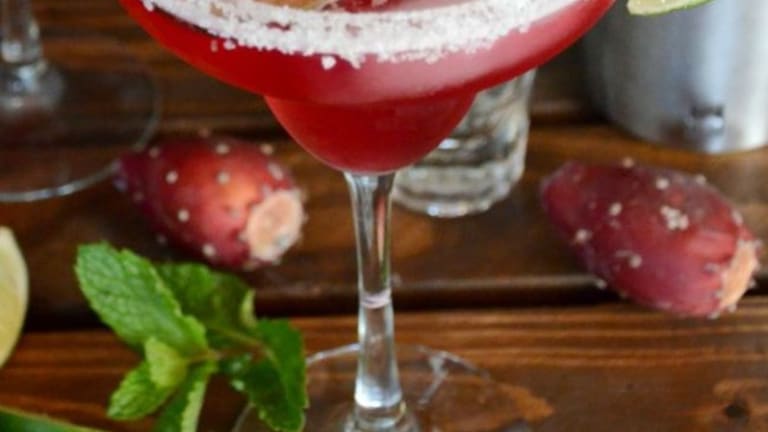 Unique Margarita Recipes
We've rounded up a few interesting and unique margarita recipes to try tonight for National Margarita Day.
Today is National Margarita Day. Yep, a whole 24 hours devoted to my drink of choice. And now that it's creeping up on 5 PM, let's pucker up and pour one in a big tall glass. I fully intend on celebrating with a Mexican feast complete with a pitcher of spiked liquid deliciousness--once I put the kids to bed, of course. (T-minus three hours until Mama's night in!). Here are some unique margarita recipes to inspire.
Salty and sweet. A classic combo and a winning recipe for a thirst-quenching cocktail. Hence, why I love me a good old-fashioned margarita. Tequila, fresh lime, Cointreau, and a salted rim. Easy-peasy and potent. Just the way I like it... Preferably on the rocks. Por favor. 
Nine Unique Margarita Recipes
I'll probably keep it simple and classic, but you can most definitely put a twist on a margarita, and incorporate some totally unexpected ingredients. I've rounded up a few of the most interesting, unique, and totally awesome margarita out there. With recipes that call for cotton candy, avocado, and lavender, these are most definitely don't fit my simple four-item criteria above.
Cotton Candy Margarita
These cotton candy margaritas represent the most novel of county fair food, transformed for sipping. Get the recipe Cotton Candy Margarita via Such the Spot.
Skinny Coconut Margarita 
Made with lite coconut milk, coconut water, tequila Blanco and triple sec for a refreshing cocktail. A tropical spin on the classic drink! Get the recipe Skinny Coconut Margarita via With Salt and Wit.
Avocado Margarita 
It's creamy, yet tart, and maybe even a little too easy to drink. Get the Avocado Margarita via Spinach Tiger recipe.
Champagne Margarita 
Bubbles are fantastic always and this version is perfect for the holidays. Get the recipe Champagne Margarita via Marla Meredith.
Prickly Pear Margarita 
A refreshing margarita recipe straight from the Sonoran Desert. Get the Prickly Pear Margarita via Momtrends
Bellini Margarita 
A mixture of a bellini and margarita makes for a perfect brunch recipe. Made with peach juice, tequila, and champagne! Get the recipe Bellini Margarita via House of Yumm.
Creamy Margarita Popsicle
A frozen version for you! Try the Creamy Margarita Popsicle via Host the Toast.
5-Minute Margarita 
Yep, you don't need much time to whip up this version. 5-Minute Margarita via Momtrends
Pineapple-Jalapeño Margarita
A muddled jalapeño slice with pineapple juice, triple sec, lime juice and Patrón Silver is sweet, savory, tart. Get the recipe Pineapple-Jalapeño Margarita via The Blond Cook.
MORE COCKTAILS AND ENTERTAINING IDEAS FROM MOMTRENDS
Be sure to share this post and check out our other cocktails. All perfect to sip and relax enjoying the warmer weather!
PIN IT!
Use Pinterest to save your favorite cocktail ideas. Be sure to follow our Drinks board here.
This is not a sponsored post. All opinions are our own.