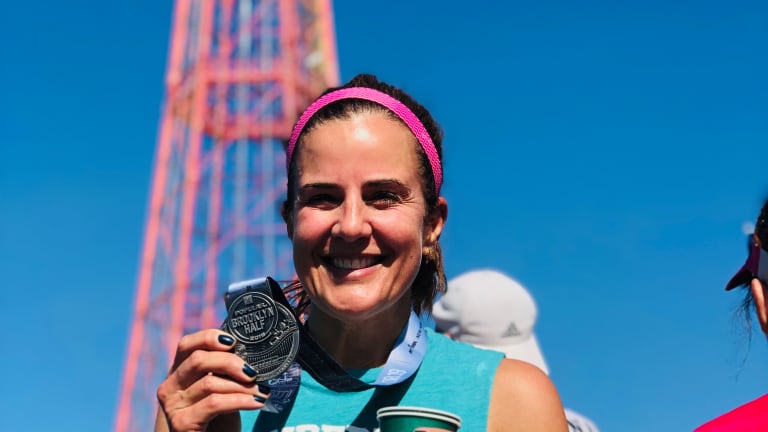 Training for Your First Half Marathon
With the right attitude and a few tricks, you too can cross the tape 13.1 miles later.
Finding time to workout is a challenge for moms. Finding time to train for a long race, well it might seem impossible. But with the right attitude and a few tricks, you too can cross the tape 13.1 miles later.
Training for Your First Half Marathon
I run half marathons to celebrate my love of the sport and the blessing I have of fitness and health. I am so, so grateful for the gift of strong legs. To give myself running goals, I love putting a few races on the calendar each year. Half Marathons are the perfect distance for me--13 miles is both substantial and obtainable. While I am getting valuable, "me time" I'm also modeling behavior I want my girls to see: setting goals, valuing my health and honoring my gifts.. As you can tell, happy place is on the road.
I want you to find your happy place too. Maybe it's not 13 miles, maybe it's a 5K, or even a marathon (go get 'em girl) no matter, these tips still hold true.
Mom Trends Tips for Training for Your First Half Marathon
Momtrends No-Fail Tips to Finishing Your First Half Marathon
1.) Get Social. Put your goal out there on social media and to your friends, co-workers and family. You'll get an instant support group AND possibly a training partner.
2.) Gear up. Don't expect your dusty old sneakers to go the distance. Get a good fitting and buy two pairs--alternate the pairs between runs. TIP: Don't run in new shoes. If you haven't done a long run in them, don't try them on race day.
3.) Get a schedule. I used the Runners World Intermediate Plan. You don't want to overtrain or under train. I don't like to run more than 4 days a week, so I like a schedule with cross-training. If you're not regularly running, look for a schedule with walking breaks worked in.
4.) Stretch it out. Not the obligatory post-run toe-touch. I'm talking 30 minutes twice a week with a yoga mat. You've got to give your muscles a thank you for all the hard work.
5.) Pick the right race! Don't opt into a hilly, hard-core race (like the lovely, but beastly Fall Foliage Half Marathon I do every year in hilly upstate New York). I love the MORE Fitness Half because it's all women and the energy is amazing. Other friends swear by the Disney races, I've never tried them, but hear great things
So you've got my no-fail tips. Now here's my no-fail gear. I've been running in New Balance for 10 years. For the past few seasons I've been in the New Balance 890v5's. These shoes are built for loading up the mileage. They've got REVlite cushioning and an ABZORB crash pad for superior shock absorption.
What to Wear When Training for Your First Half Marathon
I've been layering on the New Balance Ultra Half Zip. Yep, I love the color and the thumbholes (can't get enough of the thumbholes) I pair it with the super comfy Achieve Reversible Capri. I have to have moisture-wicking fabric when I run. I hate feeling clammy after I sweat. These rock.
One last note, I've been reading a great injury prevention book for runners called Dr. Jordan Metzl's Running Strong: The Sports Doctor's Complete Guide to Staying Healthy and Injury-Free for Life. Dr. Metzl treated my friend and got her through an injury and on the road to finishing her first half marathon. Dr. Metzl gives you injury prevention tips for strong workouts that will strengthen your running. You'll find recovery tips, nutrition and more. It's a great "bible" for new runners. Check it out here on Amazon.
More Running Moms Weigh In on Half Marathon Training
Jo-Lynne Shane shares her first-timer's tips and a training plan here.
Nadia from ChildMode loved the Disney Princess Half. 
Amy from TeachMama.com raves about the Ocean City Half Marathon.
Christine Koh shares her awesome newbie tips.
Rachel Blaufeld is an author, blogger mom and RUNNER!
Get more of Gia's tips on running you first marathon here www.rungiarun.com/2013/03/on-running-a-successful-first-marathon/
Read Nellies' race recaps at BrooklynActiveMama.com
MORE RUNNING FROM MOMTRENDS
PIN IT!
Use Pinterest to save your favorite parenting articles. Be sure to follow our Running board here.
This is not a sponsored post. All the running goodies are sent to me because I'm a running fanatic. There are affiliate links in this post.