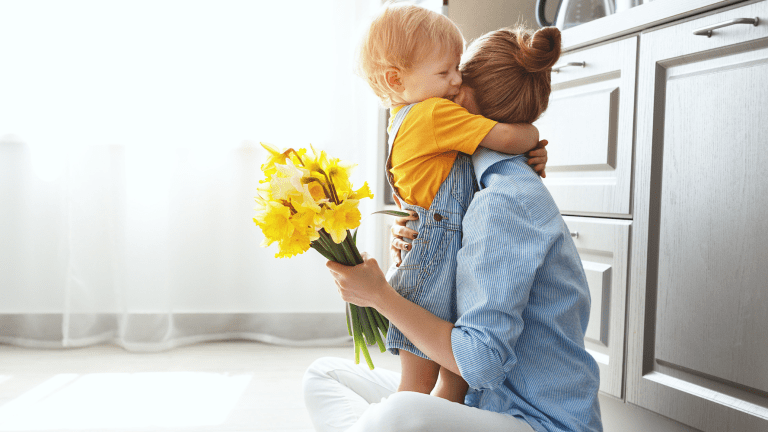 Top 10 Books for Mother's Day
We were lucky to nab the Amazon Books editor to wheedle down all the hottest reads for mom.
One thing we know about our Momtrends' moms--they love to read. We've teamed up with Amazon to give you gift ideas for Mother's Day for every moms on your list. 
Related: DIY Mothers Day serving tray
First, let' talk about WHO put this list together. We were lucky to nab the erudite Adrian Liang, the Amazon Books editor to wheedle down all the hottest reads for you. Adrian is an East Coast transplant to the gorgeous Northwest. One of the fortunate few who has parlayed her English degree into a paying gig, Adrian has been working in the book world for more than twenty years, which makes her feel both a tiny bit old and very, very lucky.
For more great books coverage, visit the Amazon Book Review: www.omnivoracious.com
"I remember the very first time someone said, 'Happy Mother's Day' to me. I was a very new mom, and the cheerful salutation stirred up an emotional cocktail that was one part panic and two parts joy," says Adrian. We think this list works for the newest recruits to motherhood as well as longtime veterans. Thanks Adrian for this list--I just know one of the books below will be the perfect gift for my amazing mom.
Between You & Me: Confessions of a Comma Queen by Mary Norris
Norris' thirty years in the copy department of The New Yorker exposed her to all kinds of poor punctuation, ghastly grammar, and surprising spellings. Norris's laugh-out-loud stories and entertaining investigations into topics such as who added the hyphen to Moby-Dick will engage writers and readers of all stripes.
The Girl on the Train by Paula Hawkins
This year's early contender for best mystery read is a perfect gift for those who enjoyed Gone Girl and are looking for a new tale that will deliver a breathless twist.
The Nightingale by Kristin Hannah
Bestselling author Kristin Hannah delves into the rich, compelling story of two French sisters during World War II, each struggling along her own thorny path as France itself tries to throw off German oppression.
Detailed Designs and Beautiful Patterns
Adult coloring books are all the rage right now, and this volume featuring original, detailed designs is a great gift for the mom who needs a creative outlet.
Doodle Diary of a New Mom: An Illustrated Journey Through One Mommy's First Year by Lucy Scott
Hilarious and heartwarming, Scott's illustrated book will be a good friend during the first year of mommyhood.
Underwater Babies by Seth Casteel
Casteel made a splash with his photography books Underwater Dogs and Underwater Puppies. In his latest, wide-eyed babies will make you say, "Awwww," as you flip through these adorable images.
The Tippling Bros. A Lime and a Shaker: Discovering Mexican-Inspired Cocktails by Tad Carducci and Paul Tanguay
Margaritas! Go beyond your usual "It's been a long week and I deserve a treat" drink and dive into the delicious history of Mexican cocktails. You're be shaking up new, wicked recipes in a wink.
A Girl and Her Greens: Hearty Meals from the Garden by April Bloomfield with JJ Goode
The chef famous for her snout-to-tail approach to eating meat proves in this lovely book that she savors vegetables, too. Whimsical illustrations, luscious photography, and accessible recipes make this a stand-out cookbook in a crowded field.
Born with Teeth: A Memoir by Kate Mulgrew
Whether you know her as Captain Janeway from Star Trek or as Red on Orange Is the New Black, Mulgrew delivers a powerful memoir about a young actress who gave up her newborn child for adoption just as her career was taking off, the hard work in Hollywood to capture elusive success, and the road she took two decades later to reunite with the daughter—and the piece of herself—she left behind.
The Road to Character by David Brooks
New York Times columnist and NPR commentator Brooks explores how people build strong internal character and break away from our society's undermining focus on external successes. An enlightening read for a parent concerned about the choices we make to define who we are.
MORE MOTHER'S DAY INSPIRATION
PIN IT!
Save your favorite ideas to Pinterest. Be Sure to follow our Mother's Day board here.
This is a sponsored post.