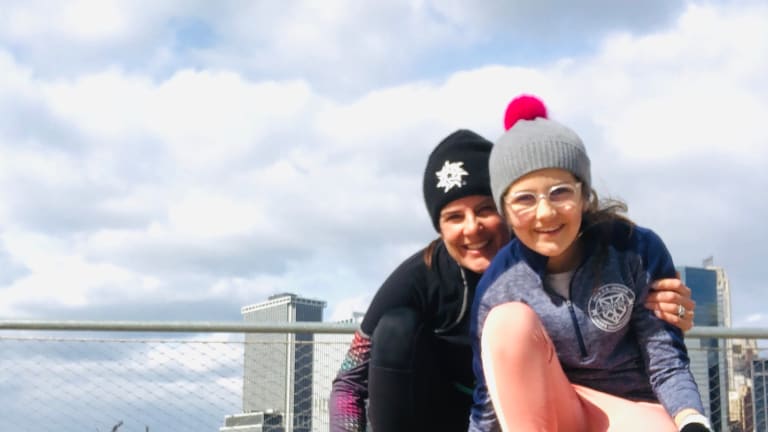 Tips for Running with Tweens and Kids
With the right attitude and a few safety tips, running with your kids can be rewarding and build healthy habits for a lifetime.
With the right attitude and a few safety tips, running with your kids can be rewarding and build healthy habits for a lifetime. I was a runner before I had kids, afterwards I adjusted to motherhood with creativity. In my 14 years of being a runner, I've learned a lot. Here are my tips for running with teens and tweens.
Running Moms Are Getting it Done
First there were the strollers. I loved my baby jogger, it was a great way to stay active and engage with my babies. As the kids got older, my husband and I started the program of switching our workouts. He'd bike, I'd watch the kids, I ran, he'd watch the kids. For sure the swapping system works, but to be honest, it did break the family up. Ten years later, I can bring the my older daughter along with me. I've started running with my tween and we're having a great time.
A few months ago we started this running program. Now I'm running once a week with my 10 year old daughter. She's an active kid who plays many sports, and she's always up for a challenge. We started slow, run-walking for a mile, now w've built up to three miles. Our pace is regulated to what she can do while still comfortably talking with me. We have great girl chats on our runs and I hope I'm giving her some healthy habits.
Three tips for getting your kids to love running:
Don't rush it: Start slow with a balance of running and walking. Your child might struggle at the beginning so be prepared with frequent breaks
Pick a scenic route: Find a park or city route with plenty to see and chat about.
Have the right gear: We've got coordinating New Balance shoes. I believe in investing in good gear. It doesn't have to be expensive. Check out alternative brands too.
Get the Right Gear
Kids need shoes with great support too. My daughter thinks it's so cool that we have matching shoes and that she has "real running shoes." It's worth the investment to get her a pair that will enhance her love of the sport and prevent injury. The running shoe features all the technology aspiring athletes need, support, cushion and lightness.
For my half-marathon training, the Vazee Pace has been a perfect shoe. Engineered for speed, this lightweight shoe has won a ton of awards. It's a gem. Since I'm doing 30+ miles a week, I plan my runs with my daughter on recovery days. I don't need to be fast with her, these shoes are terrific on my speedy days and just as good on days when I'm out to enjoy the views.
Other than the right shoes, all you need is weather appropriate attire. A your kids get more into running, you can add things like a tracking app for their smartphone or a wearable.
Getting Kids Running the Right Way
I got some more tips for running with your kids from Tara, a Registered Dietitian with Clif Bar & Company. 
Tara has two boys ages 9 & 5 and the busy moms says sheI works out to keep up with them. Tara has always been a runner, in fact she started when she was 10 so it's natural she's wanted to get her boys involved in the sport at a young age.
Like me, when Tara had her babies, she relied on a jogging stroller to get in her workouts. She would put her boys into the stroller run them to their swim class, stretch during class, then run home.
As the boys got larger, they took bikes and road alongside her as she ran. The key she says is to "get out on the trails together." Tara also gets the kids involved on her longer runs. She'll swing by the house towards the end of the run to pick up one of her boys. He'll run with her for the last cool-down mile. Tara's tip: "You're not going to just go out and run you've got to make it playful."
Register for a Fun Run
Tara had a great suggestion of registering for a family fun run. She just did the football 5K--a run around her NFL football stadium with here sons.
Finally I asked Tara about winning and losing. What was her take on a little healthy competition in the family? Tara says, "Let them win enough to feel successful, but not every time." At the recent 5K race, Tara's oldest son brought it in strong. "He can beat me in a full on sprint, legitimately beat me!" she says. But she's still got the edge on long runs. "He knows I can go run for a long time," she says, Tara is working on teaching her kids about endurance. Isn't that a great life lesson! Tara tells the boys, "you have to pace yourself you can't sprint the whole way."
As a registered dietician, Tara recognizes that kids need the right fuel. She stresses to her kids that food is fuel. Telling them, "what you eat will impact how good you are at that activity." For workouts and busy sports days Tara feels good giving the kids Clif products. And she's even let her oldest try the Clif energy gels as a reward on race day--these are straight-up carbohydrates and sugar for immediate energy.
Be sure to give your kids the rights snacks for what they have going on. How many calories your kids need will vary--it's impacted by gender, height, and weight. Recommended daily benchmarks for boys are 1,400 calories a day for ages 4–8 and 1,800 for ages 9–14. The guidelines for girls ages 4–8 are 1,200 daily calories and 1,600 for ages 9–14. Here's a quick guide on calorie burn per activity:
Why not try running with your kids? It's a lifetime sport that required minimum investment, Love + running shoes + time = a lifetime of health and happiness. Happy Trails!
MORE RUNNING FROM MOMTRENDS
PIN IT!
Use Pinterest to save your favorite parenting articles. Be sure to follow our Running board here.
This is not a sponsored post.