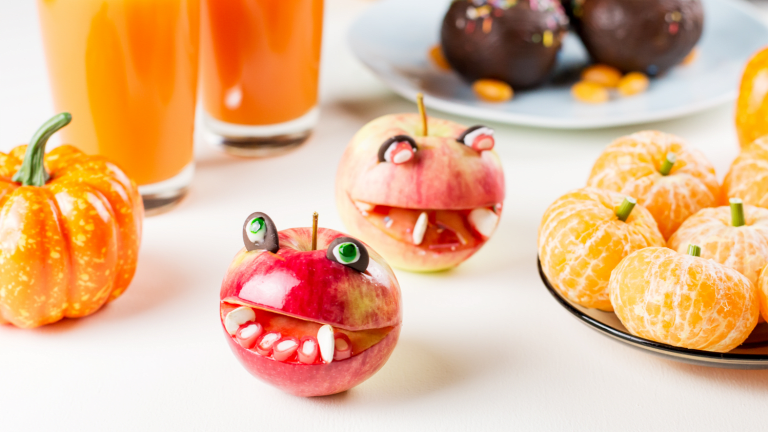 Five Tips for a Healthier Halloween
Sharing tips to help you and your family have a healthier Halloween this year
Halloween can be scary. Ghosts, ghouls, and goblins abound, but the most frightening part of Halloween: the unhealthy eats and sugary treats. No trick here, just lots of not-so-good-for-you goodies. In fact, the average candy in a typical trick-or-treat bag can contain as much as 7,000 calories and all that candy can lead to tooth decay, belly aches, unhealthy habits, and extra lbs all around!
Related: Ideas for healthier Halloween party food
That's why we're turning to an expert for some stay-healthy AND keep-the-kids-happy Halloween ideas. Dr. Mayrene Hernandez of UnitedHealthcare is sharing five frightfully-easy tips so that conscious parents can avoid ruining one of the most kid-friendly celebrations of the year.
Instead of candy, opt for healthier options. Candy is fun, but healthy food can be as well. Making small oranges, popcorn balls or fruit cups with pumpkin faces drawn on them can encourage healthier eating while still getting into the Halloween spirit. Give trick-or-treaters dried fruit, fruit leathers, crackers or trail mix.
Trick or Toys? Or, if you want to avoid giving out candy or snack foods altogether, give small toys, stickers, temporary tattoos, pencils, Halloween erasers or glow-sticks. Kids receive plenty of candy on Halloween and will enjoy being surprised with the "extras" they gather while trick-or-treating.
Get out and exercise. Candy consumption certainly increases on and around Halloween, but so does walking. Fitbit recently analyzed its data and found the average user walked an additional 2,750 steps on Halloween. While those extra steps won't cancel out all those candy bars you ate, the added walking and exercise can help you control your weight and improve your health. Take family walks around the neighborhood before Halloween to plan your trick-or-treating route. The additional movement can benefit the whole family.
Fill your little goblins' tummies with healthy food before they hit their candy stash. Eating a healthy dinner before trick-or-treating will help ensure your kids are properly fueled and less tempted to snack their way around the neighborhood. Plus, for safety you should save your candy until you get home to screen for anything potentially hazardous.
If you return home and your family has more candy than they should eat, search online for a local dentist or other business participating in candy-donation or buy-back programs. Call first for each location's program details.
MORE HALLOWEEN FUN FROM MOMTRENDS
PIN IT!
Need more ideas on what to do with the kids? Be sure to follow our Activities to Do with the Kids board on Pinterest here.
This is not a sponsored post. All opinions are our own.