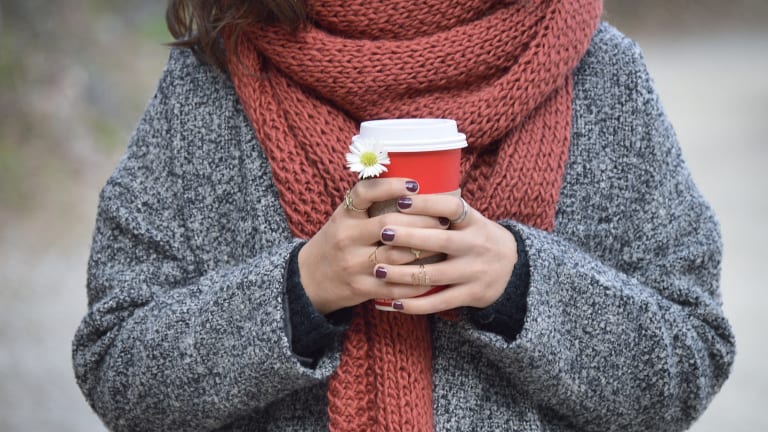 Three Classic Fall-Ready Manicures
We're sharing a few favorite fall shades for your next DIY autumn manicure
It finally feels like fall in New York. The air is cool and crisp, the leaves are changing colors and falling, and the sky has started darkening earlier. You've been swapping out your flirty frocks for destructed denim, your sandals for boots, and your light and bright tees for chunky knit sweaters. 
Three Classic Fall-Ready Manicures
Now it's time to think outside the closet, and replace your go-to pink and girlie nail colors for darker, moodier manicures. Need some inspiration? Think gray days and stormy nights. We're sharing a few favorite fall shades for your next DIY autumn polish sesh.
Shades of Gray: Transition from early fall pastel-inspired white-infused grays to darker hues as it gets later in the season.
Deep Reds: Fall is when you swap the rosé and whites for deep Merlots and full-bodied Cabernets. Reflect this change with your nails too! Match your wine to your digits.
Navy Blues and Deep Greens: Pastel sky blues and light violets had an extended moment in spring and summer, but now it's time to go for super-rich hues, like navy and forest green.
Of course, if you're able to make it to your local salon for a little TLC, we suggest taking your manicure up a notch this season with some nail art. Nicole loves the latest trendy designs at PaintBox in New York City. Check out her full low-down on the high-end experience HERE.
MORE NAIL TRENDS FROM MOMTRENDS
PIN IT!
Use pinterest to save your favorite beauty tips. Be sure to follow our Nails and Manicures board here.
This is not a sponsored post.