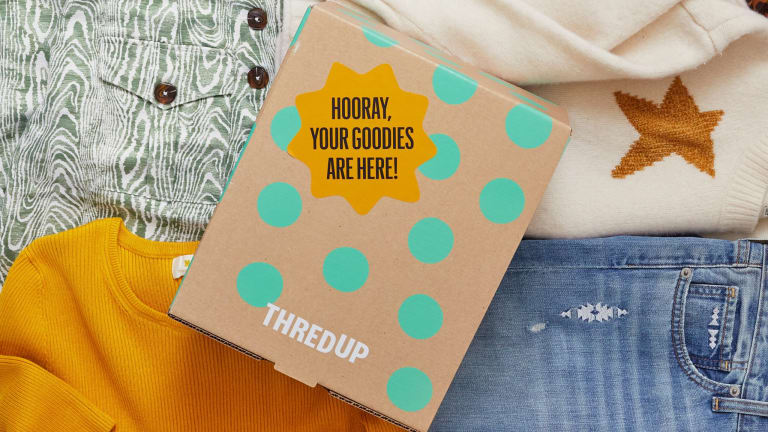 thredUP Recycling Clothing for Cash
Check out this online thrift store for your closet, your wallet, and the planet.
It amazes me that it was just four years ago that my daughter was born and now we have so many kids' clothes. Now with a second baby, there are clothes of every shape and size in their dresser, but as they grow I am finding that I have little room to hold onto their old items. I've donated and passed them on, but again with two and no car it can be hard to get it all out of our house.
Related: Tips for selling old items online
Recycling Children's Clothing for Cash
Enter thredUP, a new service that delivers a large shipping bag that you can stuff with your kids' outgrown clothes. What is even better is that you can drop it on your doorstep and then earn up to $5/item that you send in via PayPal. Also, a donation will be made to Coats for Kids for every bag you recycle.
This environmentally-friendly and FREE solution that makes it super easy for busy parents to get rid of old clothing and make some money in the process.
How works is ridiculously easy. You sign up for an account at thredup.com and a bag is colorful green bag is delivered to your home. Fill it up with all of your gently worn kids clothes (they only take children's clothing and it has to be clothing over size 12 months) and place it on your doorstep or drop it off at a UPS store or drop box. All of the shipping bags contain a pre-paid shipping label so you don't have to waste time at the post office. Once they receive the items, they assess them for quality and all items that do not meet their quality standards are donated - so either way it's a win.
Using thredUp Concierge made it so easy to purge as I went through my daughter's old clothes and loaded up the bag at my convenience. The website also points out that this is the most convenient option to passing along old clothes, more so than Craigslist, eBay, and even passing them along to family or friends. I loved how simple the system is as well as their mission to donate and provide families with some money. No more excessive junk for 2012 thanks to thredUp Concierge.
For additional information, please visit: http://concierge.thredup.com/
WANT MORE ORGANIZING HACKS FROM MOMTRENDS?
PIN IT!
Use Pinterest to save your favorite posts. Be sure to follow our Organization board on Pinterest here.
Momtrends was not paid for this post. We were given a bag to fill up and donate!