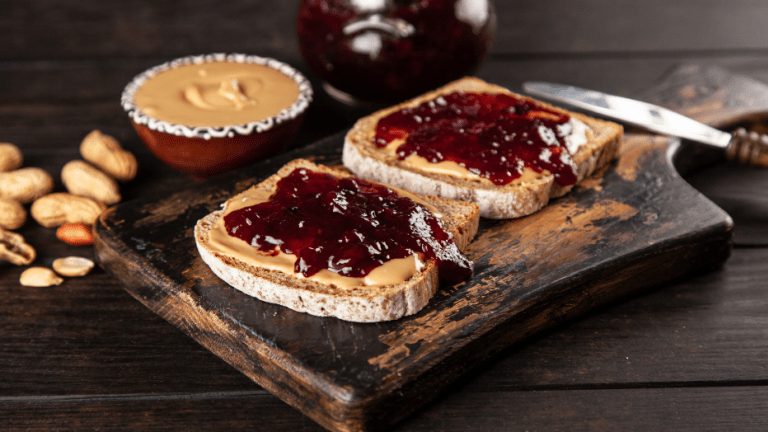 The Ultimate Peanut Butter and Jelly Sandwich
Today is National Peanut Butter Day and we're celebrating the ultimate snack food with a few updates on the classic.
Peanut butter. Love it or hate it (and I find that people usually fall into one boat or the other!), you can't deny that it's a convenient option. Creamy, crunchy, or whipped, it's got texture, flavor, and, best of all, protein! Paired with its BFF jelly or its other pal, chocolate, it makes for a hearty and relatively healthy mid-day meal or nosh.
Related: How to make peanut butter and jelly sushi rolls
Today is National Peanut Butter Day and we're celebrating the ultimate snack food with a few updates on the traditional PB&J sandie. Upgrade your lunchbox game with these fun, creative, and yummy ideas. (And get the latest pediatrician-recommended guidelines for introducing your child to peanuts and peanut products, HERE.)
Shape It or Cut It

A cookie cutter instantly transforms a plain ole sandwich into a work of edible art. It's amazing how a heart-shaped PB&J can actually taste better.
Grill It

A standard PB&J is fine and all, but pressed in a Panini maker, it's next-level delicious. Ooey-gooey, warm, and toasty it's crispy on the outside and melted perfection on the inside. Grill It via Cooking Classy
Update Your Sandwiches

Instead of white or wheat bread, try smearing your peanut butter and jelly on two toaster-oven waffles. It'll have the crunch and subtle sweetness you crave. Swap Out Your Bread for Toaster Waffles via Ready Set Eat
Waffles for Lunch

Who needs syrup when you have a thin layer of peanut butter and a little bit of jelly sandwiched between two fluffy round pancakes. Whip Up Peanut Butter & Jelly Pancakes via The Baker Mama
TexMex Inspiration

Layer a bit of peanut butter and sliced bananas between two tortillas and grill! Serve with some jam dipping sauce! Make Peanut Butter Quesadillas via Texanerin Baking
Brunch Time

Not sure we can consider this one a meal. This recipe is as decadent as a dessert can get. Sprinkled with powdered sugar, it's sweet, savory, and soooo very good. Treat Yourself to PB&J French Toast via PopSugar
Sushi Fun

Shape you mini sandwiches like sushi rolls and serve with chopsticks, and enjoy! Get the recipe on Momtrends here.
MORE FOOD FEATURES FOR YOUR FAMILY FROM MOMTRENDS
PIN IT!
Use Pinterest to save your favorite recipes. Be sure to follow our Kid Food Pinterest board here.
This is not a sponsored post. All opinions are our own.