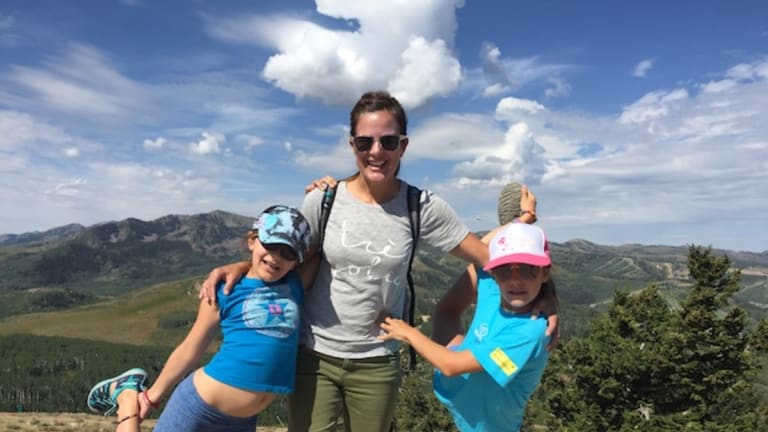 Summer with the Family in Park City Utah
Summer with the Family in Park City Utah: Park City has everything my family needs for a great vacation if your family loves to explore and get outdoors.
Have you experienced the delights of being out West in the summer? My crew was won over after our first summer with the family in Park City, Utah.
Related: Where to eat in-Park City, Utah
You might have heard that the weather is sublime. It's true. 70s during the day and 40s-50s at night with not a hint of humidity. No one in our crew missed the mosquitos and the best part--there's so much to do.
Summer with the Family in Park City Utah
I was out for work, I presented at a Ski Utah meeting about serving the ski moms constituency (my passion) and we combined work and play. Home base for the week was The Chateau at Deer Valley. This resort property is run by the Stein Lodge (right across the street).
Our roomy home was a series of three condos that were co-joined. We had so much space to spread out - we were beside ourselves. The Chateau is steps away from world-class hiking and skiing (name the season). And there are tons of dining options in this village.The resort has a sizable outdoor pool and hot-tubs, a fitness center and a restaurant.
If you want to explore, it's just a short 10-minute drive to downtown Park City. The staff is welcoming and knowledgeable and they provide a shuttle to town if you want to leave your car in the garage.
For a family, you can't beat this location and the access to the outdoors. Our room also had an enormous kitchen (which we used for breakfasts) and a washer/dryer. Be it winter or summer, this is a great spot for families.
By now you know I'm an avid skier, we've spent many happy holidays on the mountains in Utah. I was excited to explore what the summer had to offer. Suffice to say, we sure didn't get bored in a week. In fact, next year we've got to come out for longer. Here's the highlight reel.
What to do with Kids in Park City, Utah
Hiking is a big attraction, from Deer Valley we took the lift to the top. Another day we started right from out lodge and hiked up and took the lift down. You could stay all summer and not run out of trails in Park City.
From the Chateau we walked over to the Sterling Express. A short chairlift ride later, we were hiking and taking in the Wasatch and Uinta Mountains, just get your lift pass at the base area. If you decide to hike up, you can enjoy a complimentary chairlift ride down.
SUP: If you haven't tried stand up paddling yet you are missing out. Trent and the guys from Park City SUP will get you up and running in no time. The ponds at Deer Valley make a gentle learning spot. The girls mastered the basics quickly and soon we were trying out skills at tandem and quad SUPS. Mr. Momtrends says this was a highlight of his trip.
Escape the Room, Park City, Utah
Have you heard of this trend? These "rooms" are big in NYC. Where you use tools of deduction to figure the way out. We were sworn to secrecy about this newer Park City attraction. Though not strictly for kids, our girls 12 and 9 were up to the challenge. Use your wits to see if you can figure out the clues. I can't tell you much more, but here's the link to the site.
Deer Valley Concerts
All summer long Deer Valley opens up the lawn to the community. Pack a picnic and a blanket and listen to the free tunes provided. Kids are welcome and if you don't feel like cooking, Deer Valley has some gorgeous prepared baskets of food.
Olympic Park
Park City was home to the 2002 Olympics. The legacy left behind is amazing. Park City is raising some tremendous athletes. Athletes flock here to train using the Olympic facilities. On our visit, we saw freestyle ski jumpers and snowboarders doing tricks into both airbags and the water landing pad. It's not just watching, the girls got into the action over at the ropes course and zip-line. Don't miss the museum inside. And on weekends the pros put on a demo at the pool. We could've spent a full day here, and next summer we will! Get the scoop on utaholympiclegacy.org
Park City Museum
This hidden gem (truly, Google maps had the darndest time finding this place) was a treat. When we got rained out from the adventure park, we made a bee-line for the Park City Museum. A perfect spot to while away a few hours before dinner, my kids were thrilled with this mostly hands-on experience. We all learned about the mining history of the town and how they reinvented themselves as a ski destination. The girls loved loading into a mining cage and "blasting" dynamite.
Park City Mountain
Years ago, we rode the mountain coaster at Park City, this trip we saw the other adrenaline options that summer offers. We snuck in a ride on the alpine slide before a thunderstorm struck. We definitely want to go back to try out panning for gems and the ropes course.
Dining with Kids in Park City, Utah
Firewood: Look out Aspen, Park City is gunning for you. When it comes to culinary prowess, most skiers think of Aspen or Jackson Hole, Park City is angling to change that. Firewood is helping the case. Start with the burratta--this rivaled some of the cheese we had back in Sicily. Momtrends Favorite: the Grilled Quail was worth the wait, we literally waited until the shipment arrived at 6:17 to place our order. So worth it. Seared to perfection and paired with blueberries "gastrique" we were in heaven. Kid-Friendly: Our girls split the lamb chop and loved it.
Normally we skip the sweets, but all the hiking had us hungry. We ordered the house spun gelato (delish) and everyone's favorite the Olive Oil Cake, a dense and moist cake packed with flavor which paired perfectly with gelato and jam.
High West Distillery:Can one fall in love with a deviled egg? Well, I think it happened. When this hungry crew got their hands on the deviled eggs they were devoured. Must've been the bacon toppers. Mr. Momtrends was smitten with his rye tasting flight (who says Utah is dry!) the meat-heavy menu had many appealing options.
Bridge Cafe:This family-friendly spot is perfectly situation by the Town Lift in Park City. There's a grassy area for kids to play in and plenty of seating out on the deck. Get a big Brazilian sandwich and iced tea to power up before your next adventure. The service is awesome and the menu was ideal for kids (think lots of carbs!).
Stein Lodge: For a special meal, you can't go awry at the Stein Lodge. Years ago, Mr. Momtrends and I snuck in here while the kids were with a sitter and had a lovely dinner. This year, I was treated to a delightful open-air breakfast. My Norwegian Potato & Bacon Pancake was by no means light, but it was divine. Poached eggs plus Jarlsberg cheese...yum. For a lighter option, try the Stein's granola. Make sure you give yourself time to walk amongst the grounds and see the flowers and the stunning views.
River Horse Provisions: The perfect spot to refuel before or after an activity. With hearty portions and something for every taste, this spot on Main Street is a must-visit destination. Healthy option: Grains & Kale, a bowl packed with farrow, greens, nuts and goodies to fill you up with goodness. Kid Friendly: The Caprese Sandwich or Pork Belly BLT. Momtrends Favorite: the Goat Cheese Wontons.
Family, fun and food…Park City has everything my family needs for a great vacation. If your family loves to explore and get outdoors, you've got to check out what this resort town has to offer.
MORE SUMMER FUN IN THE MOUNTAINS
PIN IT!
Use Pinterest to save your favorite family travel articles, and be sure to follow our Travel with Kids board.