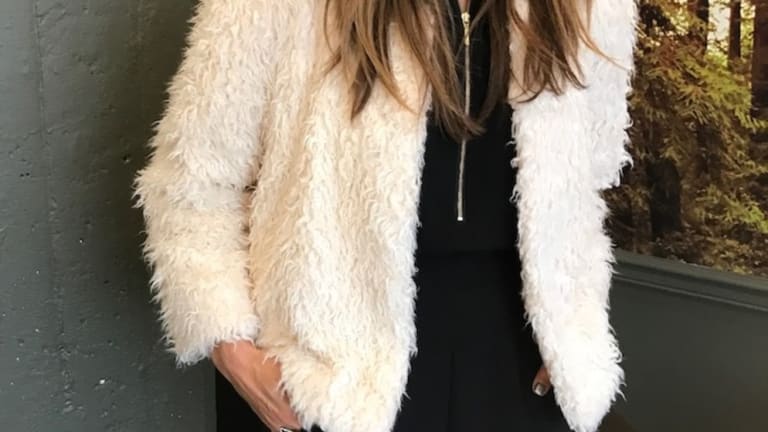 Style a Jumpsuit for Your Life
Ready for an updated party looks this holiday season? I've got ideas on how to Style a Jumpsuit and lots of fashion tips for moms.
Want an easy holiday party look? I suggest you style a jumpsuit, like this one from cabi. It's got a fit that hugs the right curves--plus my favorite feature POCKETS!
Related: Fashion for right now spring trends
Style a Jumpsuit for Your Life
I love the idea of having an outfit that is as simple as a dress but has the comfort of pants. The Grace Jumpsuit ($139) fits the bill.
The one and only downside? Of course it's the inevitable bathroom trip. Ladies, a little more time in the powder room is worth the flawless look you can put together. I added on a furry (faux that is) jacket and this look was ready for our holiday party.
Ready to jump on the trend? Here are my style tips. But remember, I think fashion is personal and fun, so don't feel like I'm bossing you around.
Style a Jumpsuit for Your Life
1. Go for statement earrings or bracelets--the zipper is a strong feature of the neckline, it almost looks like a necklace.
2. Add a heel. This dresses up the look.
3. Watch the VPL (visible panty lines)--not classy. I love the SOMA vanishing edge.
Let's talk about the bling. The asymmetrical Saga earring set ($36) from Bauble Bar is so trendy and cool, it makes a great gift for the lady on your list that sparkles. Pinch the "crawler" earring onto your lobe to attach--like the jumpsuit this requires a bit of maintenance, but so worth it.
Statement rings like this one also are ideal for playing dress up. This Arrowhead Ring ($42) is adjustable and a great way to dress up your black dresses and jumpsuits.
Need more ideas on gifts to give and get? We've got a gift guide meant to save you tons of time searching for the perfect presents.
Please follow us on Bloglovin too! Follow our blog through email. You'll get an email every time you update.
MORE FASHION TIPS FOR MOMS
PIN IT!
Use Pinterest to save your favorite fashion posts. Be sure to follow our Mom Fashion Pinterest board here.
This is not a sponsored post. There are affiliate links included in this post. Photos may not be reused without express permission of Momtrends.