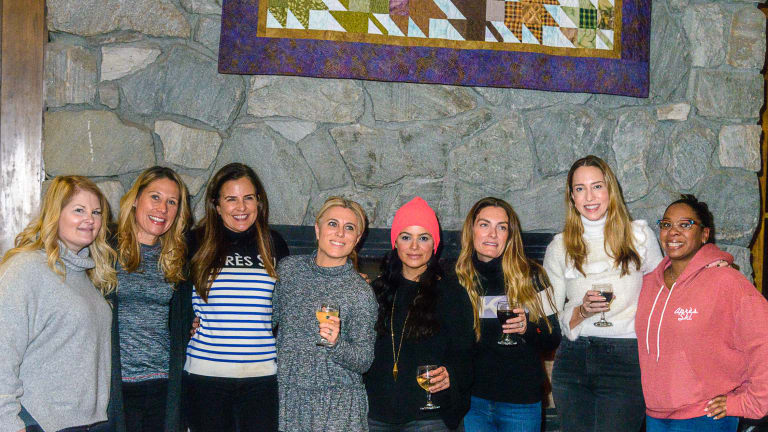 Stratton Mountain Ski & Snowboard Review #MomtrendsSki
Just 5 hours north of NYC, Stratton Mountain is tucked into the Green Mountains of Vermont, this is a wonderful place for families and to learn to ski.
Stratton Mountain is a gem. It's a well-situated, perfectly staffed, pretty spot: the perfect place to get your family hooked on skiing without having to make the big investment of a trip to Colorado or Utah. This year we were lucky enough to host our annual Momtrends Ski Moms Weekend at Stratton. For many of our moms, this was a weekend to learn to ski or ride with the kids and we all think Stratton is an awesome place to get started. 
Why Stratton Works for Families
Just 5 hours north of NYC, sits Stratton Mountain. The Vermont mountain is tucked into the Green Mountains, this is the closest I've been to skiing "out West" without having to get on a plane. And it's the perfect place to teach kids AND adults the joys of skiing and riding.
Top three reasons to ski at Stratton:
Snow Quality: Fantastic snow-making ability and an expert grooming team
Well-trained staff: From the shuttle drivers, to the ski school instructors to the lift operators expect attention to detail and a warm welcome.
Convenience: There's a lot to be said for NOT having to get on a plane to ski.
Stratton Snow Report
If you're a West Coast ski snob, you might turn your nose up at the 3,875 feet elevation. But as a mom, I've seen little ones suffer from elevation sickness, so I don't mind. Plus with a vertical drop of more than 2,003 feet, know that serious skiers will have plenty to challenge them. All in, Stratton has more than 670 acres to ski (Stratton Ski Fun Fact: the longest trail at Stratton is Mike's Way to Wanderer coming in at 3 miles). Bonus: There's a gondola which can help move loads of folks up the mountain on crowded weekends.
Does it snow? yes, the average annual snowfall is 180 inches--which is smaller than most resorts out West, but they can fire up a HUGE amount of man-made snow--enough to cover more than 450 acres. Ski Fun Fact: Stratton has over 1200 snow guns to create "gun powder!"
Stratton keeps investing in the mountain. A few years back, they were purchased by Alterra, and the money is flowing in. The Snow Bowl Express launch gave families faster to the mountains. Snow Bowl can help scatter skiers and riders on busy weekends. With this new addtion families can access the slopes with fewer lines. 
Stratton Mountain Sports School
I advise all families to sign up for ski school when on holiday. On your Momtrends trip many of the families were new to skiing and snowboarding. For kids, lessons are essential. Lessons conveniently meet near the base lifts and are matched to your child's age and ability. Kids ages 3-13 are grouped in either Big Cub or Little Cub. The bigger kids head right out on the mountain for assessments. The younger kids, head inside to get their gear labeled. Ages 6 & under get a bit more indoor time--but still PLENTY of time on the snow.
The new skier and rider is a focus for Stratton. This year they put in a  one-acre parallel teaching area. It's meant to help new skiers relax and focus on learning. Without the fear of faster skiers, beginners can build a foundation with basic skills, including stance, balance, turning and safety. Next step: Heading up the 550-foot covered carpet. 
What about the mini riders? Well, they are covered too. The kid's freestyle snowboarding has never been easier with the addition of a new Burton Riglet Park for 2019-2020. 
Our little ripper loved the beginner chair lifts at Stratton. Let's face it, chair lifts can be terrifying for both kids and adults. Thanks to Stratton our girl had a 1st--first time loading on and off a lift all alone! 
Vermont Family Ski Guide
Find out how to plan the perfect Vermont family ski trip with our helpful guide.
Skiing and Riding and Stratton Mountain
The mountain has a lot of terrain. For beginners, head to Tamarack lift for rolling green trails.  More experienced skiers will head to the Gondola and scoot right to the summit. We did laps from the Ursa lift at mid-mountain for hours on the well-groomed snow. There are plenty of spots with moguls for those who like to dive into the bumps. But there are also black groomers which kept me very entertained all day. Be warned: Since Stratton is home to racing school and team, expect to see plenty of racers screaming down the expert trails. 
In addition to SMS, a world leading ski academy, Stratton is also host to tons of weekend ski programs for kids. It's also packed with parks for kids and adults to practice terrain skills. At Stratton, there truly is something for everyone.
Lodging at Stratton Mountain 
On our Momtrends Stratton trip we all stayed at the Black Bear Lodge. It's more of an inn or hotel with no in-room services. The rooms are Vermont lodge basic, plenty of space to stash your gear and no fuss. In this spot it's fine to bring your skis inside, most condos require you to stash skis outdoors or in lockers. Kids love the game room here and the hot tub area. There's a free shuttle to the slopes (it's a 2 minute loop) and a nice restaurant on site.
Our family never had to wait more than a few minutes to get to the base and the shuttle drivers were very helpful about loading all our gear into the van. 
Stratton has a TON of options for condos with kitchens. Most families will want to rent a condo for a Stratton holiday. Ski condos are great since they give you space to spread out and the option of cooking in and putting tired tots to bed early. We've stayed in Long Trail and Mountain Watch and found both areas to be more than sufficient.
Find out more about all the lodging options here.  
 Dining Options at Stratton Mountain
Black Bear Lodge offers a hearty/bread-heavy continental breakfast with most bookings. We didn't venture out to try the on-mountain breakfasts. 
In the village you can get a casually elegant meal at The Fire Tower Restaurant. They have nice cocktails, and I liked the veggie potstickers. Skip the pricey rack of lamb. On mountain, we ate at Mountain Smoke at the Mid Mountain Lodge, in general eating up the mountain is smart as lines tend to be shorter. The limited menu was served by a very friendly staff. The chili was passable, and I would be remiss in mentioning there were no marshmallows for the hot chocolate. 
If you can go before 11 or after 2, the main lodge is full of healthy options. Stratton has come a LONG way with offering healthy, crisp salads, Asian bowls and other lively offerings for hungry skiers.
What to Do at Stratton When you Aren't Skiing
For some, skiing isn't enough and they may ask, "What else?" Most of you know I'm a bit of a fitness nut. I usually check out the gyms and fitness centers on all my trips. Stratton was no different. Black Bear lodge had a steam room and hot tub, but I wanted a workout. About a mile down the road is the Stratton Training and Fitness Center. This has a huge cardio room, lap pool, steam room, clean locker rooms and huge area for stretching and strength training. There is a fee for the day. Get more details about the Fitness Center here.
Relax: If you worked up some knots in your shoulders or have super-sore quads from all the skiing, you'l want to make an appointment with Michael in the Day Spa. I only had time for a quick 20-minute shoulder and neck massage--but he worked wonders. The spa team works on world-class athletes, so it's little surprise that he knew what he was doing. Get more details on the spa here. 

Tubing is always a hit with families. Our crew was no different. Head over to Stratton's Sun Bowl and get tickets to  the Coca-Cola Tube Park (Momtrends Tip: Pass holders can enjoy 2 people for the price of 1 Friday nights). It features four lanes of lift-serviced snow tubinga warming hut with light refreshments and fire pit. Play by day or under the lights at night!
In addition to all that, you can also rent fat bikes or head out on cross country skis. Only boring people get bored at Stratton.
With all this going on, our crew was mighty happy to celebrate winter at Stratton. The team at Stratton is invested in helping your family make great memories on the snow.
MORE SKI FEATURES FROM MOMTRENDS
PIN IT!
Use pinterest to save your favorite family travel features. Be sure to follow our Ski Moms Pinterest Board.
This is not a sponsored post, accommodations were made by the resort to cover our expenses for lodging and lift tickets.