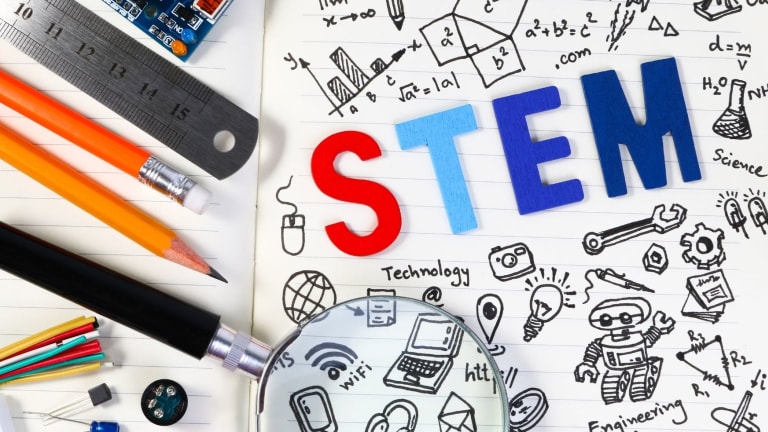 4 S.T.E.M. Subscription Boxes We Love
Looking for more ways to inspire learning in your kids? We're sharing 4 S.T.E.M subscription boxes we love for spring break and beyond.
Whether it's a rainy Saturday, a week of spring break or - (could it be?) - another snow day on the East Coast, we're always looking for fun ways to keep the kids busy and entertained over those long stretches indoors. Luckily, with one of these S.T.E.M. subscription boxes delivered right to your doorstep, you can inspire your kids with monthly activities to learn about science, technology, engineering, and math.
Related: Kidpik spring delivered to your door
From books and toys to classes and games, S.T.E.M. activities are all the rage. They give kids of all ages the chance to learn while they are having fun. Here are four subscription boxes worth checking out.
Multiple Experiments in Every Box: Little Passports Science Kits
Want more than just one activity each month? The Little Passport's Science Kits are a great choice for kids 9+ looking to learn. Each box contains three thematic activities as well as a comic book exploration of the topic with Sam & Sofia, achievement badges for kids to earn and additional online content to further learning. ($20/month or $17/month if you sign up for the whole the year)
For Older Kids: Tinker Crate

From the makers of Kiwi Crate, the Tinker Crate is a S.T.E.M. box designed for kids 9-16.This monthly crate deal with more advanced S.T.E.M. topics and includes all the materials and inspiration for science and engineering projects like building a trebuchet, creating paper circuits and making fiber optic stars. We love that the Tinker Crate includes a Tinker Zine that include the project instructions as well as background information on the topic, recommended books and apps, and a monthly hashtag for Tinker-ers to share their creations and get a chance to get featured. ($20/month or $17/month if you sign up for the whole the year)
Multiple Activities STEM Discovery Boxes
If you want a lot of experiments in one box, try this one. Each box has 9 exciting STEM activities (3 per box, 3 boxes). STEM Discovery Boxes are exciting packages that arrive at your door filled with amazing hands on activities that grow your child's mind through Science, Technology, Engineering and Math. 3 Month Subscription - 9 Projects! $85. Get your subscription on Amazon here. Here's what's in the first box.
Build a pair of virtual reality goggles and explore the world and beyond.
Create your very own bouncy balls. 
Explore center of gravity and electricity by engineering a balance bot that never tips over.
Holistic Learning
IvyKids Subscription Kits are literacy based activity kits that are educational, fun and really encourage families to sit down and enjoy quality time together. Created by certified early childhood teachers, Ivy-Kids' subscription kits will stimulate your children in a fun way while building fundamental skills in math, literacy and science. Everything you need to complete the ten activities comes with the kit, including a detailed guide instructional guide. Starts at $39.95/mo.
TO HELP YOU PREPARE FOR THE HOLIDAYS CHECK OUT OUR FAVORITE POSTS:
PIN IT!
Use Pinterest to save your favorite crafts. Be sure to follow our Thanksgiving and Halloween Crafts Board.
Momtrends was not paid for this post.