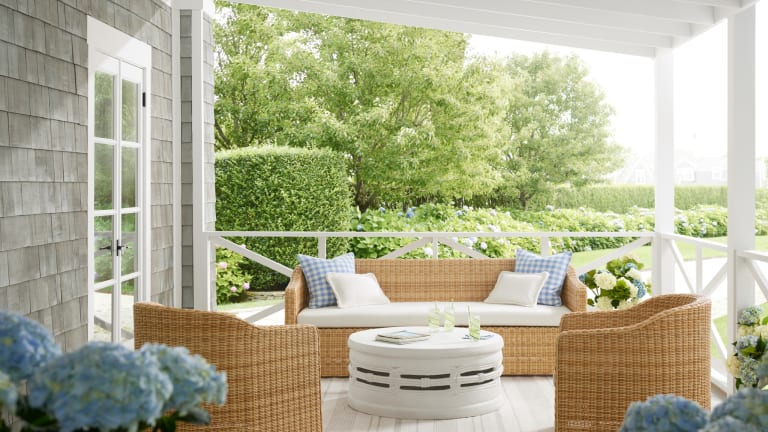 Serena & Lily Opens Hampton's Outpost
Marvel at all the little and big treasures for your seaside home at this beachy design store.
Wainscott welcomes the first Serena & Lily retail store. The lucky Hampton's enclave will be home to the a gorgeous assortment of bedding, tabletop, decor and accessories all perfect for a discerning decorator.
Related: 10 chandeliers for girls
This week I loaded up on a luxury bus and took the 1.5 hours trip to the beach. Alongside other editors, I arrived at a pristine location (332 Montauk Highway) that will be perfect for enticing the beach crowd to pop in and explore. Our hosts, Serena & Lily the Co-Founders were there and gave us a huge welcome. I got to chat with both of the ladies and hear the story of how the brand was founded. Lily had the retail background and Serena was a designer. They've teamed up beautifully on the products they've created and now on this first, retail adventure.
Serena was the visionary when it came to the store. What used to be a dingy antique store is now a whitewashed, crisp showroom. There's a huge garage door that swings open to welcome shoppers inside. On my visit, there was a TukTuk from Thailand outside (the props will rotate as they are sold and at the whims of the design team).
Inside I marveled at all the little and big treasures. I immediately wanted a crab print located on the back gallery. The shop will feature local artists and items sourced by the design team. The wall will come down every month or so to make room for new pieces--I'll happily wait a but to claim my treasure.
Some of the things that caught my eye were this fabulous Starburst Mirror.
And this cool hand-painted bocce set from Fredricks & Mae--items like this will ONLY be carried at the store. Serena & Lily have commissioned artists to create things to surprise and delight their in-store customers making you want to keep popping in to see what's new.
In the design room, there are ALL the patterns of the Serena & Lily bedding--a designers dream to be able to see all the resources in one spot and the paint samples are cleverly painted on boat buoys.
KidShop is located in a small exterior building across a patio filled with outdoor furnishing and these fabulous Rattan Hanging Chair (that's me with Melisa from Project Nursery). The KidShop will have all the bedding options as well as toys and trinkets to delight the pint-sized shoppers.
Emily Thompson (my Brooklyn neighbor) has done all the floral arrangements (or should I say sculptures!) and will be on site occasionally creating hostess gifts and floral displays in yet another creative partnership.
Be sure to stop in this summer and be prepared to be delighted. Like all the projects Serena & Lily have taken on, you'll be dazzled by the dreamy world these ladies envision.
MORE DESIGN TRENDS FOR KIDS FROM MOMTRENDS
PIN IT!
Use Pinterest to save your favorite recipes. Be sure to follow our Cool Kids Rooms board for more tips.
Momtrends was not paid for this post. We did get a swag bag at the event.