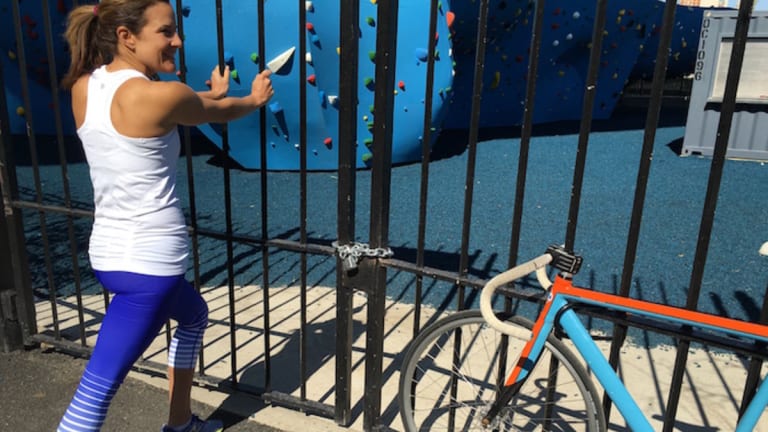 Spring means running season and a chance to shed layers and try out some new workout fashions. Athleta is in the business of making women look good on the run. They sent me some new spring running fashions for this "on the run" photo shoot.
DUMBO, Brooklyn always has something new going on. This summer our parks are opening a rock climbing wall called DUMBO Boulders. Day passes to the facility will be $9, and DUMBO Boulders will also offer a substantial amount of free programming for afterschool programs and school field trips. That was the back drop for these photos.
Mandy, out trusty Creative Director met me after my run. I'm currently training for the Brooklyn Half Marathon, and new gear was greatly appreciated. I've been running 4x a week to get in the mileage I need for the half marathon. I'll use whatever I can to stay motivated and cute workout gear helps.
I loved the running bra. It was supportive and there was zero irritation on my 5-mile run. I'm wearing the Double Dare bra. It features a racer back and wicking fabric. It comes in loads more colors if white isn't your thing. Over top is the Fastest Track Tank. This tank rocks. I've been wearing it to play squash and on runs. It's incredibly breathable and light but has substance enough to hold in my tummy. Bonus: It has anti-stink technology.

Save Money at a Ski Swap
Are the slopes in your future? If you want to save money on ski gear, consider a ski swap. A swap is a great way to buy and sell used equipment. Most swaps consist of a variety of gear, from brand new to used skis and snowboards to skis; from poles to boots to bindings and ...read more
The Ten Best Wooden Play Kitchens For Kids
Cooking is a timeless fascination for children. This type of play goes beyond gender and teaches kids loads of life skills along the way. An investment in a play kitchen is money well spent, as it can provide hours of entertainment. We've rounded up the ten best wooden play ...read more
New Victory Announces a New Season of Shows
We know you're busy planning picnics and summer outings, but we wanted to let you know that The New Victory just announced their new season and it looks fantastic. We thought you'd like a sneak peek of what's in store! Each year the New Vic theater brings culture to tourists and ...read more
Mostly, I wear black on the bottom. I feel like colors can wear thin after multiple washings. And that holds true for this pair, though I loved the color, I did find them a little, "sheer in the rear." After the whole see-through controversy with Lululemon, I'm nervous about keeping my backside covered. I tend to buy thicker running tights or wear shorts.
I'm wearing the Stripe Fade Sonar and while I love the color and print, I can't say the compression matches that of New Balance tights. I'll try to find another pair that hugs me a little more the next time I shop.
On the plus side, the color and print are fabulous. Are you ready to add some color to your workouts? Athleta's got loads more styles to check out.
MORE RUNNING FROM MOMTRENDS
PIN IT!
Use Pinterest to save your favorite parenting articles. Be sure to follow our Running board here.
This is not a sponsored post. We were given samples for this photo shoot.