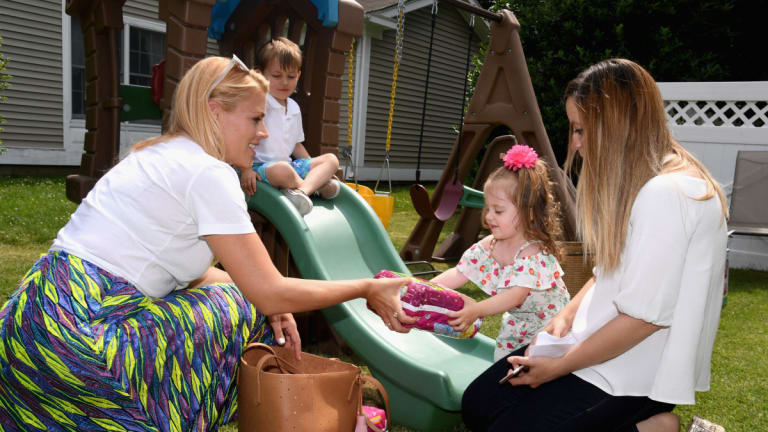 Potty Talk With Busy Philipps
Actress, mother of two, and Pull Ups ambassador Busy Philipps shares her potty training stories
Working moms, stay at home moms, celebrity moms... at the core, we're all the same. We want what's best for our kids, and we strive to raise healthy, happy, productive little people, who can--you know--go on the potty at will! Indeed, toilet training young tykes is just one rite of parenting passage that ALL moms can agree is challenging. Actress, mother of two, and Pull Ups ambassador Busy Philipps discovered that not all potty-trainees are created equal. In other words, her first daughter was a breeze, and her second--well, not so much.
Related:  Helpful Potty Training Tips for Frustrated Parents. 
As for me... My first kiddo gave me a hard time, and my second, well, she's currently giving me an even harder one! Luckily, I'm able to banter about my potty-training woes with other moms, swap tips, and share giggle. Busy even dropped by our house to commiserate and chat with us (and by "us" I mean me and my stubborn two year old!) about potty training and #momlife. She has teamed up with Pull Ups to share simple ways to make potty training more fun, less work... and to give moms like me a knowing smile and pat on the back.
Can you share the highs and lows of your potty-training experience?
My older daughter was so easy—she wore Pull Ups, and I don't even think we finished a full package. She was so ready to do it, and early—she was about two and half. I felt very smug about things, and then my second came along.!
My little one Cricket was not having it. There was a lot of discussion about it. We tried all kinds of things. We even found out she doesn't like chocolate—because she didn't want M&Ms. So then we went to jelly beans, we did stickers, we made a chart.
I had a really pretty, streamlined not-ugly potty, and she hated it. So we took her to the toy store and she picked out the giant Elmo potty where it flushes and he cheers for you, and that worked a little bit. But she still had a hard time with pooping. And she'd wait until nighttime, put on her Pull Up, and then call me into the room.
Right when she was first potty trained around two and a half, she did her school play and actually had an accident on the stage. She was totally unfazed by it and the other kids didn't care either. I was so mortified for her, but she didn't care at all!
She doesn't remember it, so, thankfully, I won't remind her. Hopefully she doesn't read your blog!
So you said you started the potty-training process with M&Ms—so I see you're not above bribery (neither are we!). What's your favorite way to bribe your kids?
I mean, shows are my favorite. I use television as a bribe. I use television for everything. Screen time is my friend. I try not to be judgmental, and if people feel really strongly about limiting screen time and not letting their kids watch things that's fine. But, for me, I grew up watching hours and hour hours of television and, look, I work in TV now. We don't really limit hours of screen time, but I use it as a reward, or if I need a break. Or if I need to make breakfast, a show goes on.
If you had to narrow your parenting style down to catch phrase, it would be:
Whatever works. I'm not above any of it.
Do you tell white lies to your kids? What do you fib about?
I don't really do it so much. But I do sometimes say, "I don't know," when I really do know—like, "I don't know the answer to that. We should look into that…. Later. Remind me."
What are three mom-arsenal items you always have in your bag?
My girls are very into drawing—so I always have one of those pads that you can write on, it's almost electronic and then you press a button and it all disappears. I always keep one of those in my purse. And then my phone has a lot of apps on it in a pinch. And a snack. My older daughter would do anything for one of those fruit leathers. She's obsessed with them. And the baby—well, she's not a baby, I have to stop calling her that—she's funny, she loves Madeline cookies. She's very refined in her taste.
What are your favorite things to do as a family in the summer?
We go to the beach. We like to vacation on the east coast. So we go to beaches in South Carolina. I love it there, it's so beautiful. We love the food and we have local friends and we vacation with other families. I'm all about having a village. We don't really have one during the year because we live in Hollywood and it's very urban, so on the weekends and in the summer, we try to do our tribe of people.
Your Instagram account is chock full of tequila, rosé, and Soul Cycle. How would you rank the three.
I mean, really, it's honestly tequila, Soul Cycle, rosé.
Ready to start the potty-training process with your littles? Do it with Busy! Donate your unused diapers to get started potty training and share on your social channels using #Time2Potty.
MORE PARENTING TIPS FROM MOMTRENDS
PIN IT!
Use Pinterest to save your favorite tips. Be sure to follow our Parenting Tips and Tricks board here.
This is not a sponsored post. All opinions are our own.