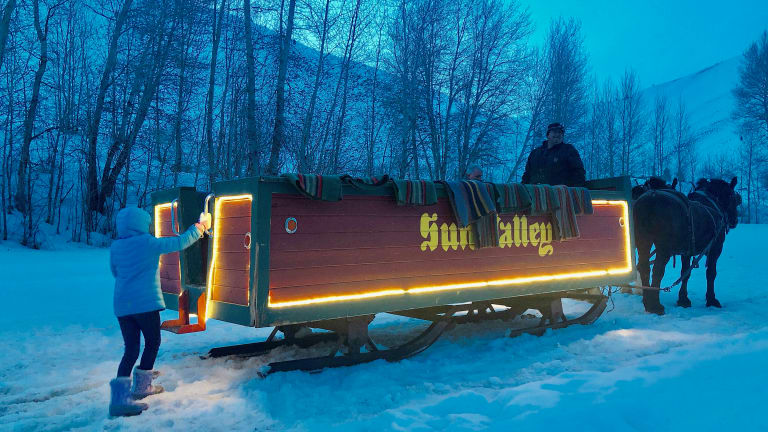 10 Things You Probably Didn't Know About Planning a Winter Trip To Sun Valley
Nearly 85 years later, Sun Valley is still glittery and fabulous and worth your precious family ski holiday.
Sun Valley is known as America's first destination ski resort. The resort has a storied history of being the spot where all the Hollywood stars came to "ski and be seen." Nearly 85 years later, it's still glittery and fabulous and worth your precious family ski holiday. If you need convincing, I'll share 10 Things You Probably Didn't Know About Planning a Winter Trip To Sun Valley, and why should do it!
Check out the highlights from our Sun Valley Resort Stay
Momtrends 30 Second Overview of Sun Valley Resort
Type of Resort: Luxury mountain with hotel and condos
Best Age Range for Kids: 0-19, activities for all ages
Food: Excellent and wide variety
Activities: Tremendous, no room for whining about boredom, even if the weather is challenging.
Childcare: Lots of options off mountain and at the resort.
Spa: Yes, and they just sunk a ton of money into the renovation
Clientele: West Coast families who love the outdoors but don't want to rough it.
Charm factor: High, this used to be the spot for Hollywood's stars to ski, and there's still a glitteratti feel to the place.
Head here to find out more about the skiing at Sun Valley's two mountains, Dollar and Baldy.
Where to Stay at Sun Valley Lodge
When you come to experience Sun Valley in the Winter, plan to stay at the iconic Sun Valley Resort. Sun Valley Lodge was originally built in 1936 and was completely renovated in 2015. The building honors its western roots with a nod to the tie to Hollywood. 
The resort is famous for being "the first U.S. destination winter resort." The idea was dreamed up by W. Averell Harriman, the chairman of the Union Pacific Railroad. He wanted to build a resort that could be accessed by train from LA. Back when the resort began, the lodge was filled with A-list actors and movie folk. The train no longer drops off guests, instead they arrive at the Friedman airport in Hailey.
The Sun Valley Lodge is grand and gorgeous without being flashy. The main building has 108 luxury rooms with a total of 65 fireplaces and a stunning 20,000 square foot spa. They make the most of the natural surroundings with a sprawling campus that offers views in every direction.
Families often decide to skip the main building in favor of the 129 off-site apartments (all with full kitchens). In addition, there are free-standing cottages and town homes that can be rented for larger families or folks that want more privacy. 
All the lodging is well-appointed and spacious. There's more than enough space for your family to spread out and to stash all your ski gear.
Play Outside in Winter at Sun Valley Resort
While the hotel may be lovely, families come to Idaho to ski and play outdoors. I've covered the skiing already (it's top-notch), and this portion of the review focuses on everything else. 
The outdoor ice rink is a wonderful place to spend an afternoon. You can rent skates for everyone in the family. They light the rink with party lights in the evening, and I've rarely seen a prettier outdoor rink. In the summer, Sun Valley Lodge hosts Olympians and National Champions for a series of ice shows for the community. The season kicks off July 4, and happens most Saturdays through Labor Day weekend.
Sun Valley Club is a great starting point for active snow adventures. The club is about a mile from the Lodge. From here, Sun Valley offers Nordic skiing, snowshoeing and fat biking. There are 16 km of fat-bike trails, 14km of snowshoe trails, and 41km of cross-country ski trails. That should wear you out! The club has lockers, gear rental and a nice restaurant.
Our family loved the huge outdoor pool. Open from 7am until 10pm, it is heated year-round. There are also two huge hot tubs and a Poolside Café.
What to do in bad weather at Sun Valley Resort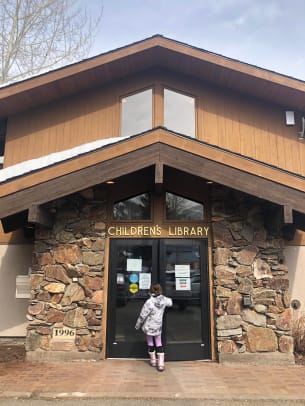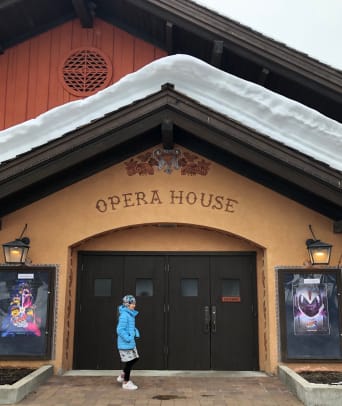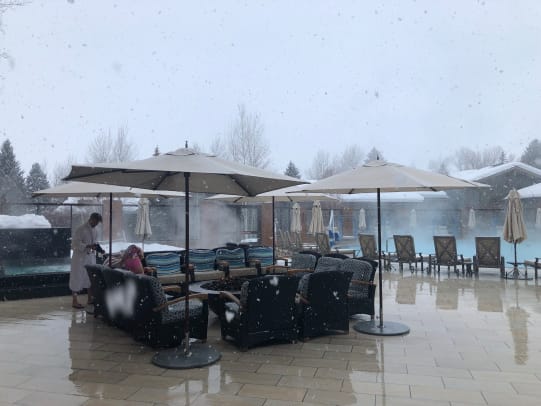 What to do if the Weather Stinks
In every skier's life, some bad weather will happen. How you deal with it is up to you. Some folks will ski in anything (hello, Mr. Momtrends); others of us will wait it out until the powder hits the refresh button. The good news? Sun Valley is a spot where no one will get bored if you take a break from skiing for a bit.
On property there's the Opera House. It's a swell spot to see a movie. There are usually a few showings a day. On our visit, we saw Lego Movie 2. The theater seats 340 people and is unlikely to sell out. 
The heated pool can be enjoyed even in the weirdest weather, but the bowling alley is the main draw. Fun Fact: The Sun Valley Lodge alley is one of the Northwest's oldest bowling alleys. It's got a 1950s sock-hop vibe and the six lanes (they are regulation length) book fast. There's a snack bar and video games too.
There's also a nice shopping area in the village, just in case you forgot some gear or want a chic western outfit. 
Grown-ups can pay a visit to the spa and take in a yoga class while they wait for weather to clear. Take a look at the offerings here.
What to do in Ketchum with Kids
In Ketchum, you can visit the local library. It's been recently renovated and serves as a community hub. They host everything from reading hours to ski swaps. Get the scoop here. 415 Spruce Avenue North, Ketchum.
The folks that run the library also took over the ski museum. I didn't see it, but it's meant to capture the history of this western town. 180 1st St E, Ketchum, ID 83340.
If you need to tire your kids out, there's the Wood River YMCA with an indoor pool and a huge indoor rock wall. 101 Saddle Rd, Ketchum, ID 83340.
Where to Eat at Sun Valley Lodge
Feeling hungry? That happens after a day of world-class skiing. The good news is there are over 20 restaurants on and off property at the Sun Valley Resort. 
Trail Creek: Originally built in 1937, the mountain-style log cabin sits next to soothing waters of Trail Creek and is a destination restaurant. The food is "rustic northwest cuisine." This special dining event was one of the highlights of our trip. We loved the big draft horses that glided us along through the night to the picture perfect cabin in the woods. 
The food was lovely and hearty with very proficient service. I loved my trout and the kids loved dessert. Dinner served Wednesday to Sunday 5-9 pm. Make a reservation 208-622-2019.
Momtrends Tip: Though you can get to Trail Creek by car, book a Sleigh Ride dinner. This experience starts in town. Guest load on to horse-drawn sleighs and head to Trail Creek Cabin. The 30-minute trip is magical as you take in the stars while the draft horses do the work. 
Village Station: This is Sun Valley Village's latest addition to the dining experience at the resort. We loved the pasta and salads, especially the burrata cheese on a bed of arugula. There are 12 craft beers on tap. Loads of March Madness on the TVs. Enjoy modern American food at this newly renovated restaurant in the heart of the town. It's the spot for local craft beer and casual bites. On property in the Sun Valley Village. More here.
Konditorei: This Austrian restaurant makes the best breakfast in town. If there's a day when you can sleep in and head to the slopes later, be sure to book a table at this local favorite. The Eggs Benedict is ridiculously good. Our kids loved the Huckleberry Waffles. Order a second cup of coffee or tea and actually enjoy reading a paper. This is a spot to slow down and savor. On property in the Sun Valley Village. More here.
Cellar Pub: Located in Ketchum, this down-to-earth spot is where you can go for a great buffalo burger and nachos and let the kids play shuffle board while you sip a local brew. 400 Sun Valley Rd, Ketchum, ID 83340.
It's also worth noting that the most stunning Starbucks resides in Ketchum. The award-winning building blends with the landscape and offers caffeine lovers a fix coming or going to the mountain. 491 Sun Valley Rd, Ketchum, ID 83340.
If you want to get a sitter and hear some music, head to the Lodge for live music at Duchin Lounge 7-10pm each night. It's a great spot for a cocktail and some grown-up conversation.
For details on where to eat on-mountain, check out this post. 
10 Things You Probably Didn't Know About Planning a Winter Trip To Sun Valley Lodge
Sun Valley Resort is America's first destination ski resort.
The resort has it's own bowling alley and movie theater.
The Starbucks in town won an award for architecture.
The world's first chairlifts were installed on the resort's Proctor and Dollar Mountains in the fall of 1936.
Ernest Hemingway completed For Whom the Bell Tolls, while staying in suite 206 of the Lodge in the fall of 1939. 
Sun Valley was featured (and promoted) in the 1941 movie Sun Valley Serenade, starring skater Sonja Henie, Milton Berle, and bandleader Glenn Miller.
During WWII, the resort was closed in 1942 and converted to a convalescent hospital for the U.S. Navy.
In 2018, The Argyros Performing Arts Center opened in downtown Ketchum.
The ice rink is for amateurs in the winter. In the summer, Sun Valley Lodge hosts Olympians and National Champions.
Warren Miller moved to Sun Valley at age 22, followed his passion for skiing. Miller started out as a ski instructor. Catch a Miller movie during your stay!
Plan Your Trip to Sun Valley Resort
Ready to visit? There's no time like now to start planning. Call 1-800-786-8259 or visit Sunvalley.com
MORE SKI FEATURES FROM MOMTRENDS
PIN IT!
Use pinterest to save your favorite family travel features. Be sure to follow our Ski Moms Pinterest Board.
Momtrends was not paid for this 10 Things You Probably Didn't Know About Planning a Winter Trip To Sun Valley post. Portions of the trip were accommodated to make the review possible.