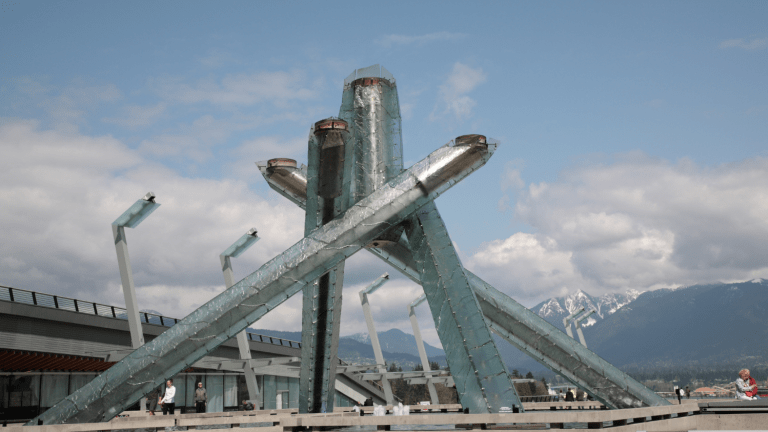 P&G Family Home at Vancouver Games
The grand opening ceremony for P&G's Family home at the 2010 Olympic Winter Games.
Yesterday I was at the grand opening ceremony for P&G's Family home at the 2010 Olympic Winter Games. Marc Pritchard from P&G; shared his vision for the home, "A place to gather, celebrate, relax, have some fun and enjoy the Vancouver Olympic Winter Games experience together as a family." And believe me, the athletes like Noelle Pikus-Pace are going to love recharging their batteries here.
Related: DIY Winter Olympics bobsled craft
Touring the P&G Family Home
Noelle was generous enough to chat with me at the Family Home opening. The skeleton racer had lively red and blue streaks in her hair and was simply bursting with energy and enthusiasm. Her daughter and husband were set to arrive soon and she said this experience is a "family dream." Noelle told me husband works full-time so she can train and plans to make the most of these Olympic Winter Games. Noelle told me the being here was the "best opportunity."
I took a moment to ask Noelle about the P&G "Thanks Mom" campaign and what her mom did to help her achieve her goals. "My mom is my hero--she took of hours and hours of work to help me and always believed in me." Nabbing time with this mom, was such a treat and I was moved to see her basking in the spotlight. Watch her compete on the 18th and 19th.
Athletes like Pikus-Pace, Jeret Peterson and speed skater Chad Hedrick gathered to celebrate the home and the inspiration behind the home--all the moms that made it possible for these athletes to achieve greatness. P&G rolled out the two commercials that will debut tonight (and believe me you'll want to have your hankies ready--these are emotionally packed ads!). As Pritchard shared the all the details of the P&G campaign, he shared the spotlight and the stage with Jenny Chu's mom, Miriam, and gold medalist Kristi Yamaguchi.
P&G Supporting Families
One special detail of the evening was P&G efforts to bring families together in Vancouver. The P&G team offered athletes up to $3000 to fly and house their families here in Canada. This is an amazing offer for athletes that have had to scrimp and save for training and equipment. Several athletes were moved to tears at this generous gesture.
After athlete photos, I got a grand tour. The multi-story home is centrally located in downtown Vancouver. Within the home are experiences designed to take the pressure off for a little bit of time. There's a cyber lounge with free wifi, an incredible Pringles snack bar with more than two dozen flavors, and that's just on the first two floors.
From there you head to the Tide Laundry Lounge. That's where athletes can drop off laundry and pick it up clean and folded the next day. Tots will adore the Pampers Village packed with toys, a diaper changing station and tons of the new Pampers Swaddlers and Cruisers Diapers with Dry Max.
Crest had a cool interactive photo session (I'll post my virtual speed skating image soon), but this mom loved the top floor. It was packed with all the beauty supplies this mom uses and loves. More on that soon! Thankyoumom.com will be the online place to check out the action.
MORE FROM THE 2010 VANCOUVER OLYMPICS
PIN IT!
Want more ideas on how to have fun with the kids during the games? Be sure to follow our Olympic Fever board here.
P&G did not pay for this post. Momtrends has been given the opportunity to experience the Vancouver Games thanks to P&G, but they do not control any editorial content.