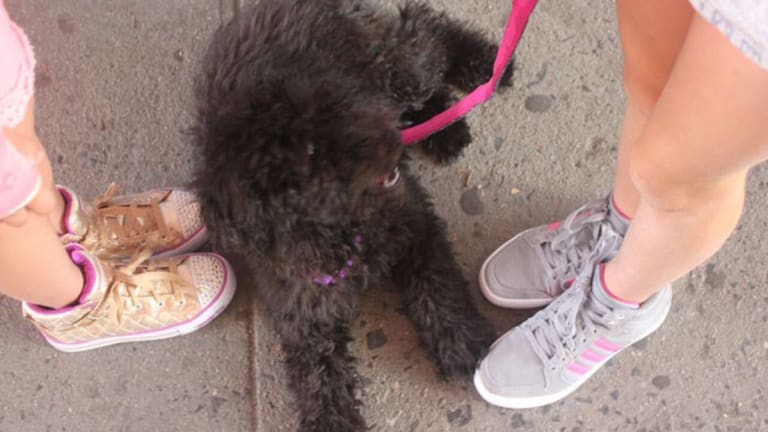 Perfect Sneakers for Back to School
Back to school trends for sneakers. Tweens love hi tops and metallics. Here are my favorites and how to style them for school.
Remember when the just-right pair of sneakers was the key to your school success? I know the power of the perfect back to school sneakers. This year my girls will be heading off in the hottest trend for back to school—high tops with loads of personality. Our top picks were the Gold Skechers Shuffles and the Adidas Raleigh Mid from Rack Room.
Related: Get organized with Mabels Labels
Where to Get the Perfect Sneakers for Back to School
Rack Room gives kids the styles and brands they want to wear at great prices. Our kids have it so good they don't even know it. Before I tell you about the trends these girls put together (and the puppy), let me tell you why I think shoes = confidence.
As a kid, my family had enough money, but not loads of it. My parents were pretty frugal with clothes and weren't buying into status symbols. They were more concerned about paying for my parochial school education.
At St. John the Evangelist, we wore a uniform. The only place to show your personality was with your shoes. Nikes were HUGE back then and all I wanted was the latest pair. Each year my parents would buy me some no-name pair and tell me they were more than adequate for four-square and tag. They were right of course, but I'll never forget the summer my fancy-ish Grammy bought me the newest bright yellow Nikes before my 6th grade school year. When I changed into the shoes on my first gym class I felt like queen of the school. I can still picture those beauties now and what they meant to me.
This back to school season Rack Room will be putting those same kinds of smiles on school kids across the nation AND making it possible for parents to buy the best brands without having to blow the whole wardrobe budget for the year.
I've told my daughters the story of the yellow Nikes. They listen earnestly, they are aware we are blessed with abundance and have managed to stay pretty grounded. I'm glad Rack Room is the great fashion equalizer.
Trend Metallic Sneakers
Though they didn't pick yellow Nikes (which Rack Room DOES carry), they did select some sweet styles. For the 3rd grader, it's all about the metallic sneaker trend. This shoe from Skechers couldn't have more going on. It's got bling, lights and comfort. She's in superstar heaven.
Trend Hi Tops
For my middle school daughter (6th grade), light-up shoes are no longer cool. She picked these gray and pick Adidas high tops. The splash of pink makes them just girlie enough, the gray makes the trendy.
I love the outfit she put together and the arm candy she wears. The girl has her style! She's also CRAZY about dogs. Since we are lucky enough to have a new member of Team Momtrends, the sheepadoodle, Mia, my girls insisted she get into the back to school action.
Isn't she the cutest sheepadoodle ever! She's so calm and sweet. The girls had the best time styling themselves (I had zero input--I love how they dress!). One last trend to report--camp bracelets are so cool to bring back to school.
To recap. Now you know why I love shoes (because I can finally afford the ones I want), and you know I want to give my kids a great start to the year WITHOUT spending a ridiculous amount of money.
To shop all the best back to school trends head to RackRoom.com
MORE BACK TO SCHOOL ORGANIZATION FROM MOMTRENDS
PIN IT!
Use Pinterest to save your favorite recipes. Be sure to follow our Back to School board for more tips
This is a sponsored post.