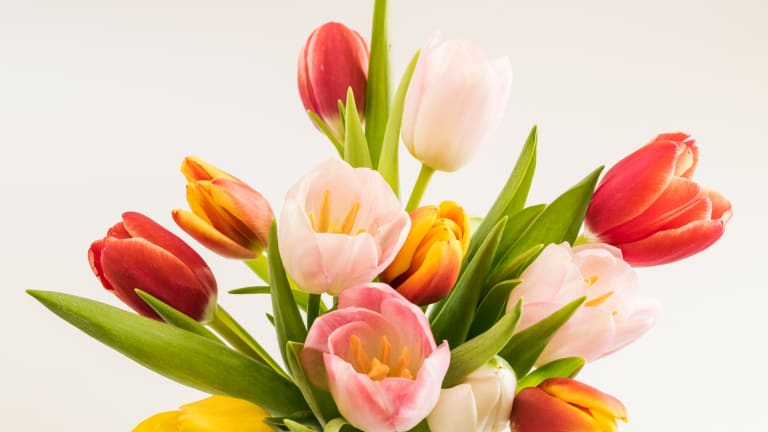 Publish date:
Outfit Ideas for Moms Spring Fashion Finds
These spring fashion finds for moms make great Mother's Day gifts.
These spring fashion finds for moms make great Mother's Day gifts. While I won't discourage anyone from giving mom flowers for Mother's Day, I think spring fashion accessories are going to be well received and loved.
I'm sharing three favorite accessories that are extremely giftable. And I'm also proving a point that I make time and time again, accessories are the #1 way to make what you already own look new again.
Last year's cabi sweater with the split back, looks fresh as a spring tulip thanks to the new white hanbag from Rosetti and the bangles from Lagos. And my boyfriend jeans (of which I am pretty confident everyone owns a pair by now) are freshened up thanks to the new gold flats from eight fifteen.
I've got a spring in my step thanks to the new goodies!
First, let's talk about this bag. Mesh and perforation continue to be trendy this spring. The Rosetti bag is beautifully constructed with loads of pockets. Mr.Momtrends laments that I can never find my keys, in my handbag. True enough, there's a reason I call my totes "the great abyss!
The problem is, most bags only have one opening. This Rosetti bag is organized with tons of pockets and zippers--there's a place for everything. Sadly, I can't find the exact bag to link to, but this white satchel on the Kohl's site is pretty close. Most Rosetti bags are priced around $40 or less--making them a really affordable and great gift.
You know I love my arm candy. On my wish list are these iconic "Caviar" bracelets from Lagos. The brand is known for the "caviar" texture on jewelry. It look so sparkly. And yummy like caviar.
I loaded my arm with three White Caviar ceramic beaded bracelets with rose gold accents. The prices start at $450 and go up. I love the caviar bracelet with the rose gold bars added in don't you? I felt like Cinderella for the shoot--Lagos loaned these to me, at midnight, I had to pack them up to send them home. Sigh. Maybe Prince Charming (Mr. Momtrends) will come to my rescue, or maybe I'll rescue myself when I finish this book!
Spring means tons of walking in NY. The nice weather has me walking all my errands and avoiding the subway at all costs. In fact, the other night I walked home over the Manhattan Bridge when there were subway delays. A good pair of shoes is essential. I went to the Seychelles preview last week and found a new-to-me brand called eight fifteen. The site features this great quote from Coco Chanel--Luxury must be comfortable or it's not a luxury," true enough Coco!
Eight fifteen features an innovative Ortholite® padding system previously only found in performance athletic shoes to support feet in the most vulnerable places. Plus the leather is buttery, I can't find this gold flat online for a link yet, but I did see a few pair of the shoes on the Anthropolgie website. I am going to be looking for this brand in the future. They also make some gorgeous heels.
Ladies, there's no need to start from scratch this spring. Wear what you've got and make it look fresh with accessories. Now, I want to know, have I inspired you? Are you giving mom something fashionable? Don't forget, Mother's Day is May 8th!
MORE FASHION TIPS FOR MOMS
PIN IT!
Use Pinterest to save your favorite fashion posts. Be sure to follow our Mom Fashion Pinterest board here.