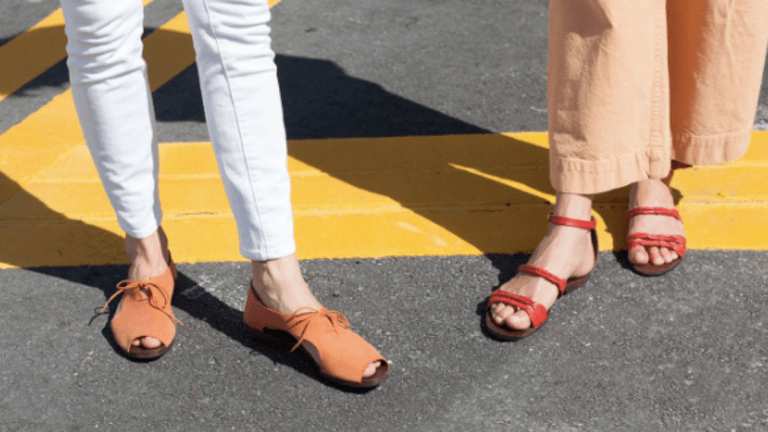 We're Still Wearing Sandals—And This Pair Is Our Fave!
We're still wearing our sandals--even though fall is ahead. We just discovered Cousins Sandals, and we're totally obsessed with this amazing collection.
When it comes to personal style, I'm not a big believer in "rules." If anything, we, at Momtrends, encourage our readers to be trend-setters, sartorial rule breakers, and stylish risk takers. (If you're going to wear leggings as pants, we fully support you! Just please, PLEASE make sure your tee at least skims the top of your bum.)
Related: The ten best flip flops for summer
Seriously though, we wear what we love and want to encourage you to do the same. That means, go ahead and rock white after Labor Day (it's an outdated mandate anyway!), mix denims, pair two supposedly "clashing colors," and march to the beat of your own fashion-forward drum.
Wear what feels good and looks good, that's my motto—and don't worry that it's September 8 and you haven't yet put away your flip-flop and espadrille collection.
So what if you're sipping a pumpkin spice latte in a pair of sandal slides!?! Who cares if you're apple picking in thong sandals?! What's wrong with attending a football game in wedges?! Call these oxymorons, I say they're a style statements. I vote for banning booties for another few weeks, and wearing those beloved sandals until your exposed toes feel the nip of crisp fall air. We, the ladies of MT, salute you... Heck, we'll join you!
Truth is: We just discovered a new favorite sandal brand; and we intend on squeezing in every possible last "wear" in these versatile puppies.
Cousin Sandals was launched by, you guessed it, a pair of cousins. Not only is each style is named after a cuz (must be a big family!), they're all made of 100% cowhide leather, and feature an extended back for heel comfort and a solid rubber sole for heavy walking. They're truly the ideal pair of sandals for NYC mamas on the move. So you better believe we'll be wearing them well past the autumn equinox. We'll even wear 'em with our "legging pants." That's just how we roll around here.
MORE SUMMER STYLE FROM MOMTRENDS
PIN IT!
Use Pinterest to save your favorite fashion posts. Be sure to follow our Summer Style board here.
This is not a sponsored post. All opinions are our own.