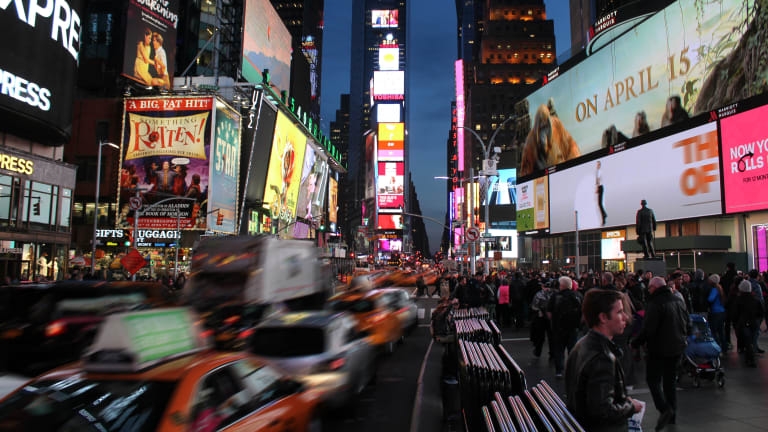 Off Broadway Family Shows in NYC
Round-up of our favorite Off Broadway Shows for families
Broadway is great, but the shows can be a bit much for younger kids AND the tickets can stretch the budget. Off Broadway productions can be a perfect way to introduce your family to live theater and not break the bank. Here's a round-up of our favorite Off Broadway shows for families.
The Orpheum Theatre
126 Second Avenue at 8th Street (aka St. Marks Place)
New York, NY
Need to beat the heat this weekend? Don't miss Stomp at The Orpheum Theatre in NYC. The show is an explosion of dance and percussion. Perfect for kids of all ages this show is the perfect way to experience the arts in NYC. The beats are contagious. I dare you NOT to want to move. Runs 90 minutes in length; there is no intermission.
We New Yorkers live in the cultural capital of the nation. There is really no excuse for leaving the kids out of the mix. Symphony Space makes it easy. The musical events they organize are appealing to kids and MORE than palatable for the stroller-welding adults.
2537 Broadway @95th St., New York, NY 212.864.5400
Want a guaranteed fun (and PG) afternoon with the kids in NYC? Buy tickets to the Gazillion Bubble Show at the New World Theater. Our family of four (mom, dad, children 4 and 2), headed to the theater district on a very rainy Saturday--we got a blast of sunshine thanks to this performance. Ana Yang, the bubble artist/magician worked her magic for about 85 minutes. She blew tiny bubble, big bubbles, rainbow bubbles and bubbles big enough to hold four kids...but more or that.
The show revolves around Ana (the bubble artists rotate) and her bubble machines. She uses smoke, mirrors and lasers to exaggerate the spectacle. Yes the techno, new-age music is cheesy, yes her English is halting. But none of that really matters, when she can create a bubble blizzard or a multi-hued bubble rainbow--it was pure joy for the kids. And her rapport with the pint-sized crowd was excellent.
Yep, for more than an hour the kids we absolutely mesmerized--and the adults were impressed too. Our 4 y.o. was pulled up on stage for the "kid in a bubble trick"--Ana took four youngsters and wrapped them in an enormous bubble. Very cool indeed. If you are looking for good rainy day activities for the 8 and under crowd, this is it. And for those of you too far from NYC to make the show, don't worry, you can buy a full line of Gazillion Bubble Toys.
Gazillion Bubble Show
New World Stages
340 West 50th St. between 8th and 9th Ave.
Buy Tickets at Telecharge (Tickets start at $41.50 per seat)
Blue Man Group
Man Group is an exciting, face-paced, lively performance that will leave you on the edge of your seat. The surprises are constant, laughs plenty and the outrageous antics are entertaining for the whole family. This 90 minute (no intermission) performance in the intimate Astor Place Theatre is a great way to spend time together as a family. You will leave feeling charged and pumped up. The humble performers indulge in a meet & greet after every performance and pose for countless photos! A NYC must-see!
Astor Place Theatre, 434 Lafayette St.Blue
Get your Blue Man Group tickets here
PLAN YOUR NYC VISIT
Check out our NYC page for things to see and do in NYC and don't miss these highlights.
This Off Broadway for Kids and Family Shows in NYC feature is not sponsored.