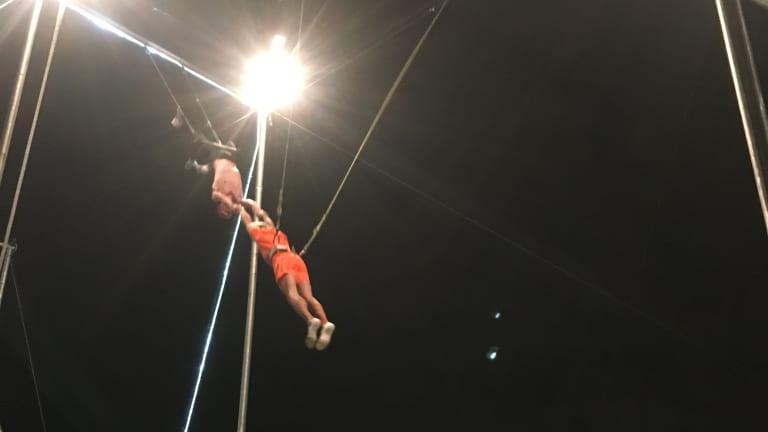 New York Trapeze School
The flying trapeze is a wonderful tool for moms who want to tap into joy.
It's a bird, it's a plane--it's a flying mommyyyyy. Parents need to celebrate the end of school too. Why not try a 2-hour class at the New York Trapeze School! The instructors gave us the proper mix of support and silliness. We felt securely in "good hands" and out of 8 newbies all successfully acquired some cool aerial tricks.

Leave your fear and inhibition behind and grab a clean pair of socks (we forgot ours and had to purchase a pair $3--ouch). In the session we got five turns on the trapeze and a desire to come back soon! Once the kids find out about the fun you've had, you might have to share the experience (they say kids need to be at least 6 and everyone 18 and under and must be accompanied by an adult--no drop offs). There's nothing like stepping off the 23' platform the first time. Exhilarating!
The two locations offer vastly different experiences. We say go big and go outdoors--head to Pier 40 for your first try. The view is amazing (Try to spot Miss Liberty before your back flip). When you get hooked, the reliability of the indoor classes on 30th St. will be ideal. The outdoor location is open May through September.
Indoor Brooklyn Facility
The year-round Indoor Facility is located in Brooklyn, just over the Williamsburg Bridge and accessible by the G and J/M/Z. The only entrance is at 30 Tompkins Ave, Brooklyn, NY 11206. You will be entering a parking lot, and TSNY is at the back of the lot in a structure that looks like an airplane hangar or big white barn. Leave enough time to arrive 15 minutes prior to the start time of your session, and call our office if you need help finding us.
Momtrends was not paid for this post. We shelled out $60 and would do it again!