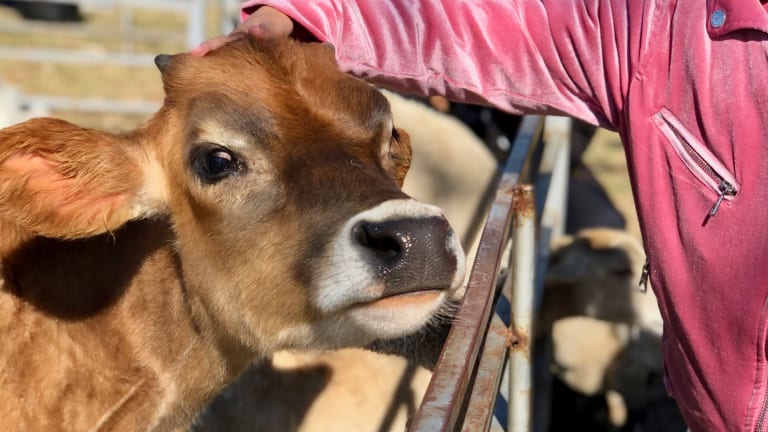 New for fall at Liberty Science Center #LSCFallFun
LSC has indoor and outdoor science fun to keep the whole family engaged.
This summer we beat the heat at Liberty Science Center with some cool indoor exhibits. Now that the fall is here, it's fantastic that LSC has indoor and outdoor science fun to keep the whole family engaged. Check out what's new for fall at Liberty Science Center with our #LSCFallFun Recap
I'm so impressed with Liberty Science Center. They are constantly installing new exhibits to engage young minds and encourage scientific exploration. The curators and educators there have figured out that young learners need to touch and experience science.
Check out the #LSCFallFun fun
The newest batch of experiences at LSC are wonderful. We gathered friends from the NYC blogging community to head to the museum to explore.
Fall Fest at Liberty Science Center
This is awesome outdoor fun for those city folks who crave more fresh air and farm-like experiences. I always feel for city kids that don't get the chance to really embrace the outdoors. Well, LSC figured out a way to bring the farm to the city. 
The families adored this chance to play in nature and sample the best of New England in the fall without having to deal with traffic to get to the Catskills or Litchfield County. 
A highlight for the kids is the 4,000sf outdoor Spider Maze. It's the right amount of creepiness as kids wander around the webby maze. I suggest you start here on your visit to the LSC. After the kids explore outside and ramble up the 8-foot-tall haystack, they will be ready to head inside. 
Pick Your Pumpkins and Apples
LSC has set up a huge indoor pumpkin patch, where you'll get to choose and paint your own pumpkin (available on weekends for a $2 donation). Yep, they even figured out a way to tie in some science. Kids can use an endoscope to explore the slimy insides, and then see one smash open using liquid nitrogen!
Apple picking is taken to the next level with this extreme sport version: use a bow and arrow to knock apples out of a tree 50 feet away. They call it "Ballistic Apple Picking!"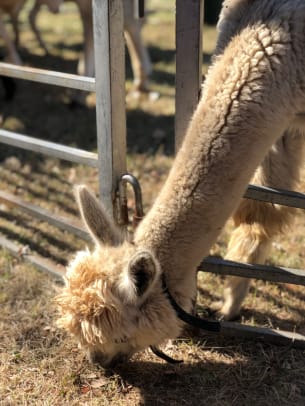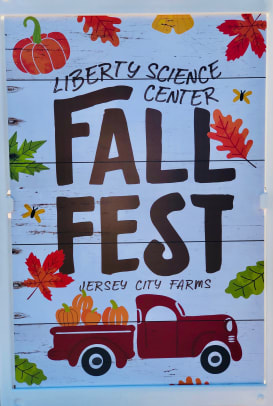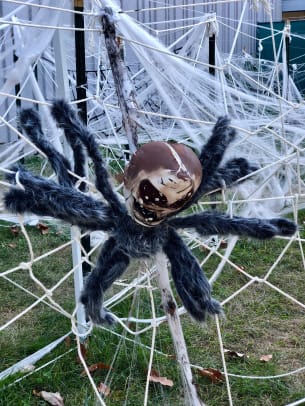 Find out more about Fall Fest here. The exhibit runs through the end of October. Note: Oct. 19 Fall Fest gets "spookified" with new Halloween adventures. All Fall Fest activities are free with LSC general admission. The indoor pumpkin patch is available on weekends for a $2 additional donation.
Dinosaur Train
The Dinosaur Train is part of a traveling exhibit put together by the Jim Henson brand. LSC's newest adventure is perfect for young learners; especially those kiddos crazy about our prehistoric friends.
The interactive exhibit invites families to hop on the Dinosaur Train and travel to all three time periods during the Age of Dinosaurs (Mesozoic Era – Triassic, Jurassic, and Cretaceous). Through the process they'll learn the characteristics of herbivores, carnivores, and omnivores, and how dinosaurs are classified into these groups. Plus kids can interact with real and replica fossils and learn how scientists use fossils to make dino discoveries!
Momtrends Tip: Meet Buddy the T-Rex live during select dates at the Science Center! He will be here from 10:00 am – 11:00 am and 1:00 pm – 2:00 pm (with breaks) on the second floor near I Explore. Click below for dino dates:
The exhibit runs through January 21, 2020
Angry Birds Universe
The little gamers in out crew adored LSC's newest premium exhibition, Angry Birds Universe: The Art and Science Behind a Global Phenomenon.
This new area helps bring the popular game into the world of science and tech. And I love that it's not just watching a screen, it's doing things.  There's a bit of science, tech, engineering (take a look at how gears work), arts, and math in an extreme hands-on environment.
Kids "flocked" (sorry, couldn't resist the pun) to the interactive slingshot area. When else can you use a HUGE real slingshots to send things soaring through the air. Kids learned about physics as they flung birds towards make shift walls. In a word, it was awesome!
Find out more about Angry Birds here. Exhibit runs Oct. 5, 2019 – April 19, 2020
PLAN YOU VISIT TO THE LIBERTY SCIENCE CENTER
Make the most of fall in NYC, grab the kids and go! Liberty Science Center is located in Liberty State Park in Jersey City.
Plan your visit: Fall Fest through October 2019; Angry Birds from Oct. 5, 2019 – April 19; 2020Dinosaur Train runs until January 21, 2020
Liberty State Park 222 Jersey City Blvd, Jersey City, NJ 07305 (201) 200-1000 https://lsc.org/
PIN IT!
Use Pinterest to save you favorite ideas for family fun in the NYC area. Be sure to follow our NYC Mama Board here.
This New for fall at Liberty Science Center #LSCFallFun feature is sponsored.