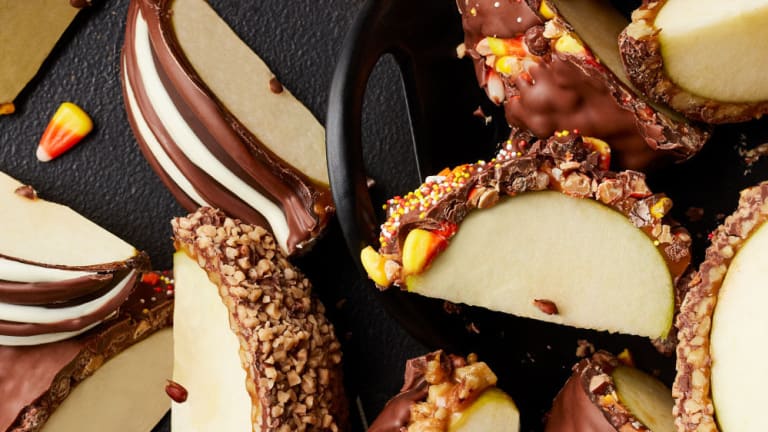 Mrs. Prindable's Gourmet Caramel Apples
Smothered in homemade, creamy caramel, premium chocolate and gourmet toppings this apple is the ultimate treat.
An apple a day...blah blah blah...you've heard it. Sometimes seems like a lot, doesn't it? Until you smother it in caramel and dribble fine chocolate all over it. All of a sudden you're questioning the sanity of just having one apple a day. Meet Mrs. Prindable's Gourmet Caramel Apples.
Related: Boozy salted caramel apple cocktail
Although these are definitely not what those doctors had in mind for every day snacks, for just a second suspend your understanding of what a caramel apple is. I know it's tough to believe there's anything better than an apple wrapped in that melted caramel sheet. There's a woman who might have something to say about that. Mrs. Prindable.
Mrs. Prindable's Gourmet Caramel Apples
Mrs. Prindable basically invented the gourmet caramel apple and has been creating these treats for 25 years, challenging the idea that apples have to be boring fruits on a stick. Let me just say, these aren't your mama's caramel apples.
Take their popular Jumbo Caramel Apple, for instance. I did. This amazing delight starts with a handpicked, extra-fancy jumbo (read: enormous) crisp apple. It's dipped by hand in creamy, smooth caramel cooked that very day in little copper pots with only all-natural ingredients that you can pronounce (think butter, sugar, cream, vanilla). Once it's coated, the apple is hand-drizzled in a dizzying pattern of milk, white and dark chocolates. Or if you so choose, pick another signature flavor, like the new peppermint bark or white chocolate praline. Then it might be finished off with nuts like premium pecans or large cashews. Maybe chocolate cookie and cream pieces or a rich toffee layer.
At approximately 1.25 lbs, the caramel apple claims to serve eight to 10 people, but let's be honest people. It didn't make it past my husband, child and me. I'm not saying it couldn't feed up to 10, but it just didn't. We didn't let anyone else near it. To this point, don't be freaked out by how huge these apples are. They're all-natural and aren't chemically enhanced. This is just what the benefits are when some of your best friends are apple farmers. You get the pick of the orchard.
As if the "basic" apples weren't enough, they also have lovely ornamented apples for different occasions, like the bride and groom apple pairing or the happy birthday bear apple. Smothered in homemade, creamy caramel, premium chocolate and gourmet toppings, can you imagine the rest of the year your kid would have if he left this teacher's apple on a desk? Let's start the year off right, shall we?
MORE FALL RECIPES FROM MOMTRENDS
PIN IT!
Use Pinterest to save your favorite recipes ideas. Be sure to follow our Apples board here.
Momtrends was not paid for this Mrs. Prindable's Gourmet Caramel Apples post. We did receive samples for review purposes.