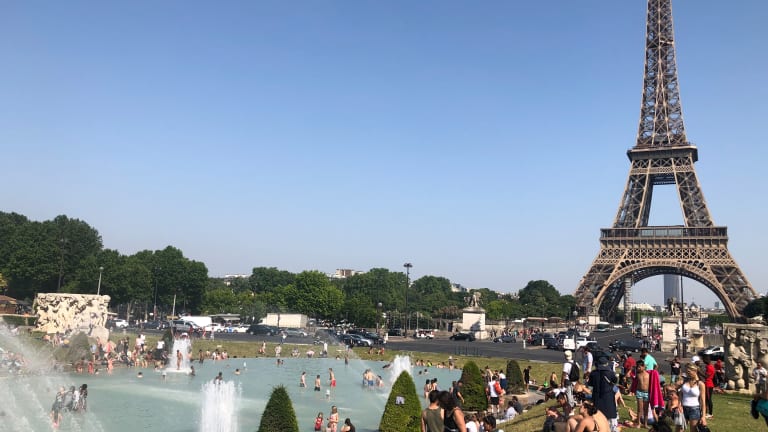 Momtrends Guide to Paris
Things to do and see in Paris, France
Welcome to the Momtrends Guide to Paris! Due to popular demand, I'm sharing my favorites from my 15+ trips to this world-class city. I'm giving you the highlight reel, clearly I can't fit in everything I love in one post. For details, you can click away or leave a comment, I am always happy to talk Paris!
Momtrends Rules for Paris:
Dress better than normal. You'll get better service. Parisians aren't rude if you play the game. 
En Français. Learn at least a few niceties in French. Try Duolingo for a week or two before you go. It helps. I swear.
Walk or take the metro. You'll go broke taking cabs and ubers. The subway is very convenient and covers most of the city. On that note: Wear comfortable shoes.
Dine Smart. Get restaurant recommendations from your hotel, blogs and friends. There are bad meals to be had in France, but there's really on excuse for having one.
Book ahead. I will suggest you get as many tickets as you can to museums, shows, and a few reservations for fancier meals. Let these appointments frame your trip.Check the website before you go. They love to renovate museums in Paris and there are closures. Double check before you commit.
Orient yourself. You will hear a lot about arrondissements. For instance, if you see this postal code: 75008 you need to look at the last digit. This is in the 8th arrondissement. When you get directions you might just hear "the 8th." It's helpful to have google maps at the ready, but I also like to save my global data and use my Paris Circulation book. It's a little map book I always carry with my and it's broken down by neighborhood/arrondissement. It also has subway and train details.
Leave blank space in your schedule to get lost. This might be my most important rule! Don't plan every minute. Let some serendipity happen.
Favorite Large Museums
On your first or second visit, you'll want to see the major sites. I would pick one or two off of this list.
Musée d'Orsay: On your first trip, I send everyone to the Musée d'Orsay on the Left Bank. It's full of all the major Impressionists (the Van Gogh's are my favorite). Most of the work is very accessible and great for kids. The museum is large, but has a thoughtful layout. Visiting Details: 1 Rue de la Légion d'Honneur, 75007  right alogn the Seine. Closed Mondays. Paris https://www.musee-orsay.fr/ 
Louvre: The big daddy of French Museums, I find this spot completely overwhelming and not very kid-friendly. Thier are more than 380,000 artworks and objects on display and the museum is more than 60,600 square meters large. Be warned. The Louvre is amazing, but it's also overwhelming. In my 18+ trips to Paris I've only seen it once. If you go, get a guide or figure out a way to see the "best of" otherwise you will be tired and lost. Visiting Details: Rue de Rivoli, 75001 Paris, France Closed Tuesdays. https://www.louvre.fr/
Pompidou: My favorite modern museum is right in the middle of all the action. I love this location and the bold collection. It focuses on the 20th century (1905-1960) and always has great special exhibits. There's also often street art performers outside (watch for pick-pockets). Visiting details: Closed Tuesdays. Place Georges-Pompidou, 75004 Paris, France  https://en.parisinfo.com/paris-museum-monument/71538/Centre-Pompidou
3.The Orangerie: While nowhere near as large as the first two musems I mentioned, you can encounter lines at this cultural hub. If you love Monet, it's worth the wait to see the Orangerie and the Monet Water Lilies. The space was build just for these oversized canvases. Stroll the rooms and take in the monumental canvases. Grab a bite nearby at François Felix, it's just a short walk from Monet and has great outdoor seating. I had a delicious salad and a light glass of wine. Visiting Details: http://www.musee-orangerie.fr/ Tuileries garden, Place de la Concorde, 75001 
4. Grand Palais: I've been to special exhibits here a few times and my heart always swoons. On my most recent visit to this museum, I saw the genius the Jean Paul Gaultier exhibit. They have a knack for fashion exhibits which can result in long lines. TIP: Get tickets online the exhibits here are really popular.
Visiting Details: 3, avenue du Général Eisenhower. 75008 Paris http://www.grandpalais.fr/en/event/jean-paul-gaultier
5. The Musée du quai Branly: One of the newer museums in Paris, this one opened in 2006. It's more of a cultural touchstone than an art museum featuring the indigenous art and cultures of Africa, Asia, Oceania, and the Americas. I admit I found the exterior more exciting that the interior. 15,000 plants from 150 species hang from the façade of the building. It's an awesome environmental statement. Visiting Details: Closed Mondays. 37 Quai Branly, 75007 Paris, France  http://www.quaibranly.fr/en/useful-information/come/purchase-your-ticket/
Favorite Small Museums
Momtrends Tips: Venture out beyond the big museums. Some of my favorite museums aren't on the radar. These are spots where you won't find long lines and major crowds. 
Places to See in Paris
Tuileries Garden: Tuileries Garden is a public garden located between the Louvre and the Place de la Concorde in the 1st arrondissement. Fun Fact: Catherine de' Medici originally created the garden to serve the private Tuileries Palace. It became a public park after the French Revolution. It's a great place for people watching or a picnic. I fell asleep in a sun lounge chair (fighting jet lag) . For the kids, there are a few open play areas for cartwheels and there's usually a few crepe vendors nearby. Visiting Details: Open 7-9pm every day. Place de la Concorde, 75001 Paris, France
Baton Mouche: The best way to acquaint yourself with the city is on the Seine. A ride on the Bateaux Mouches boats is the way to see the city without wearing yourself out.  These long narrow boats glide up and down the Seine (which divides the Left Bank from the Right Bank). You'll get a great view of Notre Dame and the architecture of the city. You can book  seats online for brunch, lunch, or for a romantic dinner. I say skip the food and just hop on for a terrific guided tour. https://www.bateaux-mouches.fr/en
Eiffel Tower: Built by Gustave Eiffel for the 1889 Exposition Universelle, the tower soars 1063 feet. It was built to celebrate the 100th year anniversary of the French Revolution. I've been up just once to have dinner at the elegant Le Jules Verne restaurant. Right now it's under renovation, should be open later in 2019. For families there's the 58 TOUR EIFFEL they serve "a refined picnic lunch" and transforms into a chic bistro in the evening. Or treat yourself to a glass of champagne at Savour at the top of the tower. Visiting Details: Champ de Mars, 5 Avenue Anatole France, 75007 Paris, France. Open every day, check for hours. https://www.toureiffel.paris/en
Luxembourg Gardens: The big garden on the Left Bank is divides Saint-Germain-des-Prés and the Latin Quarter in the 6th arrondissement. The gardens cover more than 50 acres and are modeled after the Boboli Gardens in Florence. The Luxembourg Gardens were created in 1612 by Queen Marie de Medici. Kids love the park playgrounds and sailing boats in the large fountain and there's tons of space to spread out. Visting details: https://en.parisinfo.com/paris-museum-monument/71393/Jardin-du-Luxembourg
Jardin d'Acclimatation: The spiffiest and sweetest amusement park you'll ever see. This park has little rides as well as ponies! There's picnic areas, play areas and performances. Visiting Details:  Bois de Boulogne, Route de la Porte Dauphine à la Porte des Sablons, 75116 Paris, France. Open every day. 
Père Lachaise Cemetery: Possibly the most famous cemetery on the planet, this resting place is home to artists like Édith Piaf, Molière, Jim Morrison, Oscar Wilde, Frederic Chopin and more. Pay your respects in person as you teach the kids about history. Visiting Details: 8 Boulevard de Ménilmontant, 75020 Paris
Plantees Promenade: Head to the 12th for something new. It's got a cool bo-ho vibe I think you'll love. For a bit of site seeing, walk the Plantees Promenade an ancient viaduct turned elevated garden -- it's got to be what inspired the NYC folks who designed the High Line. The garden spans 5km and several neighborhoods. Get a bird's-eye view of a variety of neighborhoods—it's the perfect way to work off the macarons or millefeuille I steered you to earlier. Details: 1 Coulée verte René-Dumont, 75012 
What and Where to Eat in Paris
We've had so many tremendous meals in Paris, but sadly, I haven't kept great records of them. But here's a start. With all these places, I suggest booking. If your French isn't good, have your hotel concierge take care of it.
Chez L'Ami Jean: Old school Basque style meals in a more casual setting. There's cured meat hanging from the ceiling and the terrine is a must. 27 Rue Malar, 75007 Paris, France
Apicius Restaurant: Incredibly romantic, this is updated French food that's expensive and elegant. Worth the splurge for a special night in the hands of Mathieu Pacaud and Laurent de Gourcuff. Details: 20 Rue d'Artois, 75008 Paris, France http://restaurant-apicius.com/
Le Servan: Run by two female chefs, this restaurant is small and in a trendy part of town. It felt a little like being home in Brooklyn. Visiting Details: 32 Rue Saint-Maur, 75011 http://www.leservan.com/
Pharmacie: Another great option for casual bistro food with a modern twist. The food plays off the classics but the vibe is young and fresh. I had a delish scallop dish with radishes. Details: 22 Rue Jean-Pierre Timbaud 75011  https://www.restaurant-lapharmacie.fr/menus-carte/
Sweet Spots in Paris
Millefeuille at Angelina: Don't miss out on a chance to stop in for Millefeuille at Angelina for sweets. It's a taste delight. And might be more decadent that a half dozen macaron from La Duree—but it's too close of a competition and I think I need to do the test again. Visiting Details: 226 Rue de Rivoli www.angelina-paris.fr
Ladurée: Macarons were all the rage back in the 90s and they are still delicious, if no longer trendy. One of the reasons they sweet little treats took off was the Ladurée branding; seafoam green and gold bags were EVERYTHING. Though the trend is dead, these shops are still delightful. The restaurant on the Avenue des Champs Elysées (in the 8th can be a real treat for kids. Details: The shops are all over Paris (34 in total) and the the airports. https://www.laduree.fr/en/
Where to Shop in Paris
Berenice: My go-to French chains stores. Princes are $50 and up per peice. I loved the boho vibe. The brand doesn't exist yet in USA. There are more than 25 locations in Paris. http://www.berenice.net/
Kusmi Tea: Sip a new flavor of tea at one of Kusmi's locations. I loved the bold taste of the Kusmi collaboration with Jean Paul Gaultier. http://us.kusmitea.com/
Where to Stay in Paris
We've had some wonderful stays with Airbnb, and I think it's a good choice for family visits. But I will say you the Airbnb apartments don't always live up to what they advertise. These choices are my can't miss romantic picks.
Hotel Majestic: We stayed at the Hotel Majestic. It's lovely and the perfect mix of modern and classic. The service is excellent and the facilities are tres chic. Our spacious room would certainly fit a roll out bed or two for kids, but this trip was adults-only.
The staff was extremely solicitous—they even arranged cocktails for two on the 4th floor terrace. I recommend a Lillet Blanc. The hotel has a lovely indoor pool that's just long enough for laps and don't miss out on the breakfast. Details: 30 rue La Pérouse - 75116 Paris http://www.majestic-hotel.com
Hotel de Reine: This spot is full of romance and it's perfect for a winter visit. I adore the sitting rooms -- picture a roaring fire and a perfect chair as you sip tea or wine. It's located on the oldest planned square called the Place des Vosges. If you plan to spend a lot of time hopping to the Left Bank this is a great location. Details: 28 Place des Vosges 75003  http://www.pavillon-de-la-reine.com/en/
St. James Hotel: This luxury hotel is also private club, so it's not always easy to get in. But if you can nab a room, this spot is heavenly. It's close to shopping, museums and the enormous Bois de Boulogne park. Expect Relais and Chateaux service, and don't miss the breakfasts. Details: 5 Place du Chancelier Adenauer 75116  https://www.saint-james-paris.com/?lang=en
Brach Hotel: My newest find is the 59 rooms Brach hotel in the 16th arrondissements.  Designed by Philippe Starck the hotel is a triumph of design. The art infused in the hotel is stunning. While the rooms can be small, they are thoughtfully appointed. Details: 1-7 Rue Jean Richepin, 75016 Paris, https://brachparis.com/?lang=en
Getting the Best Photos in Paris
And my last tip? Hire a photographer from Flytographer. Check out our last Europe trip with kids and the magical photos we received.
Pin it!
Use pinterest to save your favorite travel articles.
Momtrends was not paid for this Momtrends Guide to Paris post.