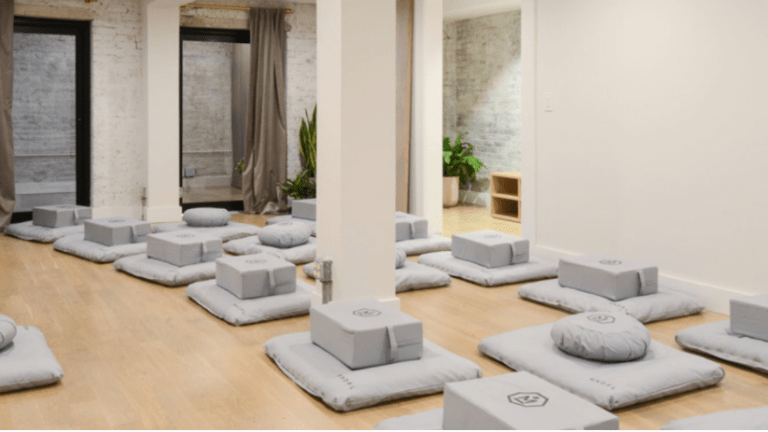 Teen Meditation at Mndfl Studio
Meditation is very appealing to me. My life is jam-packed and I often feel overwhelmed by the abundance surrounding me. I have much to be grateful for—a great family, a job that fulfills me, and my health. Finding time to be present matters to me. I don't want these years to fly by. I want to feel all the good and BAD of this moment in time. That's why I'm finding time for teen meditation at Mndfl Studio.
Related: Tips for running with tweens and teens
How Meditation can Help Teens
To some degree, running helps. The majority of my runs are done without headphones. I'm unplugged and out in nature and I do feel refreshed when I finish. Often my runs will help me find clarity about a puzzle I'm trying to solve at work or give me insight on how to connect with my husband or daughters.
Trouble is, I can't leave in the middle of my work day to go on a run, nor can I run when I'm getting ready for bed and find my mind racing and my heart in a near state of panic. I can reach for another tool though, meditation.
I've tried to develop a practice on and off for about 20 years. I drift and come back. It's not really a matter of not having enough time, because I believe we make time for the things that matter, it's the struggle of sitting alone with just my thoughts.
I'm a doer. I'm not a sitter.
You see how this goes. I'm already setting myself up for a struggle when I meditate. The journey continues... I see a lot of my traits in my lovely tween daughter, so together, we tried something new: guided meditation at Mndfl Meditation. Mndfl was started to help all participants to "live more productive, peaceful lives, and become a new generation of open-hearted and compassionate human beings"
I want to be more compassionate to myself and I want my (almost a) teen daughter to do the same. So we made time to try. My daughter and I headed to the West Village location and attempted to slow down and dig into our minds. She thought it was silly, but is up for just about any adventure, so off we went.
Teen Meditation at Mndfl Studio
The Mndfl classes are 30, 45, and 60 minutes and are thematic. Since I cannot imagine 60 minutes of meditation with myself, let alone my teen, I opted for the shortest class.
There are many types of classes offered from sleep (yes!) to movement (I already do too much of that) to breath and many more. I opted on breath, because I often hold my stress in my chest. The breah class is meant to help me focusing my breathing in order to become more present. This is MNDFL's signature meditation class, and I think a great place to start.
The studio is glorious, they've managed to make a basement-level spot seem airy and light, which has a lot to do with the paint choices and skylights. I didn't get any push-back about bringing a tween—I did stress that she needed to take it all mindfully.
When we get to the studio, we start feeling the instant calm. We hang up our bags, turn off our phones and brew some tea. We sip and quietly chat a bit before class begins.
Our guided meditation class focused on breathwork. We sat on comfy cushions in a packed room (our session was sold out). The MNDFL classes are led by meditation instructors. After about five minutes of instruction about becoming aware of our thoughts, we began.
The instructor reminded us to recognize the noise inside our heads and spend a moment with it and then attempt to move on. Twenty-five minutes of battling all the little things that pop up is very informative. It shows me all the things I can't control, and I'm learning that trying to control everything is pointless.
How Meditation Works Its Magic
It's hard for me to sit still, it was hard for my daughter not to giggle (she did have a laugh outburst at one point and quickly recovered). It's all about embracing the hard stuff. 'Cause that's life.
Getting comfortable with the uncomfortable is key. Life is never perfect, life is never done.
Soon I'm going to have teens, life is in a constant state of flux. I can't change that, but I can change how I approach all these changes. I'm glad to have Mndfl as a resource to continue to dig it.
Find out more about meditation in New York here https://www.mndflmeditation.com/
MORE HEALTH AND WELLNESS FROM MOMTRENDS
PIN IT!
Use Pinterest to save your favorite ideas from Momtrends. Be sure to follow our Fitness and health board here.
This is not a sponsored post.