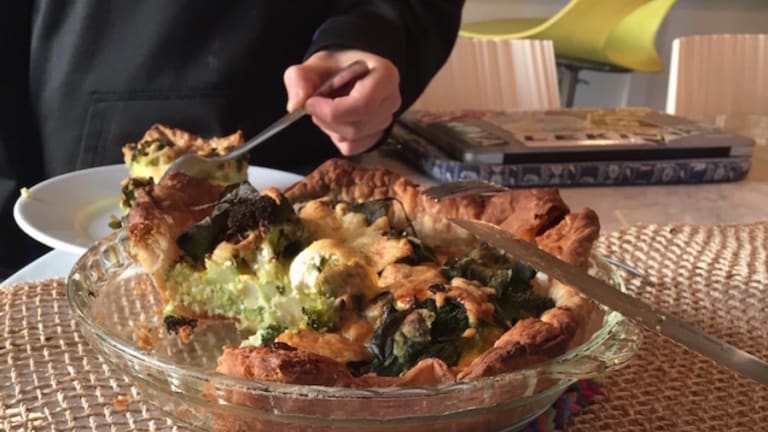 Meat-Free Recipes: Cheese and Broccoli Quiche
Are you trying to enjoy more meat-free meals? This cheesy broccoli quiche recipe is a hit with my family.
About a year ago our family made pact to eat meat-free one day a week. It's been a small, purposeful act that has brought some new life to our kitchen. Why skip meat? Well there is the health issue and then the environment. According to the Food and Agriculture Organization of the United Nations (FAO), the livestock sector is at the top of the list of what is contributing to our environmental problems. I'm going to be sharing recipes and inspiration with you in the hope that your family will try the meat-free lifestyle. I'm working with Stella McCartney kids and MeatFreeMondays.org to spread the word that this change is easier and tastier than you think.
Related: Tasty Meatless Enchiladas Recipe. 
We pick Monday, because we usually shop on the weekend and have lots of fresh vegetable options. In the summer, the meals can be simple salads and guacamole, in the winter we veer towards heart bean dishes. The good news is that meat-free can not only be amazingly healthy, it's also really tasty.
The meat-free Monday pact has also gotten me to try some new recipes. I was in a rut. Meat-free has broadened my horizons. MeatFreeMonday has a huge bunch of recipes to try. Most are user-friendly and KID-friendly. I'm starting off with a cheesy-good recipe I know your family will love.
Here's our recipe of the week: Cheese and Broccoli Quiche
Ingredients:
shortcrust pastry crust
1 large onion, chopped
1 tbsp olive oil
12oz broccoli florets--this is about 1 large head of broccoli
Sea salt and freshly ground black pepper
4oz goat cheese
4 oz shreeded cheddar cheese
5 eggs--we use 3 egg whites and 2 whole eggs
½ cup of milk
Instructions:
Preheat oven to 375
I use a store-bought pastry dough, you can make your own though. I keep them in the freezer to make dinner prep easier. The morning I want to make the quiche, I move the dough to the fridge to soften up. I add some flour to the counter and roll it out. Roll it until it will line a pie pan about 10" round. (note, you can also use a brownie pan to make a square one).
Sautée the onion in the olive oil until lightly golden brown. Stir in the broccoli pieces and sautée gently for approx 3 minutes. I usually add in some more greens like kale or spinach.
Then I spread the veggie mix on top of the pastry.
Add crumbled cheese.
Beat the eggs thoroughly and stir in the milk or cream. Season to taste with sea salt and pepper. Pour the mixture over the broccoli. Bake until golden brown, about 25-30 minutes. Serve warm, but also nice served cool.
Yum! If this tastiness isn't enough, here are some meat-free facts:
Exactly 441 gallons of water are required for each pound of cattle raised, compared to just 14 gallons for growing a pound of grain (according to ChooseVeg.com).
Eating one pound of meat emits the same amount of greenhouse gases as driving an SUV for 40 miles.
More Family-Friendly Recipes from Momtrends
PIN IT!
Use Pinterest to save your favorite recipes. Be sure to follow our Healthy Eats board
This is not a sponsored post.