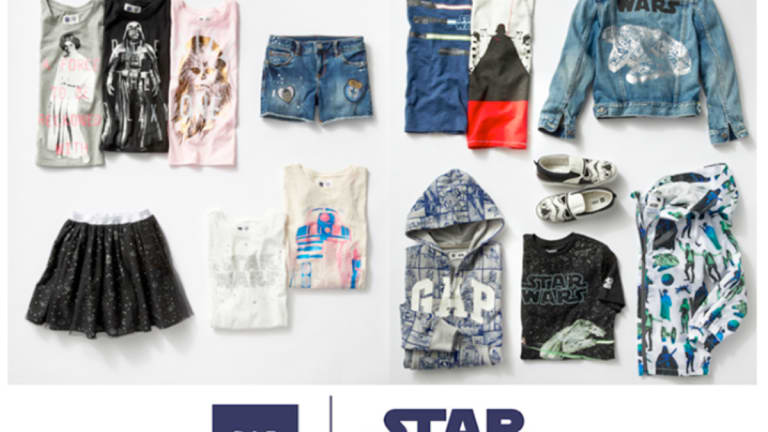 May the Fourth Be With You
Gap just launched a Star Wars capsule collection that includes tees, denim jackets, leggings, sweatshirts, shorts, skirts, and accessorie
My new neighbor came over this past weekend to give my kids some toys. Her children had outgrown them. Little did this well-intentioned lady know—we already own #allthetoys. Still, my son's eyes lit up when he saw a lightsaber in the stack of superfluous gadgets and games and trinkets.
Related: Summer fashion for boys
He didn't know what it was, or what it was called, or what it did… He just knew that he wanted it. And just like that my four year old felt the force.
I was trying to wait a little bit longer until I introduced my kiddies to Star Wars… alas, the dark side was calling… as was the stylish side!
Gap just launched a Star Wars capsule collection that includes tees, denim jackets, leggings, sweatshirts, shorts, skirts, and accessories with prices that range from $5 for socks to $98 for a men's jacket. Of course, the kid and baby looks are my favorite! (Aren't they always?).
Don't forget to that Star Wars treats are always a great option too!
This Gap Star Wars raglan sweatshirt is so simple and stylish for little ones—it's a perfect layering piece and a fun unisex option for both kiddos. The only thing that's missing from this adorable duo is that lightsaber—which got confiscated. (Shocking, right?)
Of course, I had to get in on the action on this Star Wars family affair—and so I'm wearing this sassy Princess Leia tank top. Because, well, I am, indeed, a force to be reckoned with… And May the Fourth be with you, too!
MORE KID-CENTRIC STYLE PICKS FROM MOMTRENDS
PIN IT!
Need more ideas on fashion for kids? Use Pinterest to save your favorite fashion finds for you and your kids. Be sure to follow our Kids Fashion and Style Board here.
This is not a sponsored post. All opinions are our own.