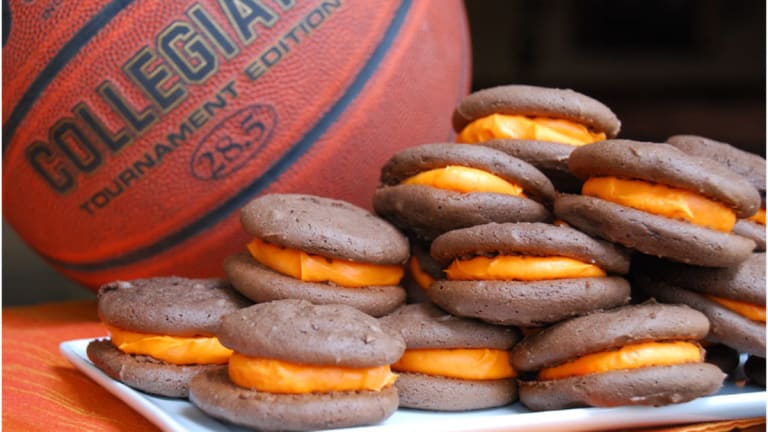 March Madness Party Ready Recipes
To make the most of March Madness, I try to find fun little ways to celebrate it including these fun basketball centric treats.
Being married to a former college ball player means March Madness is kind of a big deal in our house. He may have gone the baseball route when it came to his pro career, but basketball is still one of his first loves, so you can bet that the tournament is on from start to finish in our house.
Related: March Madness final four cocktails 
To make the most of March Madness, I try to find fun little ways to celebrate it. Sure my hubs could sit down and watch every game, but things get a little old for the rest of the family. Haha! Keeping it fresh with tasty treats and whatnot makes it a whole lot more fun! Plus, I'm always up for a party...Even if it's just for the four of us!
And because I can't get enough of whoopie pies, I had to share Mom Endeavors' take on things. Aren't they cute? No matter which recipe you decide to go with, you simply can't go wrong with whoopie pies in my book.
If you don't want to go straight for the sweets, everybody loves a little appetizer action. BonBon Rose Girls' slow cooker sweet and sour meatballs should appeal to kids and 'rents alike. And they're super simple to make. So, if you're spending a lot of time making the whoopie pies, like think you should, you won't have to spend as much time on savory options.
And we can't talk about apps without talking about sliders...You could easily modify our burger bar idea and make your own sliders bar. I'm kind of obsessed with any kind of food that's miniature and my kids are the same way. They never say no to sliders. How fun would it be for them to fix their own at a sliders bar?!? SO fun!
I adore TammileeTips easy 4 ingredient Crockpot Brown Sugar Kielbasa is a great party appetizer. I love crockpots for parties, because so much of the work is done ahead of time. 
And finally, what party is complete without drinks? A nice refreshing is Arnold Palmer is just the ticket for a spring basketball viewing party don't you think? They're my go to once warm weather is in sight.
These meatball sliders are another crowd pleaser from LadyandtheBlog. Vera makes huge batches of meatballs ahead of time and then freezes them for later use. 
On a side note...Before you start your March Madness party planning, make sure you download a free NCAA printable bracket. I know you'll have a ball making your picks...And you don't necessarily have to go with my method...team colors and mascots. Haha!
More Basketball from Momtrends
Pin It!
Save your favorite recipes on Pinterest. Be sure to follow our The Big Game board here on Pinterest.