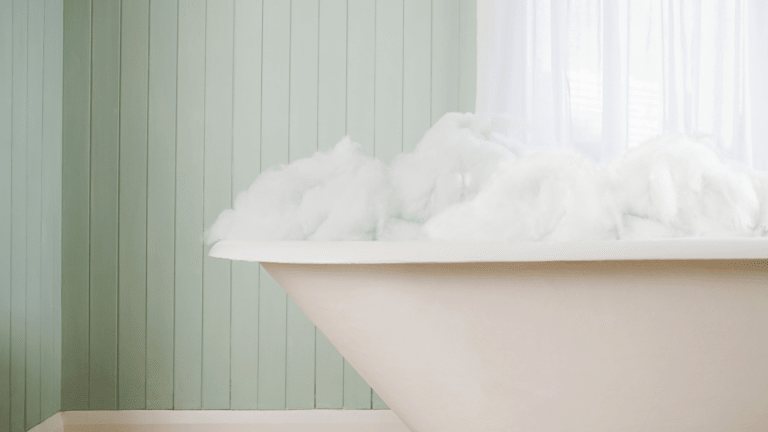 The Ultimate Bubble Bath
We've rounded up a few of the most decadent and delightful products for your skin-pruning bubble bath pleasure. Soak the night away.
When I think "bubble bath," I picture my two little ones individually or jointly splishing and splashing, filling cups and pouring out cups, and making Santa beards with soap. I can hear the echoes of their hearty singing and laughter (gotta love bathroom acoustics!), and crisply envision our nightly scene—the calm before the bedtime storm. I can practically feel their weight as I wrap their wriggling bodies up in oversized towels and wrestle them into tight-fitting jammies—you know, before they're able to make their great naked escapes.
Related: A dermatologists top 5 tips to changing your summer skincare routine
Alas, I am the mom of little ones and forgot that a bubble bath once meant more… luxurious lotions, potions, salts, and scrubs; endless me-time, bottomless wine, and damp pages in a thrilling new novel. (Oh, an an opportunity to finally shave my legs in peace and quiet!)
Oh right, there is the tumultuous toddler bubble bath and then there's the kid-free glamorous grownup version. And it's been way too long since I've enjoyed the latter. (If I even tried after I finally got the kiddies off to sleep, I'd likely nod off the second I lit a candle and lowered myself in.)
Shower Cap, $43 / 2. Bath & Body Works Peony Shower Gel, $4 / 3. SOMA Robe, $59 / 4. Bath & Body Works Endless Weekend Candle, $25 / 5. Fresh Sugar Lychee Sugar Bath Cubes, $39 / 6. Luxury Bath Spa Pillow, $20 / 7. Small Great Things Book, $17 / 8. Turbie Twist Hair Towel, $10 / 9. Josh Cabernet Wine Bottle, $14 / 10. Lush Milky Bath, $8 / 11. Venus Swirl Razor, $13
Nevertheless, in light of it being National Bubble Bath Day, I've rounded up a few of the most decadent and delightful products for your skin-pruning pleasure (and even a premium shower cap that actually protects your blowout!). So tonight, dim the lights, pour a glass of Cab, lay out your plushest robe, put in some earplugs or headphones, and go heavy on the bubbles. Soak the night away. You deserve it!
WANT MORE FROM MOMTRENDS?
PIN IT!
Use Pinterest to save your favorite beauty finds. Be sure to follow our Beauty board here.
This is not a sponsored post. It may contain affiliate links. All opinions are our own.