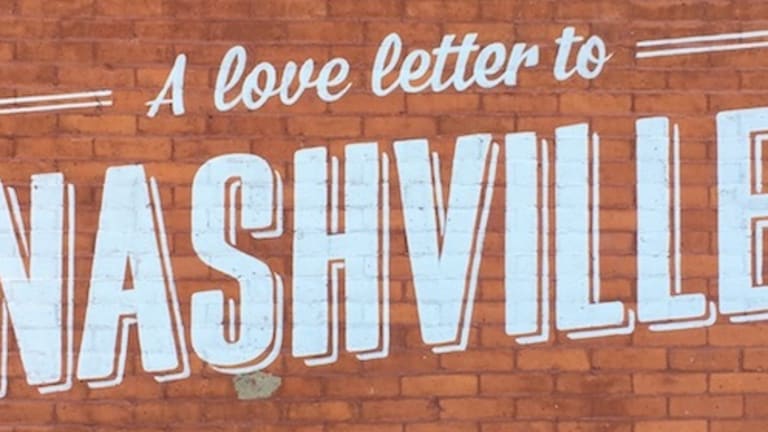 Love Letter to Nashville
This month I celebrated my 25th Vanderbilt reunion. I headed back to campus to meet up with friends and get up to speed on how my university is doing. Good news! Both the city and the school are thriving. While I'm not going to take you on a complete walk down memory lane, I am going to compose a brief love letter to Nashville.
Use Expedia to plan your trip to Nashville
I had a great time reveling in "remember when." Upon my post-reunion return to Brooklyn, I ran by Carla Hall's restaurant named, A Love Letter to Nashville, and just knew I had to recap my thoughts on my temporary home town here on Momtrends.
Love Letter to Nashville Looking Back
When I arrived in Nashville in 1988, it was a funky and southern town. I picked it because it offered me the most foreign experience to all the academically minded schools to which I was accepted. I loved the idea of a music scene and a southern culture. And I freely admit, I was drawn to the warm weather.
I stayed on campus all four years and had a wonderful college experience. The city felt the "just-right" size for me. I worked hard at my major, had a PT job on campus, listened to live music and made a lot of friends. I played club lacrosse and I joined a sorority (AOII) and made six friends for life on campus.
My besties and I have made our friendship a real priority. Each year the six of us meet up for a girls' weekend in a different destination. We leave husbands and kids behind to reconnect and try to act like we are 21 again. On reunion years we let the boys in on the fun!
I wanted to share this glimpse at my past with Mr. Momtrends. So he toured the sorority row with me and joined me at the Vanderbilt football game vs. Georgia (we lost).
My walk down memory lane included a run around Vanderbilt's perimeter. The 3 mile course is called "The Loop" and it was great to be oriented by all the old familiar landmarks. This was the place where I fell in love with running and did my first 5k.
As I reflected on my time at Vanderbilt, I'm so proud of what the university has become. A recent poll named it as the school with the :"happiest students" (Princeton Review) and the US News named it the #14 University in the nation. So much Commodore pride for these incredible students and staff that make the school so fabulous.
I'm particularly proud that Vanderbilt offers need-blind admissions. That means if you are accepted, Vanderbilt will meet 100% of your demonstrated need - Vanderbilt's financial aid packages do not include loans. This is how we level the playing field of opportunity!
I know a big portion of my success as an entrepreneur and Mom Boss goes back to organizational skills and writing I learned a Vanderbilt. I love this school deeply.
Love Letter to Nashville Food
My walk down memory lane also took me to my favorite Mexican spot called SATCO. I spent many a Sunday afternoon here getting geared up for a big week of school. The food is fresh and inexpensive and you can sit on the deck as long as you like and nurse an iced tea or bucket of Corona.
My taste buds might be more mature, but I still love this food! As a grown-up who can afford a little more than tacos and salsa, it's a treat to explore this foodie town.
For finer dining, we had a meal that hit some high notes with the food at Etch. Unfortunately, the service and tempo of the meal were less well orchestrated.
For drinks, head up to the Thompson Hotel rooftop to the L.A. Jackson restaurant and bar. The trendy neighborhood is called the "Gulch" and is home to MANY bachelorette parties. My BFF from school and I snuck out to have pre-party drinks on the rooftop and survey the landscape. Nashville is definitely a city on the ascent: sports, music (while we didn't go this year, I'm going to make a pitch for a trip to the Country Music Hall of Fame.), industry and food, they've got it all. Better still, they aren't trying to put on false airs. It's a casual city that doesn't take itself too seriously.
In fact, we saw a crazy John Deere party tractor hauling a wedding party around. Good to know Nashville is still weird in a fabulous way.
Have you been to Nashville? Let me know your favorite spots and definitely chime in if you are a fellow Vandy grad.
This love letter to Nashville is not a sponsored post.