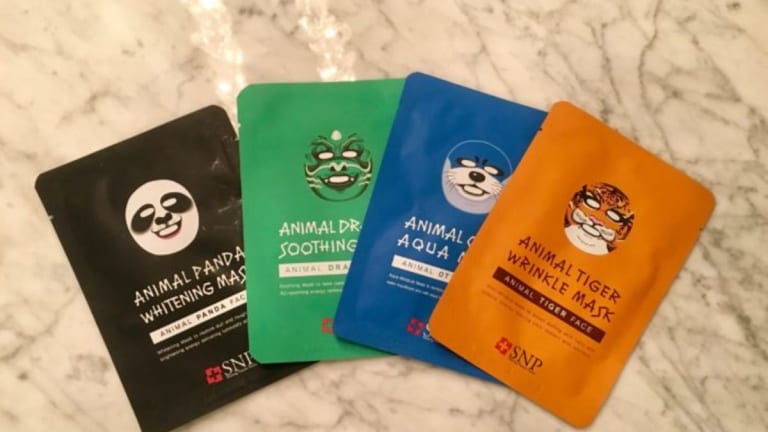 Looking BOO-tiful: Halloween Spa-Night Ideas
Three steps for planning a fun girls night in with a Halloween spa night for a bit of spooky pampering.
Who says that trick or treaters get to have all the fun on Halloween? Staying at home and manning the candy station, can be equally enjoyable for grownups and kids! In fact, we think that curling up by the fire and watching spooky movies can be even better than going door to door, begging for candy. (Then again, we're slightly jaded and not five years old.) One trend we are loving is the Halloween spa night.
Related: Witches brew punch
Still, once the trick or treating fun is over you still have the rest of the night to enjoy together. Take off those costumes, put on the popcorn, cue up Netflix; we have a few ways to make it extra awesome this Oct. 31. Our favorite suggestion? A spooktacular spa night!
Plan a Halloween Spa-Night
Step 1: Put on Your Face Mask
Who needs a full costume when you can rock these hilarious (and effective) at-home sheet facial masks from Shining Nature Purity. Meant to look like lions and tiger and bears (oh my!), they offer youthful benefits with a dose of humor. Plus, can you imagine the looks on your tricker or treaters faces when they see you rockin' one of these puppies (or kittens or lions or koalas!).
Nicole's girls recently tried out a few of these awesome SNP masks, and they were pretty pampering and sorta silly! Get the pack of 4 on Amazon here.
The Panda Mask brightens and energizes the complexion with coconut water, paper mulberry, bark extract ad niacinamide. It replenishes moisture and infuses the skin with essential electrolytes and potassium.
The Tiger Mask combats wrinkles and boosts dulling skin cells with elastic energy. Coconut water, evening primrose oil, acai berry extract. and the key wrinkle-improving ingredient, adenosine, give the complexion a resilient energy to make it look firmer and more lustrous.
The Animal Dragon Mask soothes the skin with a calming mix of coconut water, licorice, and the Japanese knotweed extract to cool and gently moisturize skin.
The Otter Aqua Mask deeply moisturizes skin with the active ingredients of coconut water, hyaluronic acid, and trehalose to replenish and revive the complexion.
Looking, BOO-tiful, ladies!
Give Each Other Spooky Manicures
Step 2: sharpen your claws! Kristin recently shared a few fun ideas for a Halloween-inspired manicure, and we figure there's no better night to curl up with a movie, a glass of wine, and a bottle of blood-red polish!
Brew Up a (Calming) Potion
Step 3: Detox from all that candy with a relaxing cup of spa-worthy lemon, mint, or herbal tea, and serve it in a fun cauldron inspired cup, of course! Your spooktacular spa experience should be relaxing... save for the moments you jump out of your skin during your Halloween movie lineup.
MORE HALLOWEEN FUN FROM MOMTRENDS
PIN IT!
Need more ideas on what to do with the kids? Be sure to follow our Activities to Do with the Kids board on Pinterest here.
This is not a sponsored post.