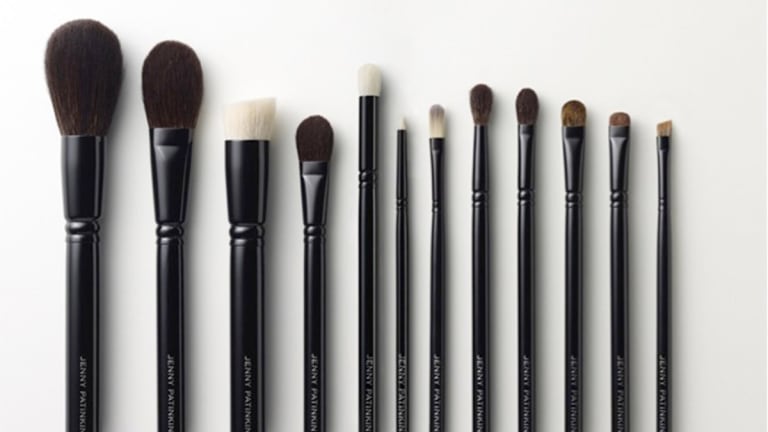 As a celebrity makeup artist Jenny Patinkin may seek perfection. But in the morning, she shoots for lazy perfection. In her new book Lazy Perfection: The Art of Looking Great Without Really Trying, Jenny offers simple, inspiring, and totally doable steps and ideas for finding a beauty routine that works for you. No super intense technique or budget-busting products required; just a tiny bit of patience and itty-bit of effort and you can look good and feel great in minutes.
Check out our tips for cleaning up your makeup drawer here.
Tips from Jenny Patinkin 
Her book gives working women and time-crunched moms, the tools to look their best every day, with minimal effort and maximum impact. We chatted with Jenny to get the scoop on some top tips, favorite drugstore products, and more...
What inspired you to write your book?
Even, today, with YouTube Beauty Gurus, influencers, celebrities and cosmetic companies constantly rolling out new products, I've found that there are so many more women who only want to wear a little bit of natural-looking makeup. But I felt like no one was talking to them. Even though I'm a makeup artist, I am one of them, so I wanted to give women a sense of relief that it's perfectly acceptable to only wear a little.
What is "lazy perfection?"
Lazy Perfection means something different to everyone, because it's not a cookie cutter or five-minute makeup plan. It's really about getting clarity on what works best for you in a holistic way: your coloring, your physical features, your lifestyle, personal style, technical skill set and amount the time you want to invest, so you can walk out the door feeling amazing and confident. Lazy Perfection takes your own perception of beauty into account so that everything works together in harmony.
What is one beauty tool and/or product worth splurging on? 
I'm biased because I have my own line of makeup brushes, but I do honestly believe that a good brush can really elevate your makeup game, no matter what kind of makeup you're using. A high quality brush will make your application faster and more seamless, because it won't grab too much makeup from the pan and it'll blend easily and smoothly.
Do you have any drug-store favorites for moms on a budget?

Save Money at a Ski Swap
Are the slopes in your future? If you want o save money on ski gear, consider a ski swap.  Connecticut  Ski Sundown SKI SWAP 2021. The Sundown Ski Patrol Ski Swap is one of New England's largest and longest-running swaps. Held in the Ski Sundown base lodge, you'll find a large ...read more
The Ten Best Wooden Play Kitchens For Kids
Cooking is a timeless fascination for children. This type of play goes beyond gender and teaches kids loads of life skills along the way. An investment in a play kitchen is money well spent, as it can provide hours of entertainment. We've rounded up the ten best wooden play ...read more
New Victory Announces a New Season of Shows
We know you're busy planning picnics and summer outings, but we wanted to let you know that The New Victory just announced their new season and it looks fantastic. We thought you'd like a sneak peek of what's in store! Each year the New Vic theater brings culture to tourists and ...read more
I sure do! I love Maybelline Full 'n Soft mascara because the applicator size fits every eye shape and the formula leaves lashes looking fluffy but natural; NYX Butter Lip Glosses come in an amazing range of colors and are great quality; and Aquaphor is a total hero product, you can use it to soften your lips and cuticles, tame brows and fly-away hairs, highlight your cheeks and gloss your lids. I like to dab a little on top of my eye cream at bedtime so that it doesn't evaporate off during the night.
If you have only five minutes in the morning to primp, what should you do?
I'm a huge fan of concealer. I like to use it under the eyes and on the lids, and also to even out the skin tone down the center of the face (between the brows, on the nose and on the chin.) After that, mascara, a light brow powder or gel, and a tinted balm that will work for cheeks and lips will work wonders. And if you have time to dust on a little touch of bronzer, that's very enlivening to the complexion.
If you have only 60 seconds?
Concealer under your eyes!
What celebrity mom should other busy mamas think of as makeup muses?
Jessica Alba, Jessica Biel, Jennifer Garner and Gwyneth Paltrow always look natural yet polished. But no one hits that intersection of mom and glamazon better than Chrissy Tiegen.
Ready to add glamour to your life? Pick up Jenny's book here on Amazon Lazy Perfection: The Art of Looking Great Without Really Trying
More Beauty From Momtrends
Pin it!
Be sure to follow us on Pinterest and follow our Beauty board here.
This is not a sponsored post.